You are here
Feb 10, 2017 - 03:17 pm CST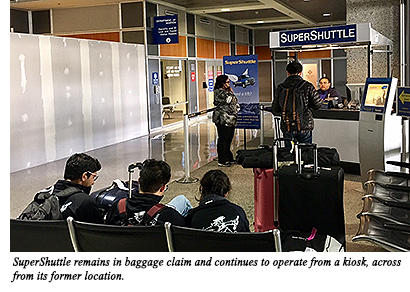 A construction wall has been erected in baggage claim at the Austin-Bergstrom International Airport, in front of the former rental car offices, to mark the beginning of construction work to create office space inside the terminal. SuperShuttle has moved nearby during terminal improvement construction in baggage claim.
Construction wall up beyond Carousel 1
Construction walls in the west baggage claim area now surround the former and emptied rental car offices at the Barbara Jordan Terminal. This is for demolition of the old rental car and office workplaces and to prep the site to create ABIA office space and additional tenant space.
SuperShuttle relocates to kiosk in baggage claim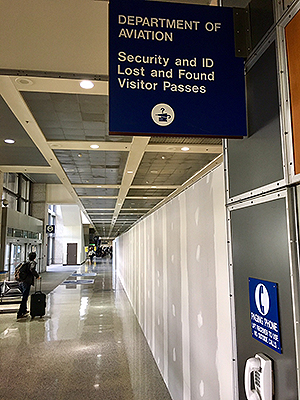 SuperShuttle, the shared-ride shuttle and van ground transportation service has relocated from its previous lower level office in baggage claim to nearby kiosk. The kiosk is located in the same location that customers were staged for pickups with the company. Since the opening of the consolidated Rental Car Facility in 2015, when the rental car companies moved into the new 1.6 million square foot rental complex located just past the covered parking garages, SuperShuttle remained in baggage claim and continues to operate from that location.
Location of Badging & ID, Lost & Found Office Unchanged
The Security and ID, lost and found and visitors' passes office will continue to operate from its current location, just past the SuperShuttle kiosk. Way-finding signs at the beginning of the construction wall, just past the west bag claim escalators, beyond carousel 1 will point directionally to SuperShuttle and the Badging and ID offices.
Archives
2017
December
November
October
September
August
July
June
May
April
March
February
January
---