Toy Joy and Yummi Joy, Austin Chronicle Opens in 9-Gate Expansion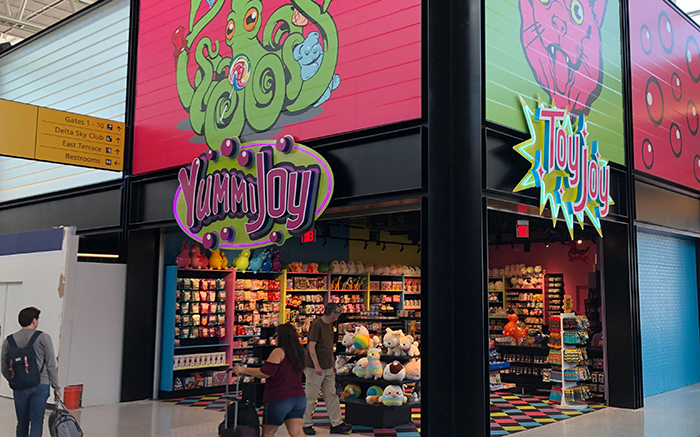 Toy Joy and Yummi Joy opened near Gate 10 and is the first concession to open in the 9-gate expanision.
 
Toy Joy toystore and Yummi Joy became the first concessionaire to open and start operations in the new 9-gate expansion at the Austin airport, followed by The Austin Chronicle marketplace. XpresSpa is under construction in two locations in the Barbara Jordan Terminal and Briggo opens a second robotic coffee haus.
Toy Joy and Yummi Joy, Austin Chronicle first to open in expansion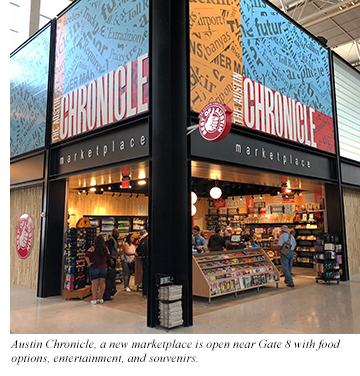 The popular Austin toystore Toy Joy and Yummi Joy opened near Gate 10. Voted a USAToday 10 Best Toystore in 2014, the store offers toys and collectibles for all ages. The store is the first concession to open in the 9-gate expansion of the Barbara Jordan Terminal and includes their sweet shop concept, Yummi Joy. The toystore was founded in Austin in 1987 and has a brightly colored exterior, adorned with their signature pink cartoon cat.
The inside of the 880 square-foot toy store is decorated with an array of green, blue, pink and purple neons and lined with shelves topped with large toys. Display shelves containing small novelty items like wind-up toys and figurines are located in front of the checkout counter. The store also sells unique toys and games, assorted treats and stuffed animals. Toy Joy is open from 6 a.m. to 6 p.m. and is operated by concessionaire Delaware North.
The Austin Chronicle now has a marketplace open, located near Gate 8 in the expansion. The 887 square-foot store is conveniently separated with food options on the left and entertainment and souvenirs on the right. The marketplace stocks magazines, newspapers, and bestselling books as well as Texas and Austin souvenirs, electronics and snacks to serve a wide variety of traveler's needs. Delaware North operates the marketplace serving customers daily from 4:30 a.m. until 9 p.m.  
XpresSpa Locations Under Construction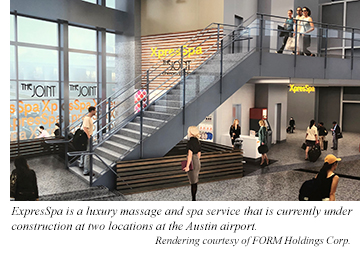 Luxury airport spa and massage services will be offered at the two XpresSpa locations currently under construction at the Austin airport. The west, 604 square-foot location will be below the American Airline Admirals / United Club across from Gate 21. The east, 432 square-foot location will be across from Second Bar and Kitchen near Gate 15.
XpresSpa will also offer Joint Chiropractic amenities, manicures, pedicures, facials, and waxing. Travel products and accessories that will be offered to customers will include travel pillows, massagers, and hair, nail and bath products. Construction is estimated to be completed this fall.
South Boarding Bridges Added to Terminal, Admin Building at 75-percent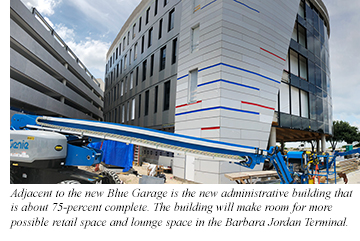 Phase II continues on the 9-gate expansion of the Barbara Jordan Terminal. This includes the removal of the temporary jet bridges used during construction that are each 720, 560, 440 and 300 feet long, respectively. Construction is ongoing with apron pavement improvements to the south gates and attaching the jet bridges to gates 6, 8, 10 and 12, to make them operational for departures and arrivals this fall. Currently, the north-facing gates are being used in the terminal expansion along with east gates 2 and 4.
Adjacent to the six-story, 6,000 space Blue Parking Garage, the five-story Administrative Building has reached the 75-percent completion stage, with the addition of the outside reflective glass windows and drywalling inside. The building will allow Aviation Department staff to move out of the Barbara Jordan Terminal to make space available for possible retail, common use lounge services, and concessions in the passenger terminal.
The Administrative Building is estimated to be completed by the end of 2019. It is part of the $250 million dollar improvement project that includes the construction of the Blue Garage, updating the entry and exit plazas to the parking lots and modernizing signage on Presidential Blvd.
Second Briggo Coffee Machine Opens Near Gate 11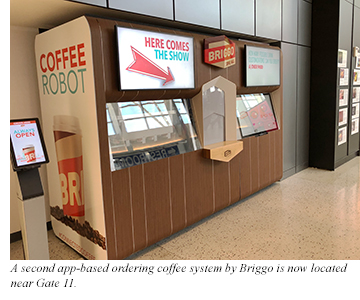 Located near Gate 11, a second robotic coffee barista has been added to the Austin airport. This is Briggo's second "Robo-Joe" and it opening nearly coincides with the one-year anniversary of Briggo's first airport coffee robot machine at Gate 17. The app-based ordering system allows travelers, airline crews and airport employees 24-hour personalized coffee service.
The robotic coffee house has a footprint of 40 square feet with digital displays. More information about how to Briggo can be found at https://briggo.com/experience/#howtobriggo
Join Us! Visionary Voices Lecture Series: Janet Zweig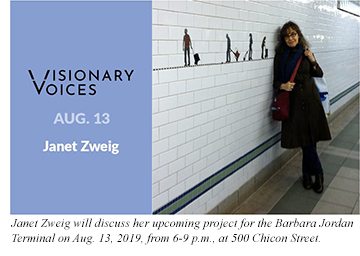 Join us for the 2019 Visionary Voices speaker series, presented in partnership with Texas Society of Architects. These lectures, by artists who are creating artworks for the City of Austin Art in Public Places program, highlight their bodies of work and offer an opportunity for thoughtful conversations on upcoming public pieces. Here are the details:
Date: August 13
Time: 6-9 p.m.
Location: Texas Society for Architects/AIA – 500 Chicon Street, Austin 78702
During this discussion, Janet Zweig will discuss her upcoming project for the Barbara Jordan Terminal at Austin Bergstrom International Airport — an immersive, interactive installation tentatively scheduled for completion in late 2019.
Brooklyn-based Zweig's public works include a performance space in a prairie on a Kansas City rooftop; a sentence-generating sculpture for an engineering school in Orlando; and a 1200-foot frieze at the Prince Street subway station in New York. Her sculpture has been exhibited at institutions including the Brooklyn Museum of Art, PS1, and the Walker Art Center, and she has been awarded a Rome Prize Fellowship and NEA fellowships, among other accolades.
For more information about Janet Zweig visit: www.janetzweig.com
For more information about the Visionary Voices Lecture Series visit: http://www.austintexas.gov/page/visionary-voices-lecture-series
Marisol Peters, PIO high school Intern, wrote Toy Joy, Austin Chronicle articles.