Veterans Day, November 11, 2014
Once a year we thank our veterans for serving their country… but we ought to thank them every day for the sacrifices they and their families have made, and continue to make, for our freedom.
As Veterans Day draws near, I wanted to remind myself of how and when it came to be a national holiday. This is what I found:
On May 13, 1938, an Act by Congress  (52 Stat. 351; 5 U. S. Code, Sec. 87a) made the 11th of November in each year a legal holiday—a day to be dedicated to the cause of world peace and to be thereafter celebrated and known as "Armistice Day." Armistice Day was primarily a day set aside to honor veterans of World War I, but in 1954, after World War II had required the greatest mobilization of soldiers, sailors, Marines and airmen in the Nation's history; and after American forces had fought aggression in Korea, the 83rd Congress, at the urging of the veterans service organizations, amended the Act of 1938 by striking out the word "Armistice" and inserting in its place the word "Veterans." With the approval of this legislation on June 1, 1954, November 11th became a day to honor American veterans of all wars.  (U.S. Department of Veterans Affairs)
Veteran's Day is still held to celebrate, honor and remember the people who have sacrificed and given their lives and their time to protect our freedoms and the freedoms of people around the world.  It helps families and service members who have lost loved ones honor their memory; it puts a focus on what veterans sacrifices are all about; and it bring the nation together in a day of thanks for our military service men and women who sacrifice more than their lives, they also sacrifice time with their families and watching their children grow up.
As I contemplated on how Veterans Day came to be, I started thinking about the people I work with, people that I'm friends with and even the people I live next to… How many of them are veterans and I may not even know it?  See, in my experience, most veterans keep their service experience to themselves.  They don't do it for a pat on the back or for the recognition – they do it because they think it's the right thing to do.  And thanks to their service and actions… they have ensured that Americans have the right to choose whether or not to serve and protect our country, to celebrate our chosen religions, the freedom to start our own businesses and be who we want to be and say what we want to say, … Their actions and sacrifices overarchingly preserve the freedoms we have come to love and expect in the United States.
I started asking around at work and found out that there are a lot of veterans working for the City of Austin Parks and Recreation Department.  I know there are many veterans employed in other city departments, but when I dug into the details within my Department,   the statistics really amazed me!  In a department with more than 500 full-time people, more than 10 percent are veterans. What an honor to be able to say that.
I had the opportunity to talk with several of our veterans and I thought I'd share one of their stories.  Please remember that this is only one story out of many that I could have written and each story is unique and special.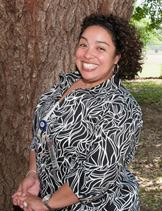 Meet Iliana Venegas, Human Resources Manager for the City of Austin's Parks and Recreation Department.
I went to Iliana to see how I could find out how many people in the Parks and Recreation Department were veterans…and low and behold, I proved my point!  (I wouldn't have found out if I didn't ask.)  Illiana is a decorated veteran who served her country for 10 years! 
Since joining the City of Austin in January 2014, Iliana has been overseeing the Department's Human Resources programs and initiatives, developing short and long-range plans, serving as the liaison with central HR and other City of Austin departments, and providing managerial support and HR administration across all divisions.
Venegas was a Staff Sargent with the US Army for more than 10 years. She served in Iraq, where she patrolled with various infantry units to complete approximately 230 patrols in a 13-month time frame. For her service, she was awarded the Bronze Star, which is the fourth-highest individual military award and the ninth-highest by order of precedence in the US Military.
Her military experience also led her to live abroad, and she has spent time in China, Belgium, Korea, Bosnia, Kosovo, and Iraq.  As a senior in high school, Iliana went to Denmark as an exchange student and ended-up staying an extra year. She loves being immersed in learning languages and cultures, and is fluent in Mandarin and Danish, and almost fluent in Spanish. She considers herself a foodie, and her world-wide travel means she has sampled many exotic dishes. She also loves animals. Every Wednesday, Iliana joins other City of Austin employees to walk dogs from the Austin Animal Center and Town Lake Animal Center facilities as part of a volunteer program.
So, as Veteran's Day 2014 comes and then goes, remember to always thank our veterans for the sacrifices they and their families make.
THANK YOU ALL.