Warren Spector graduated the Radio-Television-Film program at University of Texas in 1980 and has spent over three decades in the game industry. His latest project brings him back to UT as director of the Denius-Sams Gaming Academy, designing the curriculum and serving as a part-time instructor. Beginning in August 2014, twenty students will attend the intense, 9-month game development program taught by gaming industry leaders. The goal of the program is to give students the skills they need to take the next steps in their careers, whether they come to the program straight out of school or from the industry.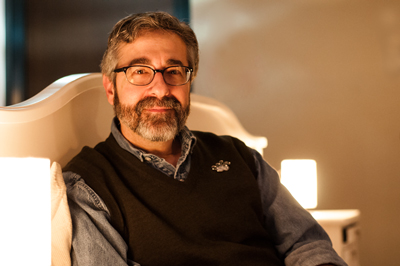 The Cultural Arts Division's Creative Industries Development Manager, Jim Butler, interviewed Spector for this blog.
Jim Butler: How long have you been working on games?
Warren Spector: I've been working in games for 31 years – 6 years in tabletop games with Steve Jackson Games and TSR, Inc., 24 years in Computer/Video games at a variety of companies and, now, a year at the University of Texas at Austin building the Denius-Sams Gaming Academy.
JB: What are your best experiences working on games?
WS: Speaking generically, the best experiences are the ones you share with a team of passionate, dedicated, like-minded people. People, not events, are the really important thing, to my mind. Speaking more specifically, I'd have to say my best experiences came in working on three projects – Ultima Underworld, Deus Ex and Disney Epic Mickey, all for different reasons. Underworld was special because the small team that made it was so tight-knit and the game was so ground-breaking; Deus Ex because it was my dream project, the one I'd been dying to make for years before I got the chance – and it lived up to what I hoped it would be all those years; and Disney Epic Mickey because I got to live out the dream of working for Disney and making a Mickey Mouse and Oswald the Lucky Rabbit game that honored Walt Disney's memory and the company's storied history.
JB: Why should someone live in Austin if they want a career making games?
WS: Austin's a great place to make games. There are really only a handful of game development centers in the U.S. and Austin is one of them. We have a thriving development scene, with big studios and small to offer potential employment. Game jobs in Austin pay well. There are mobility opportunities, which means career growth. And you get to live in Austin!
JB: Please let us know about the UT program that you are leading.
WS: The game industry is notoriously bad at training its leaders. Producers, Director, Studio Heads tend to be self-taught. Projects tend to be mismanaged. The Denius-Sams Gaming Academy is unique among all of the game development courses and programs in the U.S. in that it is designed to fill the leadership training gap. Participants – who pay no tuition and are paid a $10,000 stipend – will leave the program with the knowledge and skills to lead a team or run a successful studio. The DSGA puts The University of Texas at the forefront in game development education – an emerging and increasingly important field given the financial and cultural impacts of video games in the 21st century.