A craggy flagstone path winding around a babbling brook sets the scene for the whispered words of lovers as they meander through the lush Taniguchi Japanese Garden.
The garden, part of Zilker Botanical Garden, is an ideal local for an afternoon date, said Margaret Russell, a Program Manager for the Austin Parks and Recreation Department. That's why Zilker Botanical Garden is February's Park of the Month.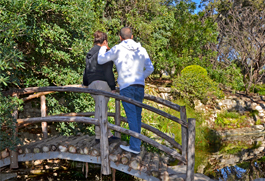 "The Taniguchi Japanese garden is a wonderful, seductive place," Russell said. The winding hidden paths, pristine water and quiet setting give the garden a spiritual aspect, she said. "The sensibility of it all would be really romantic."
Zilker Botanical Garden, located at 2220 Barton Springs Road, was built in 1960 through the efforts of Austin garden clubs. Along with the Taniguchi garden, the 26-acre park features several themed gardens, including: a rose garden;a butterfly trail;an oak grove; a children's garden;an herb garden; a cactus garden; a sustainable garden and a pioneer village.
Despite its proximity to downtown traffic, the garden manages to evoke a sense of natural wonder, like an oasis in the desert. The plant-lined paths prevent most views of the outside world, so the inevitable sounds of city traffic could instead be imagined as waves breaking on a beach.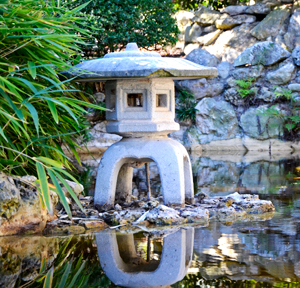 The only other noise is the light trickle of water and the scurry of wildlife such as nesting red tailed hawks, a pair of fox and roaming armadillos.
The animals share the park with more than 116,000 visitors each year. The gardens attract folks from all walks of life – from 5-year-old girls interested in faeries to gardening experts who volunteer their time, Russell said. It's popular for weddings as well as memorials.
"It's a wonderful, living place to come together and celebrate," Russell said.
The park hours are 7 a.m. to 5:30 p.m. until March 10. After that, the park will be open until 7 p.m. daily. Admission is $2 for adults and $1 for children and seniors. Non-resident admission is $3 per adult.