Jan 24, 2013 - 10:17 am CST
Written by Laura Esparza, Manager of the History, Arts & Nature Division.
Fidencio Duran's solo exhibition HEAVEN AND EARTH opened Saturday, January 19 at the Emma S. Barrientos Mexican American Cultural Center.  I attended with my friend Rose Marie Klee who I met through Leadership Austin.  Rose and I are big fans of Fidencio's work via his large scaled murals at the airport.  This selection of his work is a much more intimate invitation into his artistic process and a look at work on a smaller scale.
L to R: Laura Esparza, Fidencio Duran and Rose Marie Klee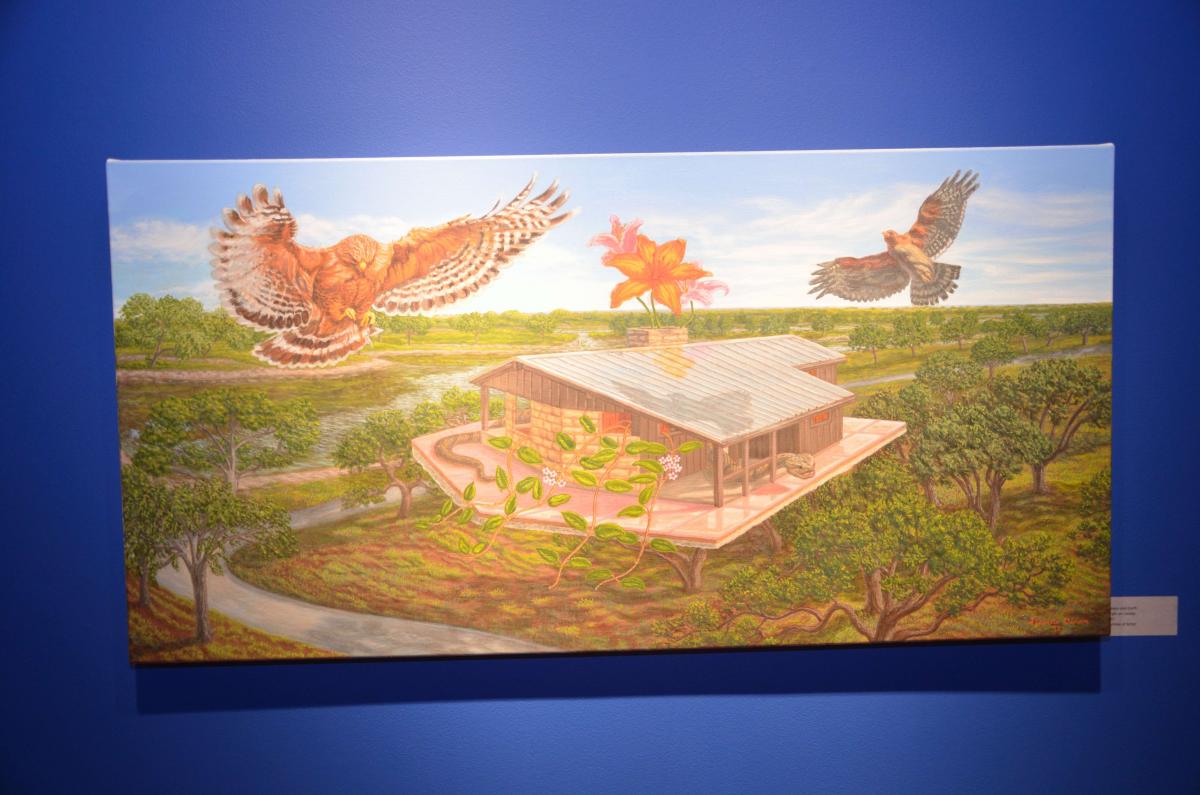 Fidencio explains in his artist's statement that the theme of birdhouses appeared in an earlier work because of his father's dedicated craftsmanship of building birdhouses.  He then explains that the birdhouse theme grew when he was painting in a state of grief for his father.  The birdhouse transcends Fidencio's South Texas earthy realism and introduces us to the surreal and metaphorical aspects of his work—the birdhouse as a kind of floating heaven.
"Laundry"
Fidencio's incredible talent for drawing introduces the journey toward his homeland and we meet the raw reality of birth and death in the lives of farm workers.  His work, "Laundry", is one of my favorite, not only for the intricate detail of a patchwork quilt in flight, but for the sense of immediacy in the response of the woman to an unknown caller off-canvas.  That sense of time demonstrates the same steely accuracy as his sense of light.  Painting in medias res is a convention of painting better known in painting of the Romantic era, but in the context of a South Texas landscape, it provides a momentary glimpse of South Texas life that is greater than the sum of paint on canvas.
This painting reminds me of starlit Texas nights when I was a kid at my Tia's house in Helotes.  Don't miss this show as the Emma S. Barrientos Mexican American Cultural Center, on exhibit through March 30, 2013.  You can access the gallery Monday-Thursday, 10 a.m.-6 p.m. and Saturdays 10 a.m. to 4 p.m..
For more information, contact the Emma S. Barrientos Mexican American Cultural Center at 512-974-3772 or online at maccaustin.org.
Photography by permission of Victor Ovalle and Laura Esparza.