October 17, 2019
Balancing Flood Risk Reduction, Improved Water Quality & Impervious Cover
The Land Development Code draft text and map balance Council's direction to reduce flood risk, improve water quality, and hold the line on impervious cover with Council's direction to increase housing capacity and provide missing middle housing.
Stormwater management to reduce flooding risk
The Land Development Code Revision proposes to reduce Austin's flood risk by addressing one of the major sources of existing flooding: older commercial, industrial, and multifamily developments that lack adequate provisions for managing stormwater. In today's code, when these places are redeveloped, they rarely have to provide flood detention ponds or upgrade drainage systems. This is because redevelopment is required to prevent additional drainage problems, but not to help fix any existing problems caused by the site's impervious cover. In contrast, new development on undeveloped land has long been held to high drainage standards, and therefore have few flooding issues.
The proposed revisions directly address drainage problems from older properties. When redeveloped, sites must manage stormwater as if they were undeveloped "greenfield" sites – as if they had no existing impervious cover. New development and redevelopment will be held to the same high standards. Very small sites (one-half acre or less) will be allowed to contribute to off-site drainage upgrades rather than constructing a small detention pond on-site.
A relatively new Plumbing Code provision will also be used to stop and correct lot-to-lot flooding for single-family and smaller missing middle residential projects. This approach offers a targeted way to address an important community concern without adding costs to every new home.
Finally, the proposed code revisions incorporate Atlas 14 floodplain information into the new zoning map. Atlas 14 is a historical rainfall study that shows that Central Texas is more likely to experience larger storms than previously thought. Staff considered estimated Atlas 14 data when assigning new zoning districts as part of the Land Development Code Revision. In cases where estimated Atlas 14 floodplains crossed or ran parallel to a corridor, the floodplain limited any changes to zoning in transition areas. 
Green stormwater infrastructure to improve water quality
Central Texas faces increases in temperatures, drought, and urbanization. The region also faces decreases in rainfall, surface and groundwater, and natural land cover. To counter these trends, Council asked that the new Land Development Code Revision require development to "beneficially use" stormwater by using green stormwater infrastructure, or GSI. The proposed code uses GSI as the new standard to capture and treat rainwater for water quality compliance.
Examples of GSI include biofiltration ponds, rain gardens, rainwater harvesting, and porous pavement. These controls use plants and soil to remove pollutants from rainwater, which also provide many additional benefits. Green controls increase soil moisture, reduce the need for potable irrigation, improve plant resilience in heat and drought, add natural habitat and beauty, and contribute to ambient cooling. They also help create a more walkable, shaded, and scenic environment.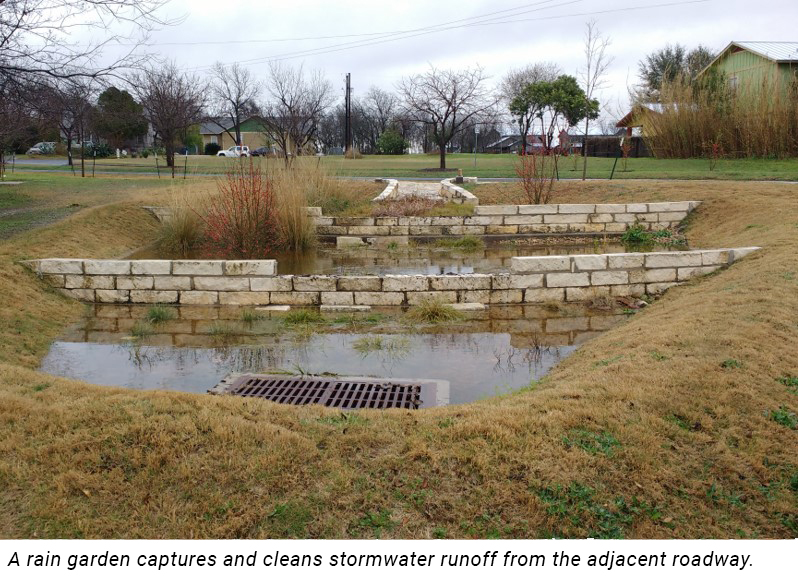 The proposed code revisions also facilitate the use of GSI by allowing rain gardens and biofiltration ponds to be integrated into landscaped areas to meet water quality, landscaping, and open space requirements. New commercial landscape requirements were added to promote beneficial reuse of stormwater and other non-potable water alternatives. Proposed revisions will also exempt rainwater harvesting tanks from impervious cover calculations to promote greater use.
Analysis shows no significant change to allowable impervious cover
Impervious cover is any hard surface, such as roads, parking lots and buildings, that prevents the infiltration of water into the ground. Excessive and uncontrolled impervious cover contributes to erosion and flooding and harms water quality. Due to these impacts, among others, the code has long limited the amount of impervious cover that can be built on a particular site.
Council's policy direction states that "the revised Code text and map should result in reduced allowable city-wide impervious cover" and "reductions in impervious cover city-wide should either decrease allowable impervious cover for, or make no change to, each individual watershed (relative to current code)." Watershed Protection staff performed an analysis of every lot within the City's full and limited purpose jurisdictions to compare the maximum impervious cover allowed by current code to the maximum impervious cover allowed by the proposed text and zoning map. The analysis showed that the draft code and map result in a very small increase in allowed impervious cover citywide: the maximum allowed impervious cover increased by one-fifth of one percent.
On an individual watershed basis, most of the City's 68 watersheds had essentially no change in allowable impervious cover, either up or down. Only two watersheds had an increase of more than one percent (Johnson Creek and Waller Creek), with both increases remaining well under two percent.
The citywide increase of 0.20 percent is very small in the context of the city's total land area. This is not a significant change in impervious cover from a watershed impact perspective. The draft code and map balance Council's direction to hold the line on impervious cover with the direction to increase housing capacity and provide missing middle housing.
No changes to the Save Our Spring Ordinance
The October 4 draft code proposes several Save Our Springs (SOS) Ordinance changes to improve water quality and help meet Council goals for housing. However, the SOS Ordinance is one of Austin's hallmark environmental protections, passed by voter referendum in 1992 to protect the Barton Springs Zone, and merits additional community discussion in a separate, future public process. Therefore, proposed changes to SOS Ordinance will be removed from the draft Land Development Code Revision.