Information for Those Who are Sick
Symptoms
Patients with COVID-19 have had mild to severe respiratory illness with symptoms of:
Fever
Cough
Shortness of breath
Return-to-Work Criteria 
If you were sick and feeling better, follow the return-to-work criteria from Centers for Disease Control before returning to work for healthcare workers. If you are recovering at home and have self isolated, follow CDC guidance for how to stop self-isolation.
People with COVID-19 who have stayed home (are home isolated) can stop home isolation under the following conditions:
If they will not have a test to determine if they are still contagious, they can leave home after these three things have happened:
They have had no fever for at least 72 hours (that is three full days of no fever without the use medicine that reduces fevers)
AND
other symptoms have improved (for example, when their cough or shortness of breath have improved),
AND
at least 7 days have passed since their symptoms first appeared.
Telehealth Services
Healthcare providers are encouraging all patients experiencing flu-like symptoms to first use mobile apps or visit websites that have been set up for COVID-19 response. For your safety and convenience telehealth resources are available. 
Before scheduling an appointment with your healthcare provider or walking into a clinic, urgent care center or hospital it is recommended that you check with your physician's office directly as they may be offering telehealth appointments with your provider or use a similar service listed below.
We are not doing on-demand drive-thru testing at this point. Currently, you have to be screened and directed there before this kind of testing is recommended. 
Services for Uninsured
---
Steps to Prevent Spread
Austin Public Health has developed guidance to help prevent spread from those who are sick to others (PDF). Also available in Spanish (PDF), Vietnamese (PDF), Chinese Simplified (PDF), Chinese Traditional (PDF), Korean (PDF), Urdu (PDF), Burmese(PDF), and Arabic (PDF).
Stay home except to get medical care 
Call ahead before visiting your doctor 
Monitor your symptoms 
Separate yourself from other people and animals in your home 
Avoid sharing personal items 
Cover your coughs and sneezes 
Clean your hands often 
Clean all high-touch surfaces every day 
Patients with confirmed COVID-19 should remain under home isolation precautions until the risk of secondary transmission to others is thought to be low.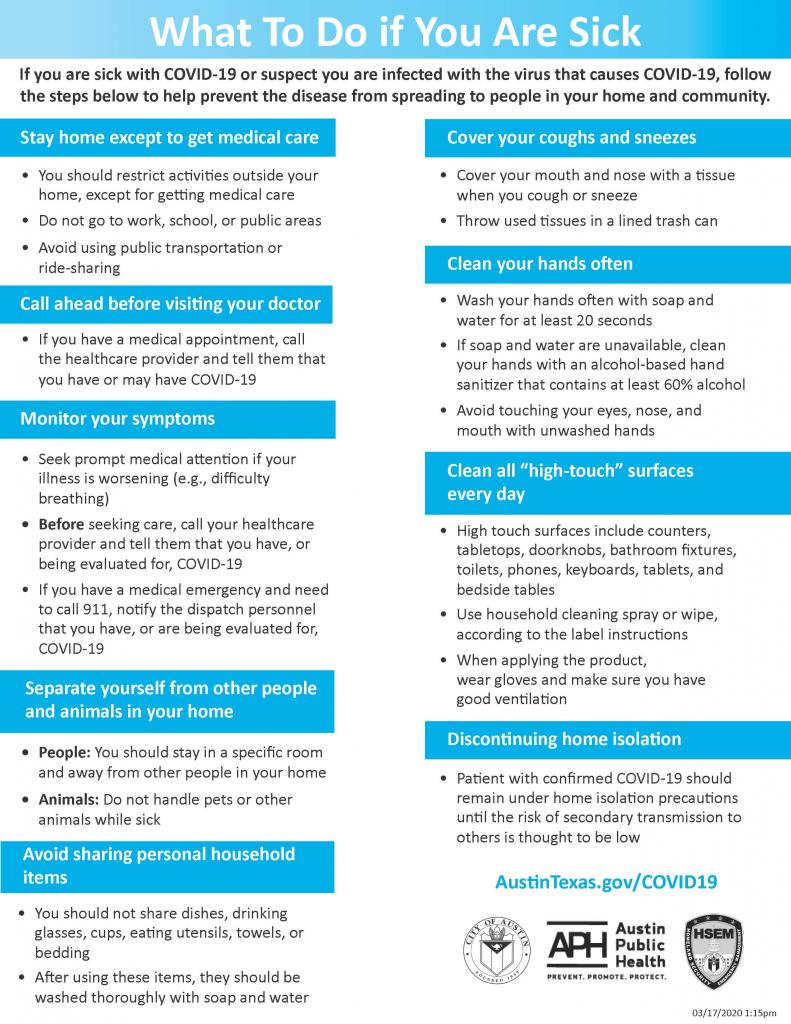 Click image to view larger version.
Please talk with your employer about your time off work. Some employers may allow you to work from home. If needed, you may use the Control Orders as a doctor's note.
---
Accessing Essentials
While you are under isolation, you may need to access essential items such as groceries and medications. Austin Public Health has compiled a list of resources to assist.
---
At-Home Entertainment Resources