The East 51st Street Mobility Project is planned as a revitalization of the corridor from I-35 to Berkman Drive.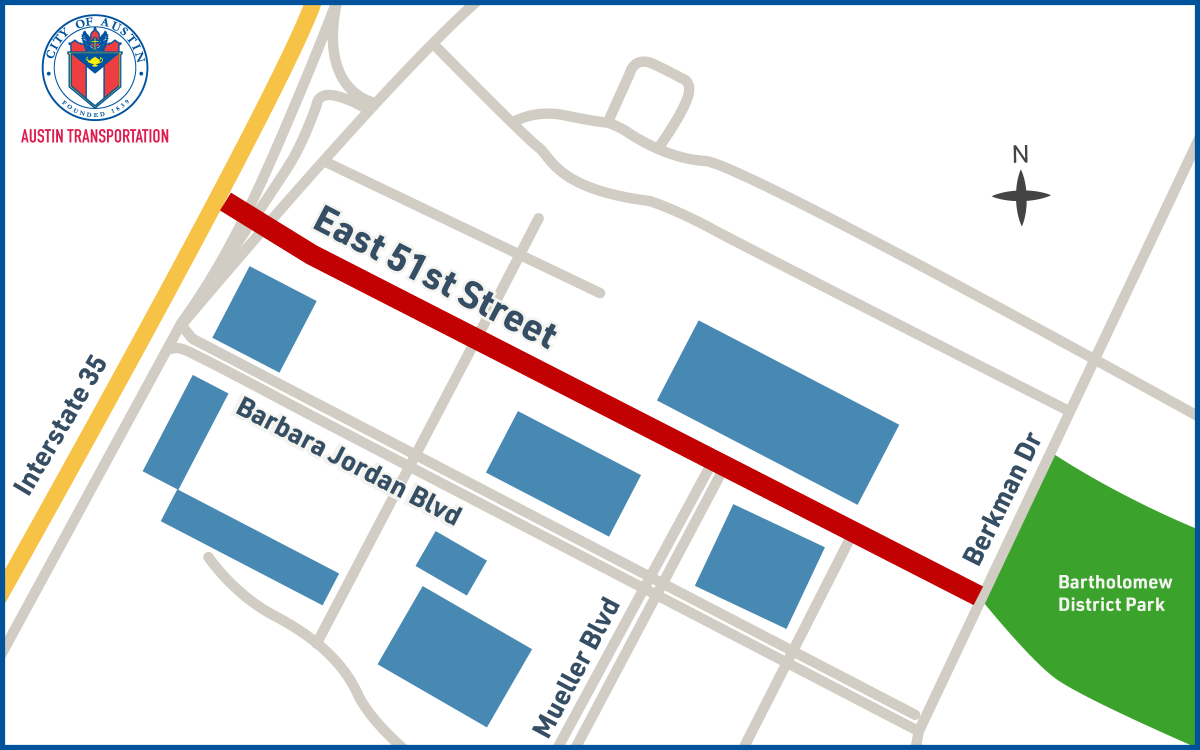 ---
What's happening now?
---
Public Outreach
2020
The City of Austin presented a project update to the Robert Mueller Municipal Airport Plan Implementation Advisory Commission on August 14, 2020.
The City of Austin verbally presented a project update to the Windsor Park Neighborhood Association on August 8, 2020.
2019
The Art in Public Places (AIPP) panel selected artist Olaniyi Akindiya, also known as Akirash, in Summer 2019 to design artwork for this project. The artwork intends to encourage slower vehicle speeds and create a safe, lively space for everyone who uses the street, including people on bikes and people walking.
2018
The City of Austin hosted an open house September 24, 2018 at the AISD Performing Arts Center to gather input from the public on design plans.
2017
---
Project Background
The East 51st Street Mobility Project stems from the East 51st Street Vision Plan to create a community vision and promote coordinated redevelopment for both sides of the corridor, with the Windsor Park neighborhood to the north and the Mueller redevelopment underway to the south. The East 51st Street Vision Plan achieved wide consensus and support from area neighborhood groups and was endorsed by City Council on April 26, 2012. City Council also passed a resolution directing the City Manager to identify funding sources to implement the plan. The East 51st Street Improvements Project was later added to the 2012 Bond, Proposition 12 – Transportation and Mobility, as a community-based project during the bond development process.
View the East 51st Street Revitalization Preliminary Engineering Report.
Proposed Changes
Partial reconstruction of the roadway section from IH-35 to Berkman Drive

Four-lane arterial roadway with intermittent center turn lane access

Medians with breaks at intersections and at mid-block

Pedestrian crossings at intersections to provide space for people walking, biking, and rolling to cross safely

New tree-lined sidewalks on the north and south side

Installation of a protected bicycle lane on the north side and an off-street bicycle lane on the south side

New on-street parallel parking spaces

Curb, gutter and drainage improvements

Rain gardens and detention ponds for runoff and water quality enhancements

Upgraded water service utilities on the north side
---
Get Involved
The City of Austin wants to hear from people who live, work and travel along East 51st Street.
Contact Us
Stay updated
Click here to receive updates about the East 51st Street Mobility Project.