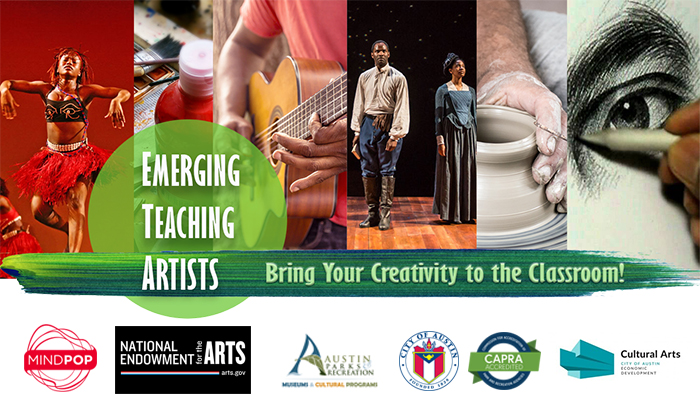 MINDPOP and the City of Austin Parks and Recreation Department, Museums and Cultural Programs, with the support of the National Endowment for the Arts, are excited to offer the Emerging Teaching Artists program (ETA). The purpose of ETA is to increase the number of artists of color and artists with disabilities working in classrooms across Austin. Successful applicants will come from these communities, will have a clear interest in teaching arts to children or adults, and demonstrate a strong creative/arts background. A stipend of $600 for all ETA fellows will be given upon successful completion of the program. ETA fellows will participate in a 14-session course combining virtual synchronous meetings and asynchronous work, in which they will learn the in's and out's of:
Classroom Management

Curriculum Development/Lesson Planning

Creativity & Arts Relevance

Working with Diverse Populations

Effective Facilitation

Career Preparation & Development
Artists working in the visual arts, theater, dance, music, digital, literary, and performance art are invited to participate in this exciting seminar. Prior teaching experience is not required to participate.
PROGRAM DATES: April 12th - May 29, 2021 | Monday evenings & Saturday mornings (90 mins. each)
APPLICATION DEADLINE: EXTENDED - March 29th, 2021 | Apply at Museums & Cultural Programs of the Austin Parks & Recreation Department Submission Manager (submittable.com)
APPLICATION MATERIALS:
RESUME (.doc or .pdf)

3-5 samples of your work. Can be IMAGES, VIDEO or AUDIO files. We are interested in artists of all genres. Portfolios are reviewed for the purpose of confirming your commitment to the arts.

Personal Statement (.doc or .pdf or .mov): Please limit your writing to no more than 500 words or a 3 minute video. You may speak to the following topics: a) Your background in your artistic areas of focus; b) Your interest and/or experience in teaching and arts education; c) How this program fits into your career path.
ETA TEACHING ARTIST TRAINING: Fellows will participate in 14 90-minute virtual sessions, convening twice a week from April 12th - May 29th, 2021. These virtual meetings will include group work and speakers, which will pair with asynchronous online assignments as they learn the foundations of working as a teaching artist. The ETA seminar will use "hands-on", experiential learning, readings, and discussions with community representatives of the arts to provide basic skills in curriculum development, classroom management, and career development.
FELLOWSHIP SELECTION: ETA fellowships will be awarded to individual artists of color and artists with disabilities who have a deep interest in teaching art to children or adults. No prior education or teaching experience is required to participate.
MENTORSHIP: ETA fellows will each be paired with a mentor who will offer at least two 60-minute consultations during or upon completion of the spring course.
PROFESSIONAL DEVELOPMENT WORKSHOPS and NETWORKING OPPORTUNITIES: ETA fellows will also have access to other professional development and networking opportunities, including MINDPOP's Flashdrive professional learning series, Quarterly Meetings for arts education providers and Creative Connections, which are geared towards increasing employment and funding opportunities for Austin teaching artists.
ADA | The City of Austin is proud to comply with the Americans with Disabilities Act. If you require special assistance for participation in our programs or use of our facilities please call 512-974-3914 or 711 Relay Texas.