Preparedness Materials
These educational materials are available for presentations, professional printing and office printing. Where applicable, content has been created in coordination with the American Red Cross and National Weather Services. Design files are available to accredited non-profit and government organizations by request to the HSEM Public Information and Marketing Manager.
 Emergency Preparedness Resources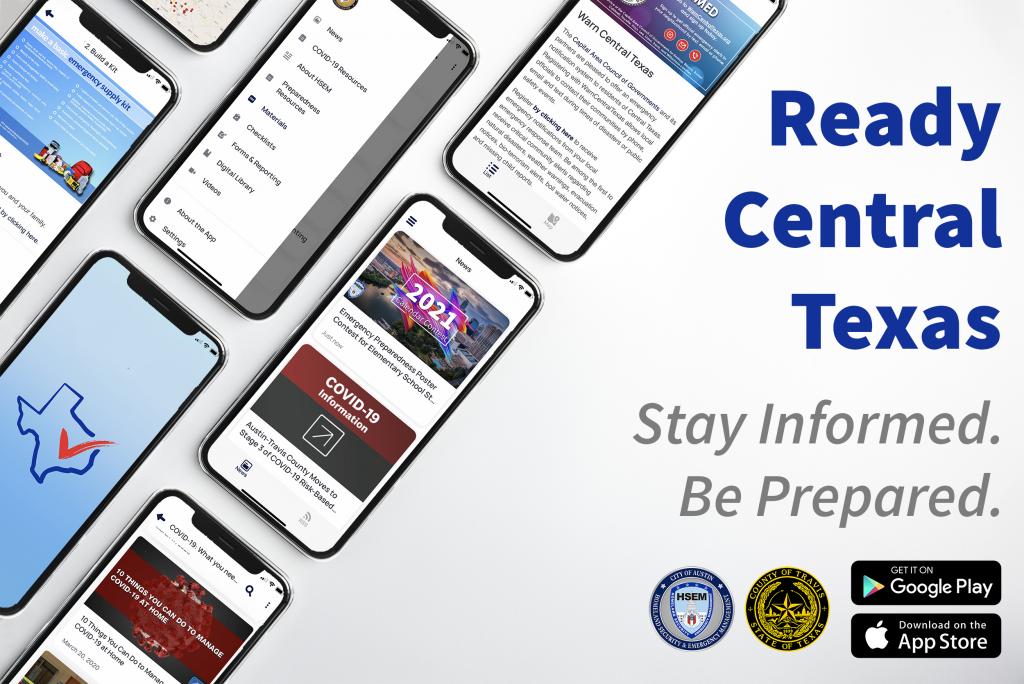 Ready Central Texas App
The City of Austin Office of Homeland Security and Emergency Management and the Travis County Office of Emergency Management have partnered to deploy an emergency preparedness mobile app.
The Ready Central Texas app provides:
News updates and warnings
Preparedness resources
Emergency plan checklists to help make sure you have what you need
Informational videos
Document library with preparedness materials
COVID-19 resources from Austin, the State of Texas and the federal government
The app is available on Android and iOS devices and is free to download and use.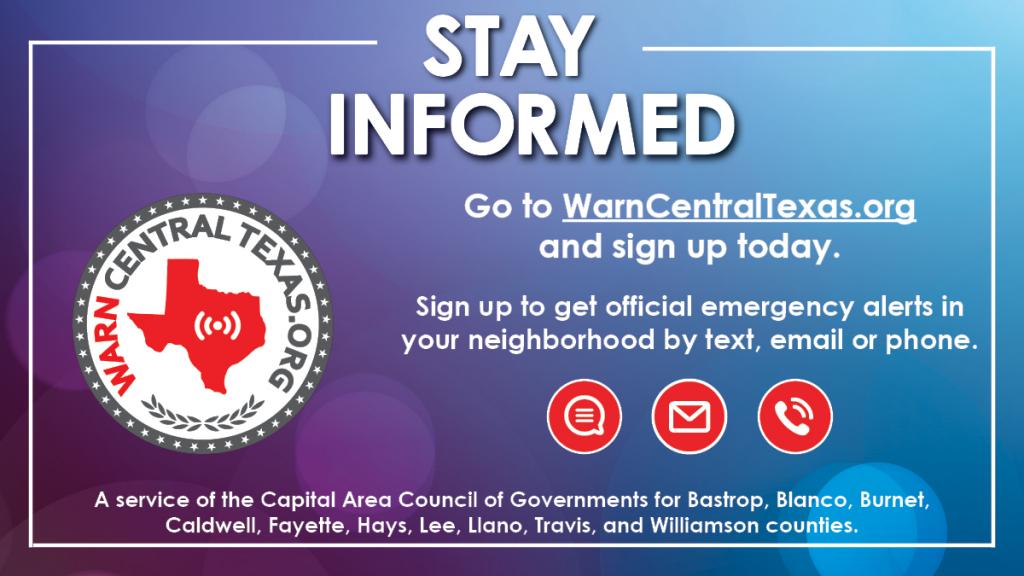 Warn Central Texas Alert System
The Capital Area Council of Governments uses a regional notification system (RNS) called Everbridge as a crucial public-safety tool. Warn Central Texas covers a 10 county region to include: Bastrop, Blanco, Burnet, Caldwell, Fayette, Hays, Lee, Llano, Travis, and Williamson.
Register here to receive emergency notifications from your local emergency response team. Be among the first to receive critical community alerts regarding natural disasters, weather warnings, evacuation notices, bio-terrorism alerts, boil water notices, and missing child reports.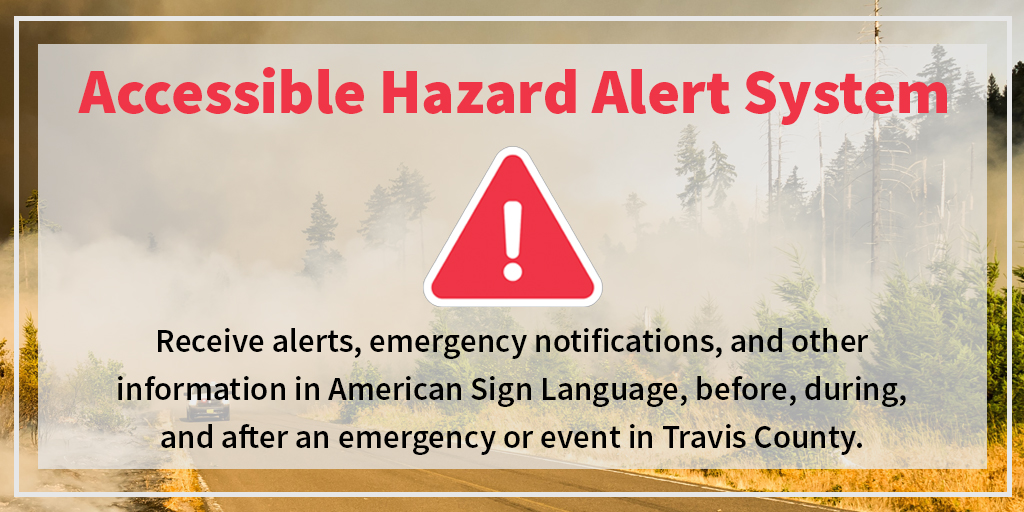 Accessible Hazard Alert System
The City of Austin Office of Homeland Security and Emergency Management and the Travis County Office of Emergency Management have partnered with Deaf Link to launch the Accessible Hazard Alert System (AHAS) for Deaf, Blind, Hard of Hearing, or Deaf and Blind community.
Austin and Travis County AHAS subscribers will receive an accessible message in American Sign Language, and English voice and text. The alert message will include information about the emergency and what actions to take. AHAS has the capability to send accessible alerting messages to registered residents before, during, and after an emergency or disaster in Travis County.
When an emergency alert or other information is sent through the AHAS program, users will receive accessible alert messages on internet and video capable devices such as computers, cell phones, smart phones, tablet computers, and wireless Braille readers.
Register for alerts at https://atc.ahasalerts.com/ or by texting AHAS to 737-241-3710.
Recovery Materials/Resources
Preparation for a disaster can be made and still an impact can be made on you, your family, home, or business. Recovering from disaster can be a difficult process to manage. Fortunately, there are resources available to help you and your business should you need assistance.
Find out how to get emergency financial help from the government if you have been effected by a natural disaster.
Emergency Materials/Resources
---
Wildfire/Heat Safety Resources
---
Small Business & Nonprofit Organization Resources
---
Misc Materials