August 22, 2019
Room to Grow: Housing Capacity and Housing Yield
Current trends indicate that Austin's population is forecasted to grow by about 2% per year, and the region's population is forecasted to grow by about 3.4% per year.1  We aspire to be a city where people can live close to where they work, and where people who work here can afford to live here. Since a large proportion of the region's jobs continue to be located within the Austin city limits, the City Council affirmed, in its adoption of the Strategic Housing Blueprint, that Austin should accommodate its fair share of forecasted housing needs. Currently, there has not been enough housing built to enable people of all incomes who work in Austin to be able to afford to live in Austin.
The Blueprint sets a policy to create 135,000 additional housing units over 10 years to better match the number of housing units with the number of jobs in Austin and provide for the City's fair share of housing needs. The Blueprint also speaks to preserving existing affordable housing units, which is an important strategy in the City Council's policy direction for the Land Development Code Revision (pg. 18-19) so that people of all incomes who work in Austin have an opportunity to live in Austin. As more people live closer to where they work, we are better able to manage traffic congestion and its environmental impacts through reduced commutes.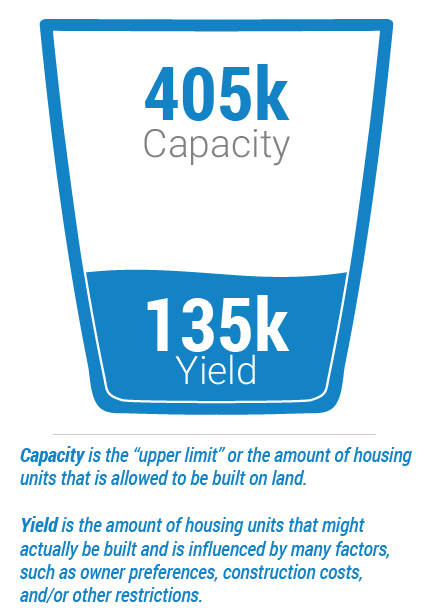 In establishing the Blueprint's 135,000 additional housing unit goal, staff considered several data points, including:
Information from the City Demographer that identified a need for approximately 75,000 to 85,000 housing units;
Further research showing that from 2005 to 2015, 53% of the region's jobs were created within Austin, but only 41% of the region's housing units were created within the city;2
Census data showing that more than 50% of the people who work in Austin live outside the city limits;3 and
Recent housing market analysis showing that lack of affordability is a key reason that people who work in Austin might live elsewhere.4
Following deliberations on the Blueprint, the City Council adopted the 135,000 housing unit goal in order to proactively address recent suburbanization trends that are inconsistent with the Imagine Austin vision of being a community that is affordable and accessible to all. 
In order to realize our goal to create – or "yield" – 135,000 additional housing units, our own urban planners and project consultants agree that we should develop a multiplier of that goal, also known as "capacity." This is because what actually will be built on a piece of land is uncertain and depends on a variety of factors. Some land remains undeveloped or underdeveloped because of owner preferences and/or due to the land's location or restrictions on how it can be developed. Based on this understanding, the City Council's adopted policy direction (pg. 5) set a housing capacity of three times the Blueprint's housing unit goal which is about 405,000 housing units (135,000 units x 3 = 405,000 units).
While a variety of market circumstances plays a role in housing production, revisions to the Land Development Code will include a housing capacity of 405,000 units which can help increase the number and variety of housing choices. This housing capacity could also increase the likelihood of yielding the Blueprint goal of 135,000 additional housing units. 
---