Follow the tips below to make your experience a treat for everyone. More travel tips are available on our general travel tips page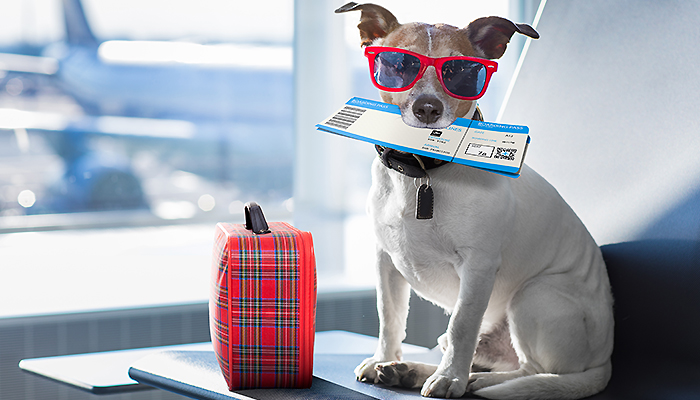 Before you go
Contact your airline to learn about their policy on traveling with pets.
For pets that fly, federal and state laws require a health certificate signed by a veterinarian. These certificates must be presented to your airline prior to your flight.
If you travel outside the continental United States, be aware that some places, including Hawaii, require your pet to have special vaccinations and may impose a quarantine period when you arrive at your destination. Contact the host country, or ask your airline for assistance in learning the rules that pertain to traveling with your pet outside the U.S. mainland.
Remember, puppies and kittens must be at least eight weeks old to travel on an aircraft.
Prepare your pet
Before flying let your pet get acquainted with their carrier. Open the door and let them explore. Put a favorite toy and something of yours inside, the scent will help comfort them.
Tip: Get a pet pad to protect your pet and your carrier.
Tranquilizers
Sedation is not advised since the effects of tranquilizers at higher altitudes are unpredictable. The decision to prescribe a tranquilizer for your pet should be made by your veterinarian.
Food and Water
USDA requires that your pet be offered food and water within four hours before check-in with the airline but do not overfeed your pet. A full stomach might make your pet ill, a light meal two hours before you leave for the airport is recommended. When you check in with the airline, you must certify when your pet was last offered food and water. (Do not leave food or water in the dish in the kennel; it will only spill and make travel unpleasant for your animal.)
When to fly
Try to book a non-stop flight, and take temperatures into consideration. In the summer, fly at night, when it's cooler; in the winter, fly during the day, when it's warmer.
Pet Carriers or Crates
Be sure to clearly display your name and contact phone number
Use arrows or other markings (Live Animal Stickers) indicating the top of the kennel
Include food and water dishes (empty so they do not spill and make travel unpleasant for your pet) secured inside the kennel and accessible from outside
Show a food and water schedule and, if any food is necessary, include an ample supply in a bag attached to the outside of the kennel
Only one adult dog or cat per carrier
No more than two puppies or kittens (younger than 6 months and under 20 lbs. each) per carrier
Have crate pet pads
Display labels on top and at least one side with the words LIVE ANIMALS printed in 1-inch high letters.
Have a favorite non squeaking toy, blanket, and something of yours inside
Check-In and TSA Screening
Ticketed passengers with pets or a person responsible for an animal being shipped by an air carrier must:
Restrain the animal by a leash or carry the animal in a cage approved for airline use
Take the animal directly to the air carrier for shipment
Leave the terminal as soon as your pet is taken from the air carrier
A traveler carrying an animal in the secure area or through a screening point onto an aircraft must at all times keep the animal in a cage approved for airline use. Service animals are not subject to these rules.
You will need to present your pet to Security Officers at the checkpoint. You can walk your animal through the metal detector. If this is not possible, your pet will have to undergo a secondary screening, including a visual and physical inspection by TSA Security Officers.
Your pet will NEVER be placed through an X-ray machine. You may be asked to remove your pet from its carrier so that the carrier can be placed on the X-Ray machine.
Pets, including dogs and other animals, are not allowed in the terminal, as noted in City Ordinance § 13-1-33 Restrictions on Animals.
Exceptions include:
An animal used by a law enforcement officer in the officer's performance of duties;
A seeing-eye dog escorting a visually impaired person, or other service animal being used for assistance by a person with disabilities; or
An animal that is being delivered to, or picked up from, an air carrier for transportation

Visitors who are not ticketed passengers may not bring their pets inside the terminal, including bag claim and the ticket lobby unless it meets one of the above exceptions.
Pet Relief Area
The airport's landscaped and lighted dog walk offers relief to pets and some room to stretch legs, both theirs and yours! The dog walk includes a pet drinking fountain, pick-up bags for dog waste, and trash receptacles. The dog walk is located outside the lower level at both ends of the parking garage.
Transportation Security Administration Consumer Hotline
To file a complaint call the TSA Contact Center at 866-289-9673 or e-mail https://www.tsa.gov/contact-center/form/complaints
The Transportation Security Administration is responsible for reviewing all claims relating to the screening of passengers and their baggage. In order to protect your rights, passengers must file a written claim with TSA.