The Walter E. Long Metropolitan Park Vision Plan will help determine the long-range vision for the entirety of the park, including areas currently used by other organizations.
Project Background
Walter E. Long Metropolitan Park is a regional park located in east Austin, situated just west of State Highway 130. The park is accessed via Blue Bluff Road (see map below). The property includes 3,695 acres of parkland and the 1,165 acre Lake Walter E. Long.  The park also includes approximately 765 acres of preserved habitats and the Travis County Expo Center grounds. Some of the existing facilities in the park include hike and bike trails, picnic areas, volleyball courts, boat ramps, and fishing piers. A skeet shooting range and model airplane area are also operated by organizations within the park.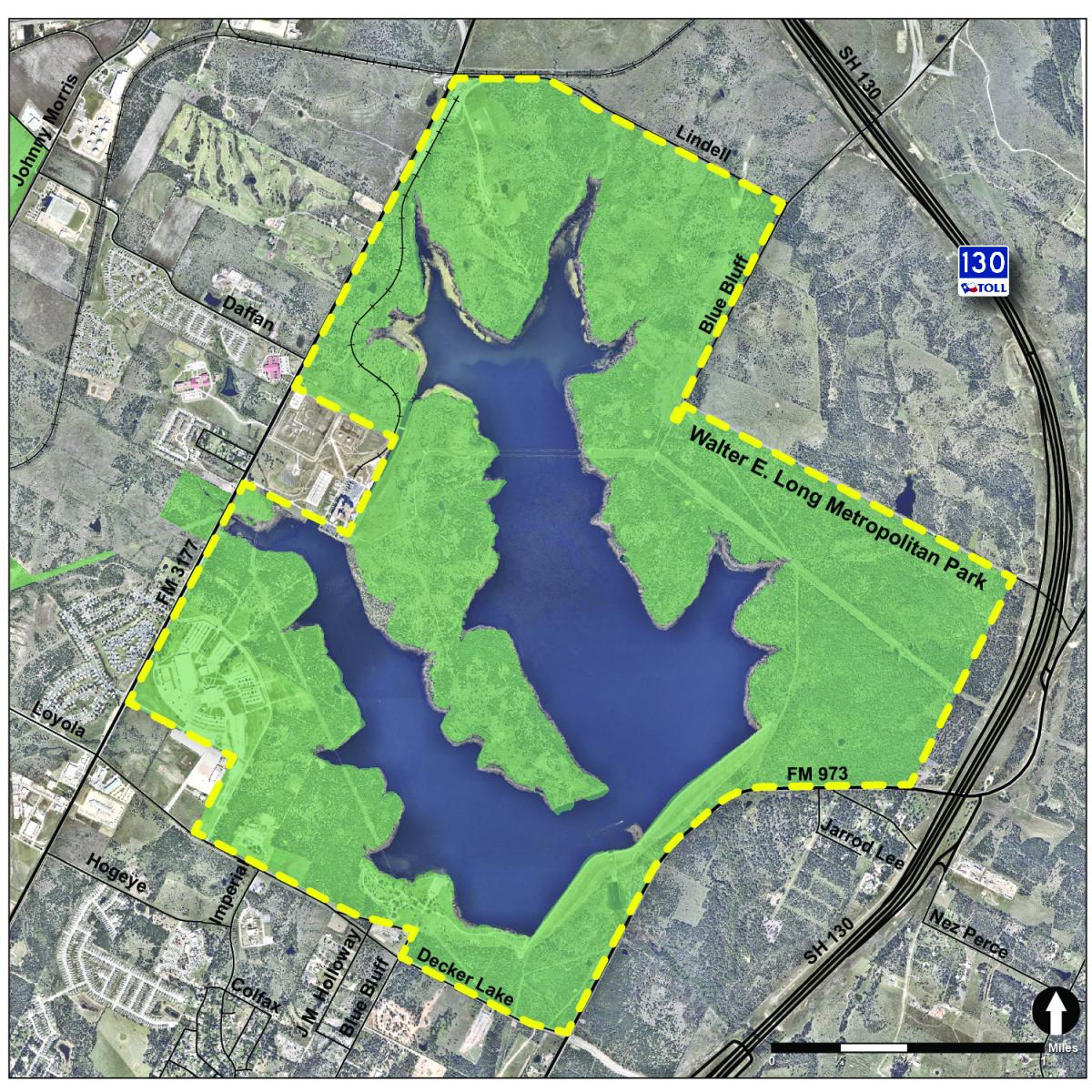 Project Goals and Timeline
The Austin Parks and Recreation Department is working with industry professionals, a technical advisory board, and you to create the long-range vision for the park. The community contributed to the vision by participating in various forms of public engagement below. The plan will be presented to the Austin City Council for adoption in 2020.

View the draft Vision Plan
Community Engagement
The vision planning process included numerous opportunities for the public to voice their opinions and desires. Community engagement elements included stakeholder meetings, surveys, multiple open houses, and more. The next opportunity for the community to share thoughts will be before the Parks and Recreation Board in June. The final approval will take place before Austin City Council in August or September. Sign-up to receive email updates with more information.
Presentation to City Council
TBD
Presentation to Parks and Recreation Board
June 25, 2019, 6:00 PM
City Hall, Boards & Commission, Room 1101
301 W 2nd St, Austin, TX 78701
Open House #4
Wednesday, December 5, 2018
6:00 – 8:00 PM
Decker Middle School
Open House #3
Wednesday, October 24, 2018
6:00 – 8:00 PM
Decker Middle School
Open House #2
Wednesday, June 6, 2018
6:00 – 8:00 PM
Decker Middle School
Open House #1
Wednesday, April 4, 2018
6:00 – 8:00 PM
Decker Middle School