- - to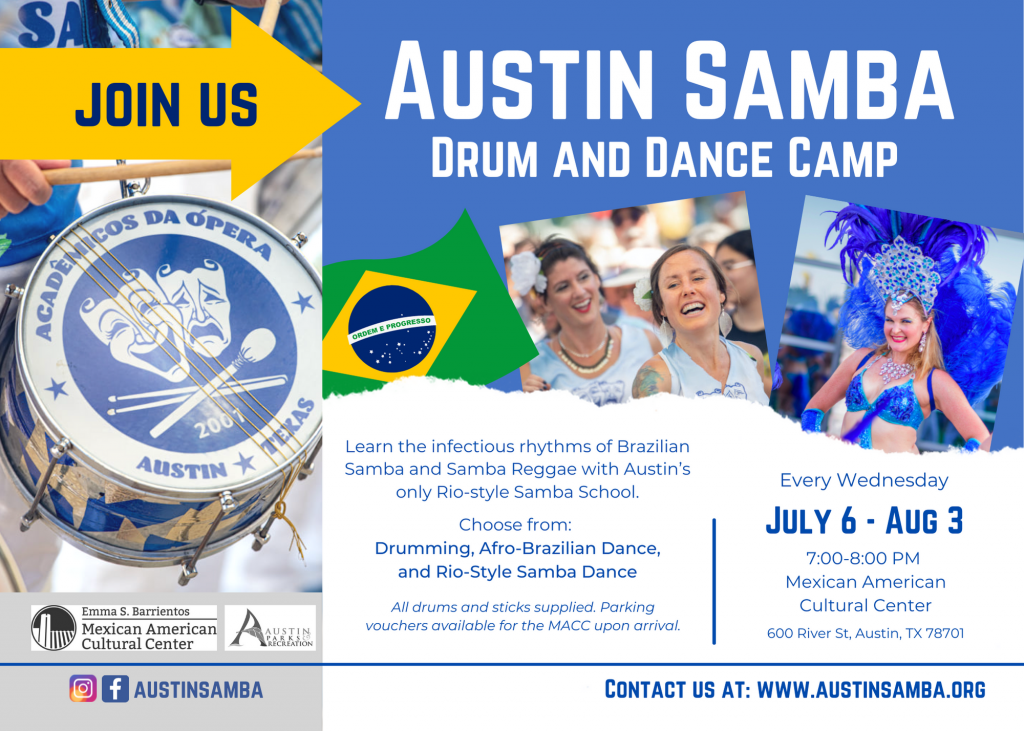 Samba Boot Camp: Free Classes by Austin Samba 
Wednesdays from 7:00-8:00pm on these days:

July 6
July 13
July 20
July 27
August 3
The Emma S. Barrientos Mexican American Cultural Center has partnered with Austin Samba to provide FREE Samba Boot Camp! 
-This is a FREE class; no pre-registration required. 
-Parking is free at the MACC parking lot if you obtain and display a free parking pass when you arrive (600 River Street).
Austin Samba is providing free Brazilian samba dancing and drumming classes outdoors on the Zocalo plaza at the Emma S. Barrientos Mexican American Cultural Center.  These classes will be an open, inclusive, fun cultural learning experience for everyone who attends! 
Classes will be held every Wednesday evening in July and the first Wednesday of August.  The free community "boot camp" class is from 7:00-8:00 pm, during which anyone can participate.  Participants should arrive 15 minutes early to park at the ESB MACC and get a free parking pass to display in their cars. 
No prior experience is necessary!  The free classes will be structured to accommodate beginners and will also include enough elements to provide a fun challenge for those with more experience.  Participants can choose either the drum or dance classes and are welcome to switch between classes from week-to-week.  For those who choose to drum, loaner drums and sticks will be available for use during the class.
After the free class from 7:00 to 8:00 pm, the following hour (8:00 – 9:00 pm) is reserved for current Austin Samba members' formal 'rehearsal', which is when they work on their existing repertoire of advanced material.  So in addition to participating in the free community classes from 7:00 – 8:00 pm, everyone is welcome to stay and watch the members-only rehearsal hour from 8:00 – 9:00 pm.
Don't miss this opportunity to experience the joy of Brazilian Samba with Austin Samba and the MACC!!
About Austin Samba:  http://www.austinsamba.com
Austin Samba is a volunteer-run, community-focused, educational and performance organization that focuses on Brazilian samba and carnaval rhythms. Founded in 2001 by Dr. Robert Patterson (aka Tio Jacare), the goal of Austin Samba is to share the joy of Brazilian music and dance (short background video entitled "Austin Samba Brings Brazil to Texas -- https://www.youtube.com/watch?v=7TnHiC0Wv3A).  Austin Samba is patterned after escolas de samba (samba schools) in Rio de Janeiro, Brazil, and today Austin Samba is the largest samba school in the U.S., comprised of between 80 – 100 members who perform the music and dance moves from across Brazil. Austin Samba performs at parades, festivals, corporate events and various special occasions, bringing the music, movement, color, pageantry and joy of Brazilian Carnaval to events throughout the region. The performers of Austin Samba come from all walks of life and represent a variety of backgrounds, professions, sizes, shapes, ideas, colors, races and nationalities. This diversity allows members to take on unique creative challenges to develop shows/performances that are unlike any other. Their events showcase the members' commitment to learning and sharing the diverse rhythms / dances that are at the heart of Brazilian samba culture. Austin Samba is open to the community.
Questions? Contact Imani from Austin Samba at imaniaanu@gmail.com.
Emma S Barrientos Mexican American Cultural Center
600 River Street
Austin, TX 78701
United States