- to
---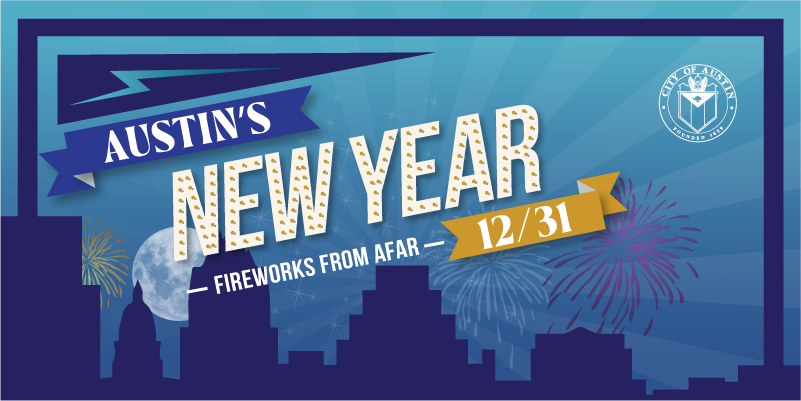 Austin's New Year: Fireworks from Afar
Date/Time:  Friday, December 31, 2021 at 10:00 p.m. 
Location:  Vic Mathias Shores (700 W. Riverside Dr., Austin, Texas 78704) 
This year, the City of Austin will welcome in the New Year with a festive fireworks show. The City of Austin prioritizes safety during events and, for this New Year's Eve, we will be exercising an abundance of caution to help prevent post-holiday surges. 
City-organized activities, vendors, and entertainment will not be present in the park. Austin's New Year 2021 is a fireworks only display. 
Austinites and visitors are encouraged to celebrate responsibly and watch from afar.   
How to Watch the Show 
Watch from the comfort of your living room. Tune in at 10:00 p.m. to watch the show streamed live from ATXN on-line or on cable television: 
On-line: atxn.tv
Spectrum Cable: Channel 6 
Grande Communications : Channel 6  
AT&T U-Verse: Channel 99 
ATXN is now available on AppleTV + Roku. On either device download the ATXN app to watch from these channels

.
Lake Closures for Firework Fall Out Zones 
For safety reasons, Lady Bird Lake between the railroad trestle bridge and the S. 1st St. bridge will be closed from 9 p.m. to midnight. 
Road Closures for Firework Fall Out Zones  
Road closures associated with firework fall out zone safety start at 8 p.m. and may precede actual event start times. Only firework related staff are permitted in the area. See the street closure map below. All streets will be reopened no later than midnight. 
8:00 p.m. 
Riverside Drive from Lee Barton to S. 1st Street full closure by 8:00 p.m. 
9:00 p.m.   
1st St Bridge - starting at 9:00 p.m. with full bridge closure by 9:30 p.m. 

(Click on the Image for Full Map)
Capital Metro will have alternate routes in place. You can plan your trip with Capital Metro online.
Austin, TX 78704
United States