- to
Tui Snider is an inquisitive world traveler who writes books, gives talks, and does a lot of research. Tui's specialties include forgotten history, offbeat destinations, historic cemetery symbols, and haunted lore. Her books include 6 Feet Under Texas, Understanding Cemetery Symbols, Grave Goods, and Graveyard Journal.
Learn more about her research at TuiSnider.com
This is an unusual EVENING event at the Oakwood Cemetery Chapel. Bring a flashlight as there are no streetlights in the cemetery.
Books will be available for purchase directly from the author.
RSVP required on Eventbrite for admission to this free event.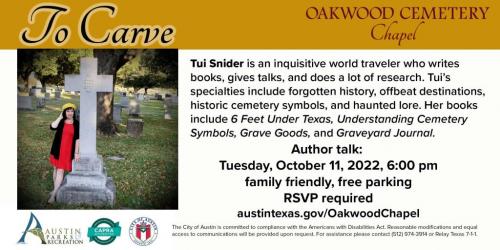 Oakwood Cemetery Chapel
1601 Navasota Street
Austin, TX 78702
United States