- 4:00 PM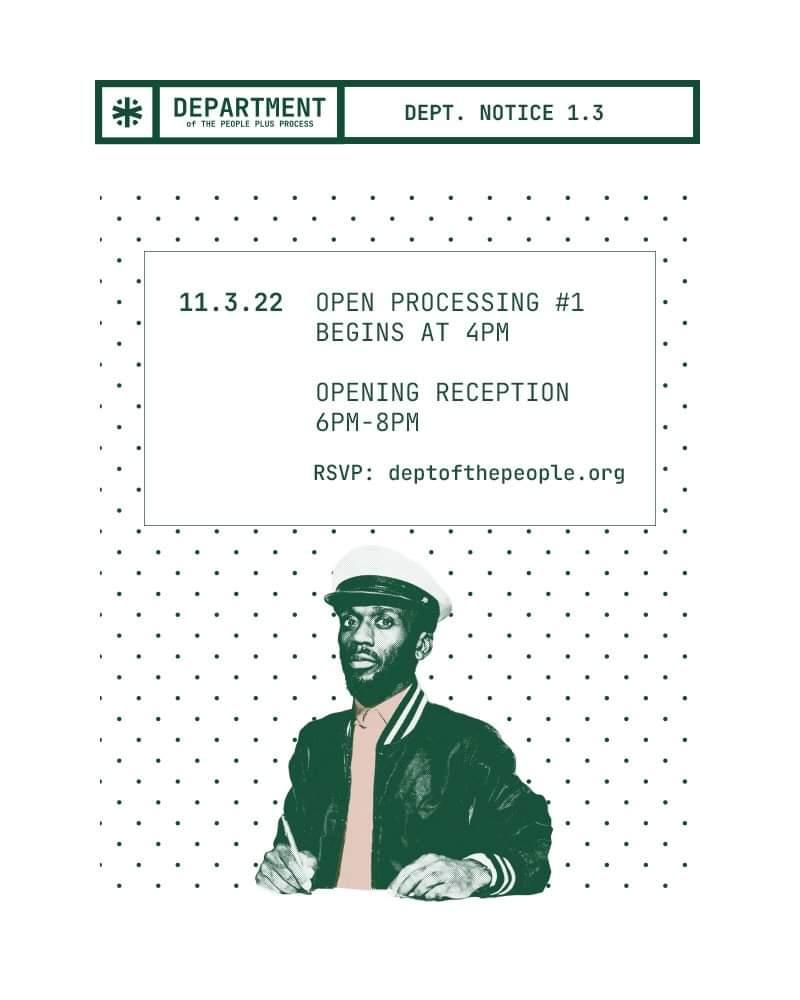 The Department of the People + Process will open on Thursday, November 3, 2022, at the Carver Museum, Cultural and Genealogy Center (1165 Angelina St. Austin, TX 78702). Moyo Oyelola will begin processing audience applications for his artistic performance at 4:00 pm. A reception will start at 6:00 pm in the museum lobby. 
"What does it mean to register your security, your car, and your life away to a greater authority? We all do it every day. Who does bureaucracy serve and does structure create or crush personal freedom? When does power become an enemy of progress?" questions interdisciplinary and performance-based artist Moyo Oyelola in his upcoming exhibit, The Department of the People + Process. 
 
Through multimedia displays and interactive performance art, this exhibition at the Carver Museum, Cultural and Genealogical Center examines questions of authority and the self-sovereignty of the human journey. As bold as it is mischievous, The Department of the People + Process pokes at societal norms and invites attendees to reflect, dream and participate, offering an inspiring container for the reclamation and expression of self. This work evolves in real-time, extending the audience's experience from passive consumption to active participation as they answer the exhibit's questions and contribute to the narrative.   
 
Moyo Oyelola (b. 1988) is a photographer, multimedia artist, and activist. He creates intimate, authentic interactions with his subjects and communities, synthesizing that into deep, universal activations expressed in multimedia, photography, environmental installations, and public art projects. Born in Abeokuta, Nigeria, Oyelola moved to Austin when he was seven after his family's name was drawn from a lottery to gain a visa. Growing up as the "product of two worlds" has shaped his thinking and work, reflecting perspectives of pan-African and modern western worlds. Promising surprises, provocation and above all - interactivity, Oyelola continues to pull at his quintessential threads: identity, community and sovereignty. But this time, we're all pulling with him. 
 
 
The George Washington Carver Museum, Cultural and Genealogy Center is a historic landmark dedicated to preserving Black history, culture, and aesthetic expression. Located in East Austin, the Museum served as Austin's first branch library and the first library that the African-American community could access. In 1980, the library became the first African-American neighborhood museum in Texas. Today, the 39,000-square-foot facility includes galleries, meeting spaces, a darkroom, a dance studio, a 134-seat theatre, an archive, a community garden, a genealogy center.  
 
Follow us on Facebook, Instagram, YouTube, and Twitter: @CarverMuseumATX, @AustinCityParks 
0
George Washington Carver Museum, Cultural and Genealogy Center
1165 Angelina Street
Austin, TX 78702
United States