- - to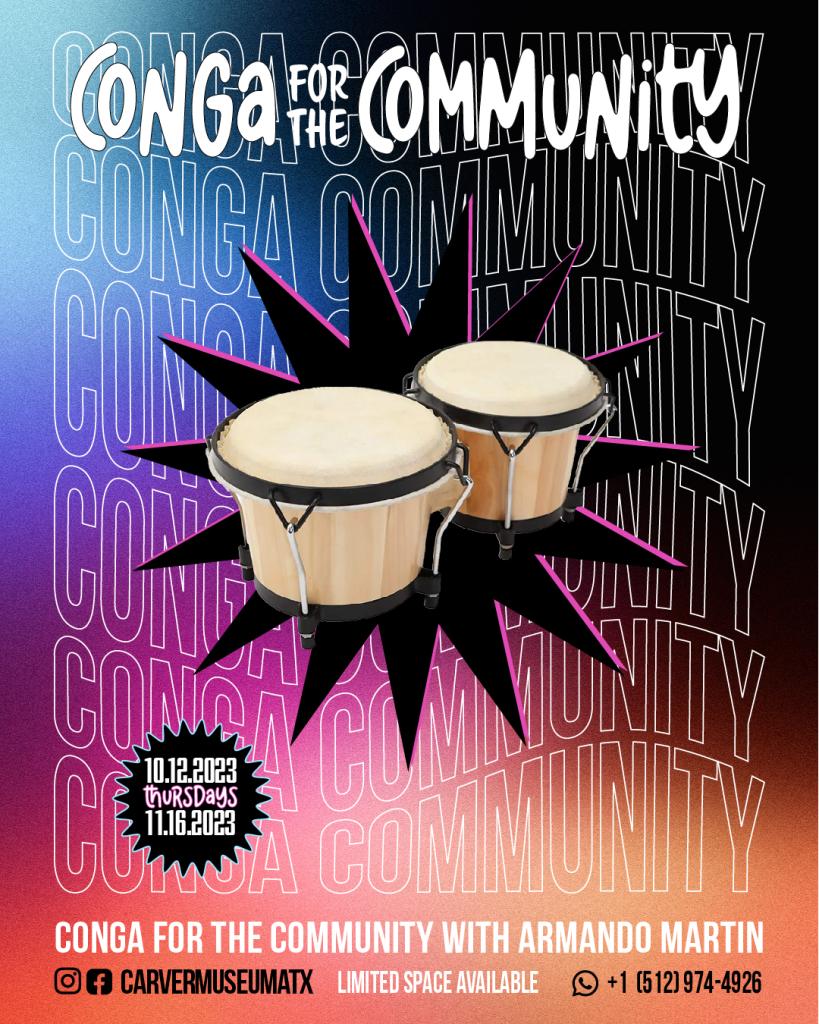 Conga for the Community
This course is a six-week beginner conga drum class with professional conga musician Armando Martin. Students will learn the history of the conga drum, basic drumming techniques and how to play well known rhythms such as the mambo!
-- This one-hour class is held every Thursday, from 10/12/23-11/16/23
-- 6pm-7pm (Students should arrive 15 minutes early to set up and prepare for class.)
-- Participants must be 18 years old to participate.
-- To make sure everyone has hands on instruction, the class is limited to only six (6) participants.
We do not have the ability to register students over the phone, if you have issues registering online, please contact our education specialist via email Cathy.Runnels@austintexas.gov
**This course requires students to purchase their own drums.**
Required drums:
Standard conga drum - 11.75" drumhead
Standard tumba conga drum - 12.5" or 12.25" drumhead.
Used congas can often be located on Craigslist, Facebook Marketplace, or in pawn stores. New drums can be found on Amazon or online instrument stores such as Musicians Friend or Guitar Center.
This workshop will teach:
Session1:
A: History of the Conga Drum
B: The 5 basic tones for playing the Conga Drum
Session2:
A: Review and practice the 5 basic tones
Session3:
A: Review and practice 5 basic tones
Session4:
A: Fundamentals of forming a rhythm
Session 5:
A: How to play the Mambo rhythm
Session 6:
A: How to play the Cha Cha rhythm.
For more information regarding the class and registration policies, select the "i" on each class row.
Instructor, Armando Martin, is a native of Panama City, Panama, in Latin America. He and his family emigrated to the United States during the mid 1960's and he grew up in the Bronx, N.Y.
It was during his freshman year of high school in 1972, that he developed an interest in playing the Conga Drum. One day a Salsa band came to perform at his school during the lunch hour and Armando was working as a stagehand. By coincidence he was offstage and standing behind the Conga player and was immediately fascinated by the instrument. It was not until 2006, that he finally decided to pursue his lifelong dream, and learned to play the congas. He has been a student of the drum for the past 17 years and has never looked back. Playing his drums have been therapeutic and more than simply what he "does", it is a part of who he "is".
In 2008 he and fellow musicians James Jenner and Rick Blakey formed the Drum group "Spirit of the Drum" . You can see them in the annual Juneteenth Parade, and at their monthly jam session in Mueller Park.
George Washington Carver Museum, Cultural and Genealogy Center
1165 Angelina Street
Austin, TX 78702
United States