- to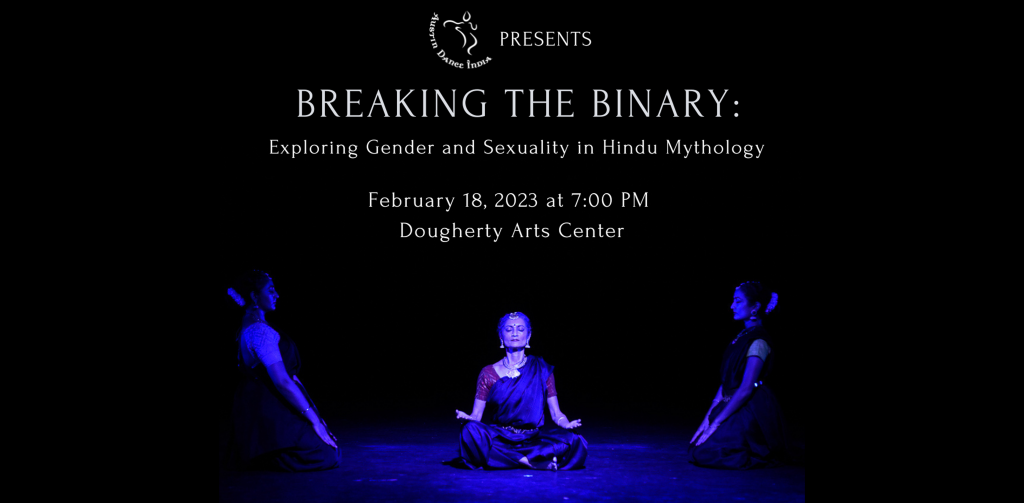 Breaking the Binary: Exploring Gender and Sexuality in Hindu Mythology
Saturday, February 18, 2023
7:00 PM
Austin Dance India, under the artistic direction of Anuradha Naimpally, proudly presents, Breaking the Binary: Exploring Gender and Sexuality in Hindu Mythology. These narratives provide examples of people whose flexible identities and sexuality exist within a context that is not just tolerant, but also accepting and supportive. Breaking the Binary weaves together multiple performing media, with Indian classical dance, a haunting musical track, and spoken word flowing together. Dancers include Purna Bajekal, Soumya Nagesh, and Austin Arts Hall of Famer, Anuradha Naimpally with music that includes a track by Austin's Eastern Soul singer, Nagavalli. Multimedia images and spoken word bring the stories to life.
Allow yourself to be transported into a world where each individual form actualizes their potential energy and power with no boundaries.
*While not explicit in presentation, this performance explores stories pertaining to gender and sexuality. Discretion is advised.
For more information on tickets, visit Breaking the Binary at Eventbrite
10% of all proceeds will be donated to allgo, a local organization that celebrates and nurtures queer people of color.
Austin Dance India is part of the Artist Access Program, through the City of Austin's Parks and Recreation Department, Division of Museums and Cultural Programs, and the Dougherty Arts Center.
The City of Austin is committed to compliance with the Americans with Disabilities Act. Reasonable modifications and equal access to communications will be provided upon request. For assistance please contact (512) 974-3256 or Relay Texas 7-1-1.
Dougherty Arts Center
1110 Barton Springs Rd.
Austin, TX 78704
United States