- to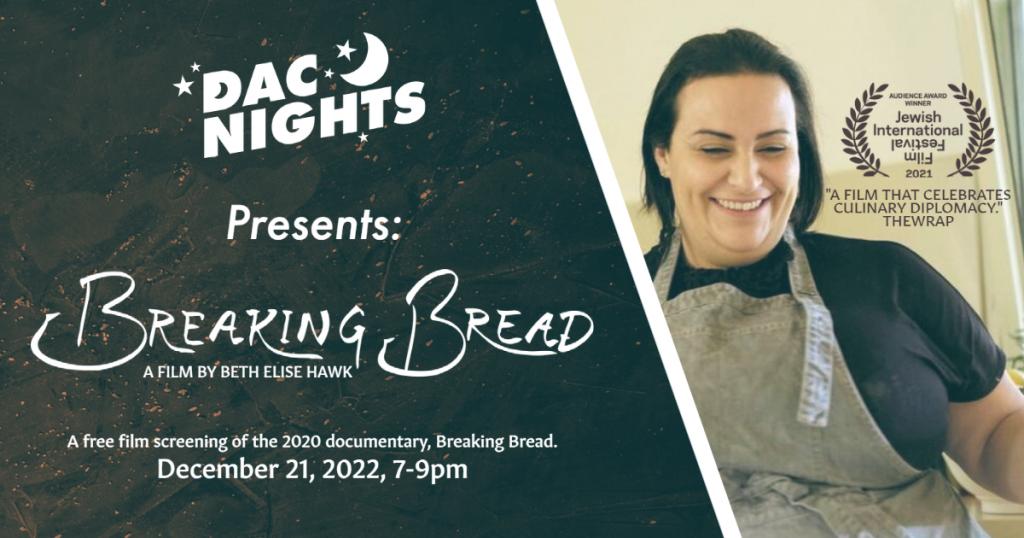 DAC Nights: Breaking Bread
Wednesday, December 21, 2022
7-9pm
Free
BREAKING BREAD is a documentary that explores the A-Sham Festival, a groundbreaking food festival where Arab and Jewish chefs work in tandem to create mouthwatering dishes in order to foster social change. Founded by microbiologist Dr. Nof Atamna-Ismaeel, the first Muslim Israeli to win Israel's television cooking competition, MasterChef, the action unfolds in the city of Haifa, a model of multicultural coexistence. The chefs put personal spins on traditional recipes handed down over generations – including kishek (a Syrian yogurt soup) and qatayef (a dessert served during Ramadan) –  transforming flavors while political and religious differences melt away. A treat for the senses, this delectable showcase of culinary heritage gives hope to the idea that collaboration in the kitchen could be a bridge to mutual understanding and, perhaps, a first step toward a lasting peace."
This event is free! Registration is required, as seating is limited. The screening of Breaking Bread will begin at 7:30pm. Please arrive at least 10 minutes before the screening starts. No-show tickets will be released 5 minutes before the film begins at 7:25pm. Register Here.
For more information about this event, email DACTheater@austintexas.gov
The City of Austin is committed to compliance with the Americans with Disabilities Act. Reasonable modifications and equal access to communications will be provided upon request. For assistance, please contact (512) 974-3914 or Relay Texas 7-1-1. 
Dougherty Arts Center
1110 Barton Springs Rd.
Austin, TX 78704
United States