- to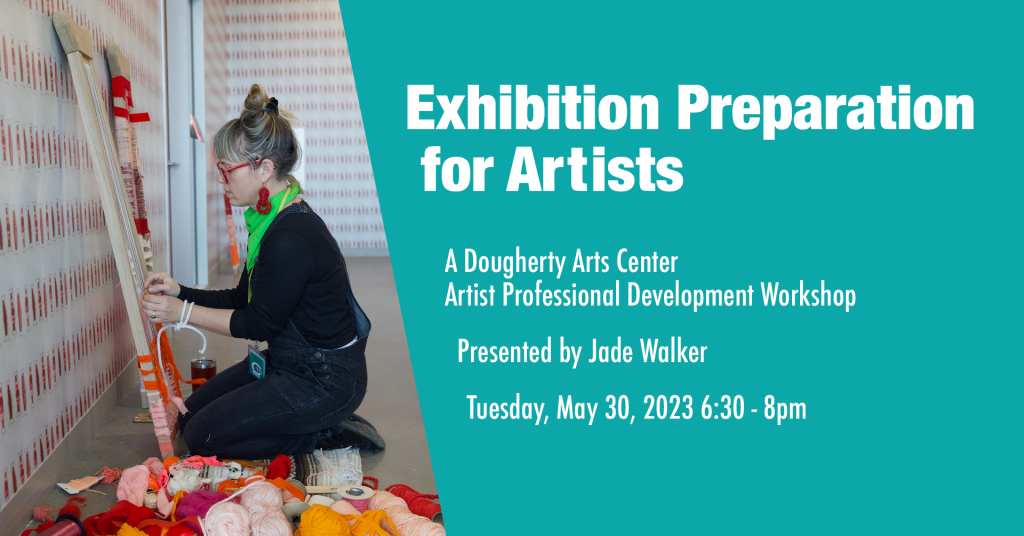 Exhibition Preparation for Artists  
Tuesday, May 30, 2023 
6:30-8pm 
Learn about a wide range of exhibition opportunities including university galleries, non-profit spaces, commercial galleries and alternatives spaces.  Discuss strategies for applying for and creating exhibitions for various types of arts spaces and tips that might help you find the best fit for your art.  
Presented by Jade Walker.
Jade Walker is a sculptor and an active member of the arts community living in Austin, Texas. She received her BFA from The University of Florida and her MFA from The University of Texas at Austin. Her work has been included in solo exhibitions at the Elisabet Ney Museum (Austin, TX), the Austin Museum of Art (now The Contemporary Austin), Blue Star Contemporary Arts (San Antonio, TX), Dimension Gallery (Austin, TX), Lawndale Art Center (Houston, TX), The Museum of Pocket Art (Austin, TX and traveling) and Women and Their Work (Austin). She has participated in various residencies including Facebook AIR, Elsewhere Museum, and Penland School of Art.  
Walker is currently Site Manager/Curator at the Elisabet Ney Museum and in recent years she has held positions as Executive Director at the Visual Arts Center at The University of Texas, Director of Austin Art Alliance Austin as well as studio manager for artist Deborah Roberts. In the past, she participated in the City of Austin's Art in Public Places as a panel member as well as steering committee member for The Art Galleries at Black Studies at The University of Texas.  She currently serves on the board of Fusebox. Her teaching roles have included that of lecturer at The University of Texas at Austin, arts instructor at The Contemporary Austin at Laguna Gloria in addition to artist talks with various groups and institutions including Texas State University, Baylor University and the Utah Museum of Art. 
Registration is encouraged but not required. Register at the Eventbrite.
Dougherty Arts Center
1110 Barton Springs Rd.
Austin, TX 78704
United States