- to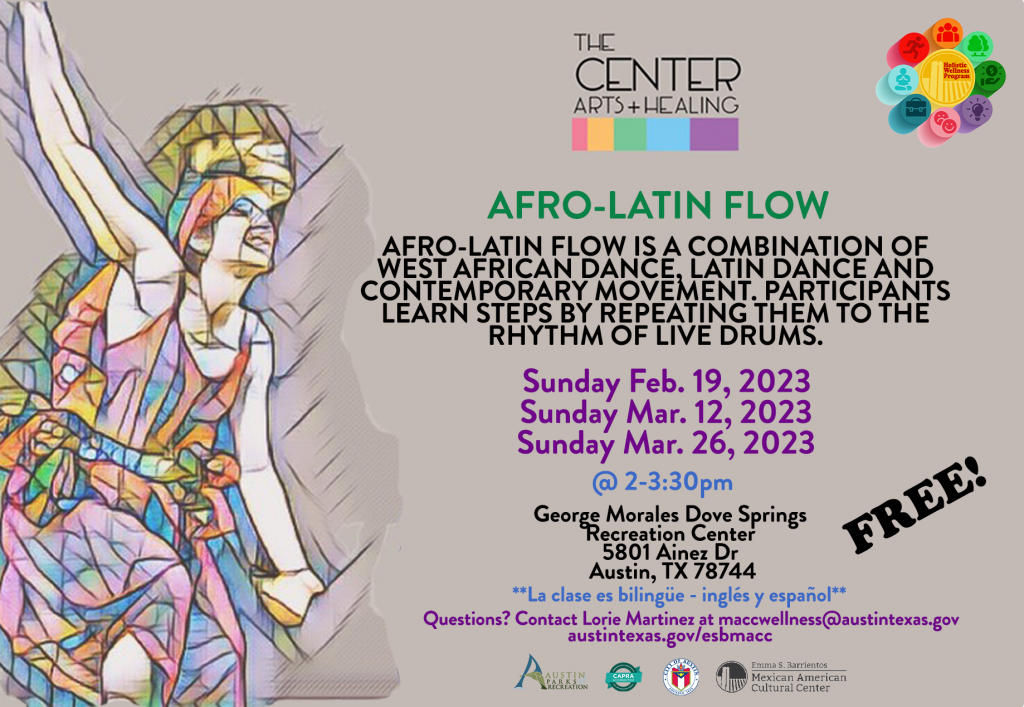 Join us for FREE Afro-Latin Flow
at Dove Springs Rec Center!
Sunday, March 26th
@ 2-3:30pm
George Morales Dove Springs Recreation Center
5801 Ainez Drive, Austin Texas 78744
RSVP to Afro-Latin Flow: [click here]
Afro-Latin flow is a combination of West African Dance, Latin Dance and contemporary movement. Participants learn steps by repeating them to the rhythm of live drums.
**The Holistic Wellness Program attends to the needs of the total person while remaining rooted in our Latino/Mexican American cultural identities. True wellness is a combination of Physical, Social, Environmental, Financial, Intellectual, Emotional/Mental, Occupational, and Spiritual aspects and, like the diversity of our people, deserves to be nourished and cultivated to enrich individual lives and uplift our community.**
Afro-Latin Flow: es una combinación de danza de África Occidental, danza latina y movimiento contemporáneo. Los participantes aprenden los pasos repitiéndolos al ritmo de los tambores en vivo.
El Programa de Salud Holística atiende las necesidades de la persona en su totalidad mientras permanece enraizado en nuestras identidades culturales latinas/mexicoamericanas. La verdadera salud es una combinación de aspectos físicos, sociales, ambientales, financieros, intelectuales, emocionales/mentales, ocupacionales y espirituales y, al igual que la diversidad de nuestra gente, merece ser nutrido y cultivado para enriquecer las vidas individuales y elevar a nuestra comunidad.
George Morales Dove Springs Recreation Center
5801 Ainez Dr
Austin, TX 78744
United States