**CANCELLED** Next Session February 15th @ 11am
- to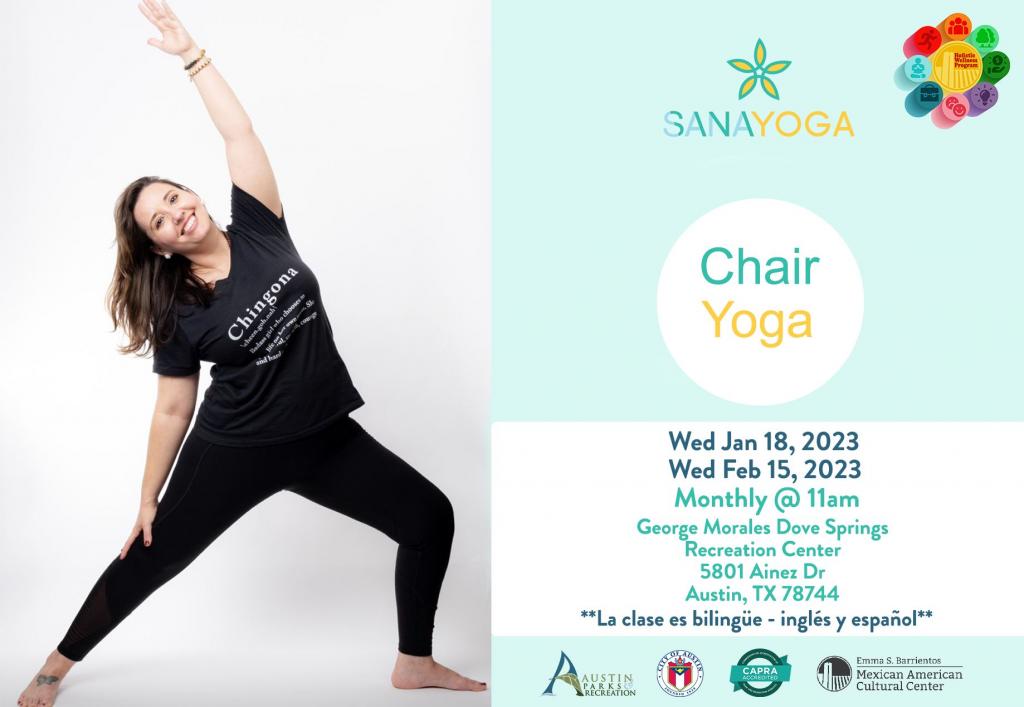 FREE Chair Yoga: With Sana Yoga
Wednesday @ 11am, February 1st (NEW DATE) & February 15th
George Morales Dove Springs Recreation Center 
A gentle form of yoga that can be done while seated in a chair. These modifications make yoga accessible to people with various physical abilities or those who find other types of yoga too challenging.
The classes are taught by certified Yoga instructor Linda Natera with Sana Yoga. If you are new to yoga and don't have a mat, one can be provided for you.
Sana Yoga provides a pathway for healing with equitable and accessible programming, while organizing to reduce systemic factors that negatively impact mental health, physical health and social well-being amongst our Latinx community and other marginalized communities.
Yoga Bilingüe en Silla: una forma suave de yoga que se puede hacer sentado en una silla. Estas modificaciones hacen que el yoga sea accesible para la gente con diferente capacidades físicas o para otros que encuentran los clases de yoga difíciles.
**The Holistic Wellness Program attends to the needs of the total person while remaining rooted in our Latino/Mexican American cultural identities. True wellness is a combination of Physical, Social, Environmental, Financial, Intellectual, Emotional/Mental, Occupational, and Spiritual aspects and, like the diversity of our people, deserves to be nourished and cultivated to enrich individual lives and uplift our community.**
George Morales Dove Springs Recreation Center
5801 Ainez Dr
Austin, TX 78744
United States