- to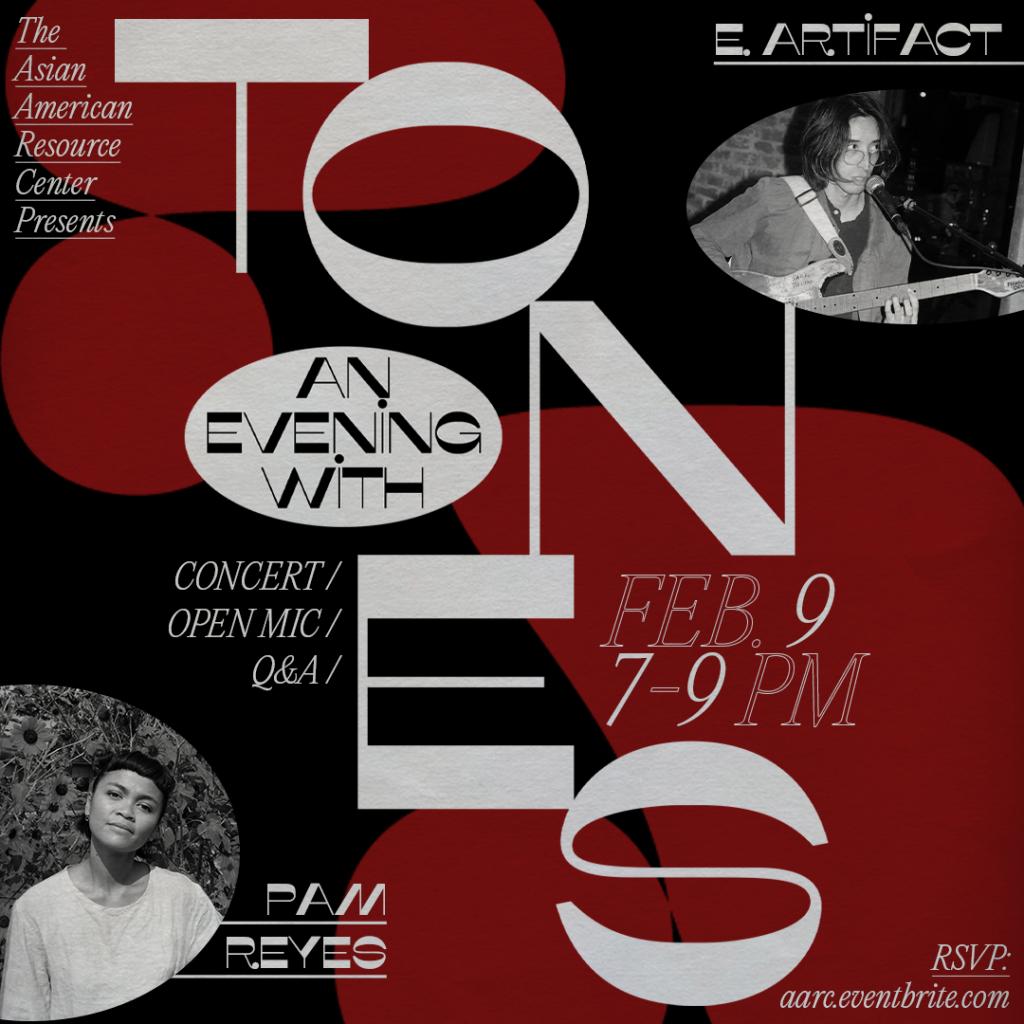 Come spend An Evening with Tones, a cozy and casual night of music at the AARC on February 9th from 7-9PM featuring performances by Pam Reyes and E. Artifact, a short Q&A with the performers, and, to cap it off, a song exchange/open mic that is open to anyone in attendance. An Evening with Tones' goal is to open a smaller and more informal/intimate environment where musicians/creatives and would-be musicians/creatives can exchange dialogue, feedback, appreciation, and ideas. That said, you do not have to be a musician to attend and are welcome to come by to simply enjoy the music!
The open mic portion will happen after the performances and will be capped at 3 minutes per person. A sign-up sheet will be available and open mic performances will happen in the order of sign up. An electric guitar, keyboard, a microphone, and amps will be on-site for anyone to use, but you're welcome to bring your own instrument as well. All open mic content should be appropriate for all ages and contain no profane language.
PAM REYES:
Pam Reyes is an independent singer-songwriter based in Austin, Texas by way of Queens, New York.  Pam writes songs to make sense of the world around her and to understand her many identities. As a first-generation immigrant, recently naturalized American citizen, queer woman—and more simply, as a human with feelings—Pam explores themes of love, loss, and politics. Her performances are an exercise in collective vulnerability. Her frank, bordering on dark, songwriting meets her stirring voice in a coupling that oscillates between dissonance and consonance.
E. ARTIFACT:
David Alvarez is a songwriter, producer, and multi-instrumentalist based in Austin, TX. Their current musical output exists in the realms of jazz, soul, and psych rock.
ABOUT THE AARC:
The Asian American Resource Center 's mission is to create a space of belonging and healing for Asian American communities in Austin and beyond. We do this through community collaborations and partnerships; providing rental space; organizing cultural, educational and health wellness programs; and curating art and historical exhibitions. We lead with our values and our vision, so that our diverse communities are supported and connected. Learn more at https://austintexas.gov/aarc
The City of Austin is committed to compliance with the Americans with Disabilities Act. Reasonable modifications and equal access to communications will be provided upon request. For assistance please contact (512) 974-3914 or Relay Texas 7-1-1.
Asian American Resource Center
8401 Cameron Rd
Austin, TX 78754
United States
Asian American Resource Center