- to
Lead families through a fun fern propagation activity in the beautiful Hartman Prehistoric Garden. This volunteer opportunity will involve educating the public about ferns and spores at our Dino Days event.
Register to Volunteer
To register there is an application process.
Create a GivePulse account 
Joining the Zilker Botanical Garden Horticulture Volunteers subgroup in GivePulse which can be found at this link: https://www.givepulse.com/group/388200-ZBG-Horticulture-Volunteers 
Applying by emailing Lindsay Loftin and including a short description of your interest and gardening experience
Time
9:00:00 AM-2:30 pm. (Two shifts available: 9-12 and 11:30-2:30)
Cost
Free admission! after you volunteer you can explore the garden and enjoy waived admission!
Contact
Learn More
Learn more about sustainable gardening at www.austintexas.gov/growgreen
Partner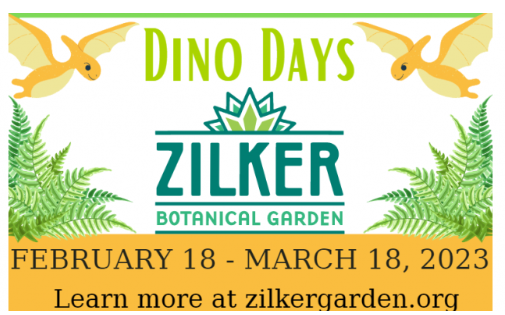 Zilker Botanical Garden
2220 Barton Springs Rd
Austin, TX 78746
United States