- to
Austin Animal Center (AAC) is partnering with national nonprofit Petco Love to give pets their best shot for a healthy life by distributing free pet microchips and vaccines for all City of Austin and Travis County pets. 
The drive-thru event will be held at Shoreline Church North (15201 Burnet Rd) beginning at 9 am. The first 300 pets are guaranteed service. Dogs must be on leashes and cats must be in carriers. Optional pre-registration can be completed online at bit.ly/aacmega.
Microchips are small electronic chips about the size of a grain of rice that are inserted under the skin on dogs and cats. They serve as a permanent form of identification and places like animal shelters, veterinary clinics, and pet stores have scanners that read the unique number which can then be used to search microchip registries for owner information.
In addition to microchips, AAC will be providing free rabies vaccines, and vaccines distributed through the Petco Love initiative will be the DAPv Canine and HCP Feline vaccines.
Petco Love established March as "National Pet Vaccination Month" to encourage pet parents to keep their pets up to date on vaccinations and will provide free pet vaccines to Austin Animal Center for family pets in need. As puppy and kitten season approaches, pet exposure to contagious and deadly diseases – parvovirus, distemper, and panleukopenia – increases but is preventable with a simple vaccine.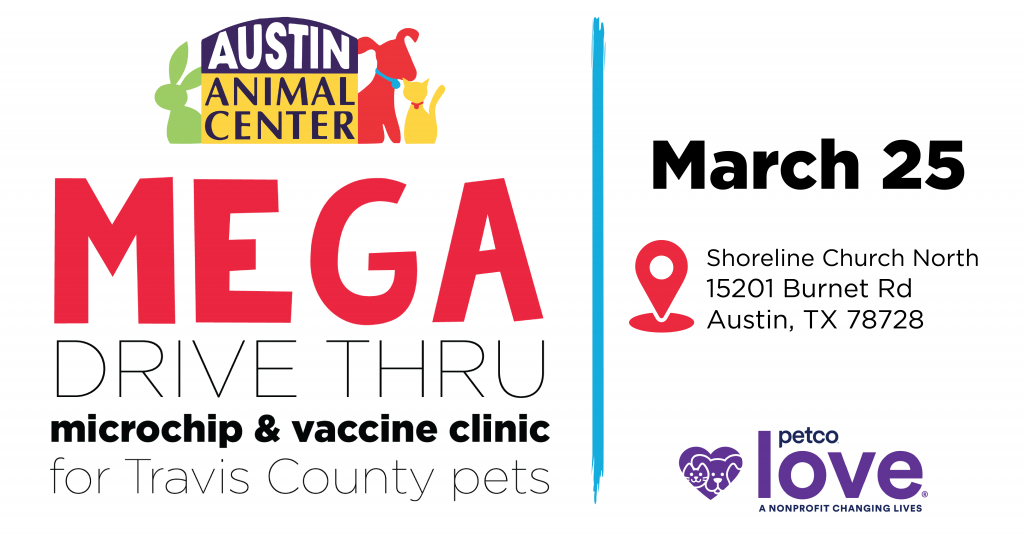 Shoreline Church North
15201 Burnet Rd
Austin, TX 78728
United States