- to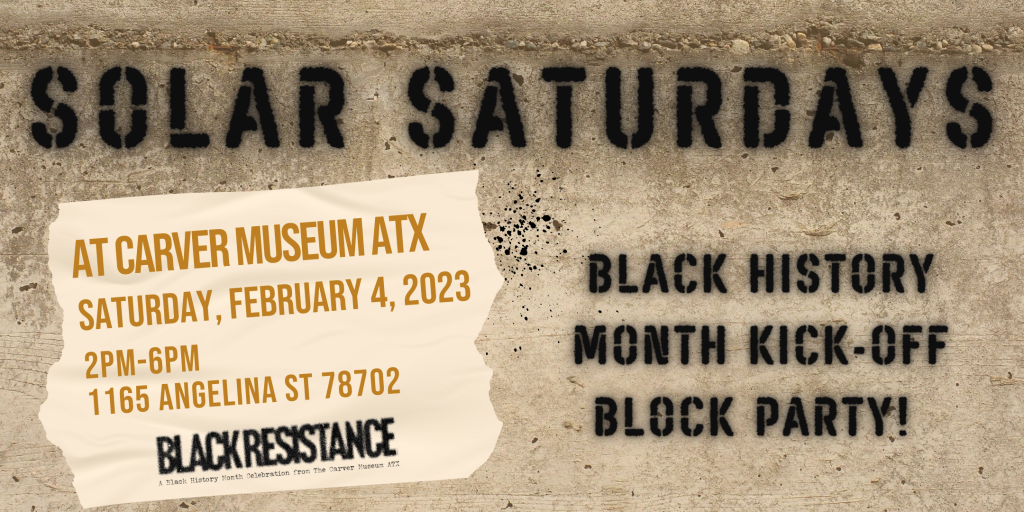 We are kicking off Black History Month at the Carver with our first ever Solar Saturday! Solar Saturdays are a new bi-monthly program at the Carver Museum ATX that invites our community to a free afternoon of programming for all. As Austin continues to expand and transform, we must work to create spaces for people to connect with the history and culture of our communities. Be a part of helping to cultivate and sustain a vibrant Black culture by attending Solar Saturdays—a free, sitewide activation for communities of color and beyond.
This initiative of the Carver Museum works to support Black lives, make space for critical conversations about society, center joy, and help build liberated futures. Our institution acknowledges that our communities have a range of lived experiences and identities.With this in mind, we work diligently to amplify the contributions of women, youth, people living with disabilities, and LGBTQIA + people from BIPOC communities. We offer experiences, workshops, and entertainment for the young and the young at heart that focus on growth, healing, education, and strengthening the cultural fabric of Austin.
As a full-site activation for the kick-off, we will have happenings in the sunken garden, the Boyd Vance Theatre, the classroom, the plaza, and the drum - not to mention the gallery will be open! Music will fill the halls, a vendor market will be poppin', and food trucks will be pulling up. Ring in 2023 Black History Month with the Carver! 
George Washington Carver Museum, Cultural and Genealogy Center
1165 Angelina Street
Austin, TX 78702
United States