- to
You have a mission that drives you. You know you want to turn it into a nonprofit organization. But you don't know where to start. This three-hour workshop will help you clarify your purpose, decide on your structure, and give you a roadmap for getting started (or rebuilding, if you have an already established nonprofit in need of a refresh).
Register for Starting (or Rebuilding) A Nonprofit Organization
This session will cover filing paperwork to make your organization official, and help you think through logistical considerations and daily operations. Running a nonprofit can be an overwhelming endeavor, but by the end of this class, you'll have a solid plan for getting started. There will be plenty of time for Q&A and all participants will receive a workbook for use during the session. Additionally, everyone will leave with a toolkit full of resources including templates,worksheets, and helpful links.
Key employees or stakeholders are encouraged to attend if the founder or director is unable to.
Who Should Attend?
Nonprofit Founders, Executives, and Admins
Board Members and Volunteers Interested in Doing More
Nonprofit professionals like consultants and freelancers, working with multiple orgs
Anyone new to starting or running a nonprofit organization
Both new and established nonprofits are encouraged to attend
What To Expect:
Participants will be able to speak and interact with the instructor and others. There will be ample time for Q&A at the end, but we also have plenty of group discussions planned during the session as well. There will be two ten-minute breaks to allow for checking your email, grabbing a cup of coffee, etc.
Course Materials:
All participants will receive a follow-along workbook to take notes, follow instructions, and complete exercises during the session.
Presentation slides and exercises will be provided to all participants.
Participants will also get a free toolkit - a collection of templates, forms, worksheets, and other resources that will be made available at the end of the class.
The City of Austin is committed to compliance with the Americans with Disabilities Act. Reasonable modifications and equal access to communications will be provided upon request - including translation and interpretation services. For assistance, please contact the Economic Development Department at 512-974-7819. The City receives and accepts Video Relay Service (VRS) calls from people who are Deaf or hard-of-hearing through Relay Texas 7-1-1.
Map to City of Austin Small Business Division, 5202 E. Ben White, Suite 400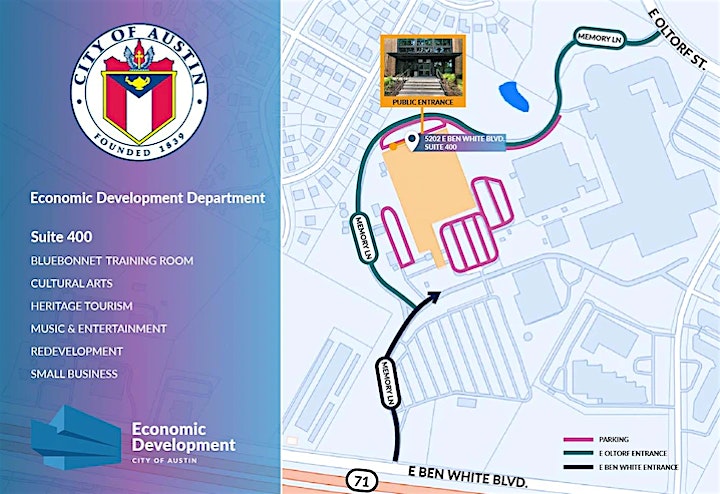 City of Austin Small Business Division
5202 East Ben White Boulevard
Suite 400
Austin, TX 78741
United States