- to
Pre-registration and pre-paid on site parking required. Parking passes come with specific directions to park - read and prepare in advance.
Pre-paid parking on site is required! There are no drive up parking sales!
There is NO drive-up access to the Zilker Holiday Tree on this night due to road closures for event safety. Check the tree page for information about visiting on nights when the Trail of Lights is not occurring.
FUN RUN STREET CLOSURES SCHEDULE:
1 pm - park roads close
2 pm - park surface parking lots close.  Southgate area remains open for pool users.
4 pm - Barton Springs/Stratford Close

Neighborhood NO PARKING restrictions are IN EFFECT! 

Signed "no parking areas" are actively enforced on event day(s).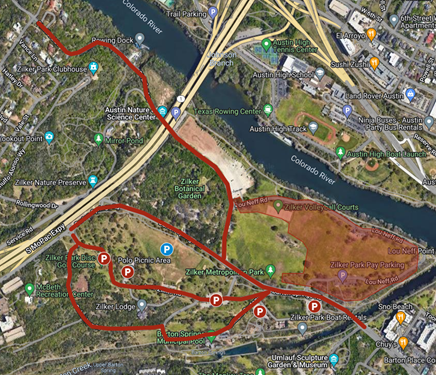 Road closures December 2-23.  Closure Schedule Document
Event Day Google Map with Park Areas/Closures
IMPACTS and ALTERNATIVE PARK USE AREAS:
Suggested

Alternative Park Use Areas:

  Vic Mathias Shores Middle lawn, Shores off leash area, other 

Off Leash Areas

Safety fencing will be erected as part of the event and will

close the park to regular public access

.

Due to the number of participants on site, and the nature of the activities, access to park areas, parking lots, waterway and/or docks are impacted during event hours.

In addition,

event set up activities

occur in advance such as infrastructure delivery and includes a significant amount of traffic in the park.
TRANSPORTATION RESOURCES:
For alternative transportation options visit: austintexas.gov/department/getting-around-austin
For bus routes and schedules visit: capmetro.org
For downtown parking information visit: austintexas.gov/department/downtown-parking
Zilker Park
2100 Barton Springs Road
Austin, TX 78704
United States