Geotechnical analyses are used to determine existing bank stability, anticipate bank failures and to provide design parameters for embankment construction. Bank failure can occur in various modes depending on the bank soil properties and the morphology of the stream. Some bank failure modes include shallow, planar, rotational and cantilever type failures. The most common type of bank failure in our urbanized stream results from removal of soil from the channel toe (undermining) and subsequent slope failure.
Bank Failure Modes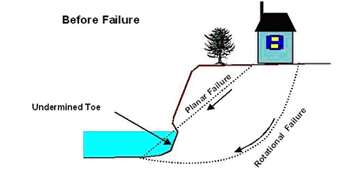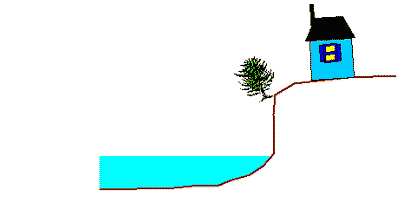 In design of bank stabilization projects the primary components of a slope stability analysis include evaluation of:
External Stability
Internal Stability
Local Stability
Global Stability
External stability refers to the acting and resisting forces adjacent to stream that influence stability of the constructed slope. External stability analysis evaluates forces related to bearing capacity, base sliding and overturning moments.
Internal stability refers to forces within the channel bank that affect the stability of reinforcements (internal sliding, tensile overstress, and pullout).
Local stability is related to the surficial facing of a channel bank. This also relates to the connection strength between the facing and internal reinforcements in a constructed slope.
Global Stability relates to deep seated rotational failures that are generally outside the limits of a constructed slope.