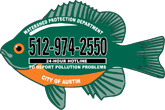 Staff in the Spills and Complaints Response Program respond to citizen pollution complaints and spills that threaten our creeks or water bodies, 24 hours a day, seven days a week. The number is 512-974-2550.
What to Report
Provide:
A description of the potential pollution
The location of the problem
The source of pollution or the person(s) responsible
Your name and a number where you can be reached if the investigator needs further information (caller names and phone numbers are confidential)
When to Report
It is very important to report pollution problems while they are in progress or immediately after they are seen to ensure a rapid response and the identification of the pollution and source. Please note that 911 must be called first if there is any threat to life or property during a spill incident.
Report any pollutants that may threaten our creeks and lakes:
Report any pollutants that may threaten our creeks and lakes:
Petroleum Products: motor oil, gasoline, diesel, jet fuels, spills, leaking vehicles, use of fuel for weed control, dumping.
 
Soaps and Detergents: use in cleaning pavement, vehicles and equipment, failure to connect washing machine to wastewater line.
 
Silt, Mud and other Sediments: inadequate silt fences, excess water pumped from construction sites.
 
Antifreeze: improper flushing or draining; dumping on ground or in dumpster.
 
Latex/Oil-Based Paints & Solvents: cleaning equipment outdoors, dumping on ground, in dumpster, or down storm drain.
 
Sewage: leaking sanitary sewer lines, malfunctioning septic systems.
 
Trash and Debris: littering and dumping, household or construction waste.  (www.LetsCanItAustin.org )
 
Restaurant Grease: improper disposal.
 
Fertilizers and Pesticides: unnecessary or excessive use, application before rainfall.
 
Pollution Prevention Hotline: 512-974-2550