Plants in aquatic systems are often overlooked as critical components of healthy ecosystems. Aquatic and riparian plants can provide valuable invertebrate, fish and wildlife food and cover, improve water clarity and quality, reduce shoreline erosion and sediment re-suspension, and help prevent spread of nuisance exotic plants. These qualities contribute significantly to ecosystem health and function, which in turn improves the value of the lake as a natural resource.
Inland water bodies in the U.S. include reservoirs, large and small lakes, permanently inundated wetlands, ponds, and riverine systems. Waterbodies exhibiting poor ecosystem health often exist in one of three conditions interrelated to aquatic plants: 1) they completely lack native aquatic plants, 2) they support native plant communities that are insufficient to provide system-wide benefits, or 3) they are infested with nuisance species that cause both environmental and water project use problems.
Because larger aquatic systems (generally greater than 100 acres) are logistically difficult to apply full-scale plantings, the US Army Corps of Engineers – Engineer Research and Development Center ERDC has developed an approach for accelerating the natural process of aquatic plant establishment and spread by utilizing founder colonies. Founder colonies are typically comprised of moderately small (usually less than one acre) plantings made at strategic locations within the waterbody. The principle function of a founder colony is to overcome one of the major impediments to aquatic vegetation establishment: availability of propagules for natural spread. Continual provision of propagules (seeds, fragments, etc.) from founder colonies ensures that they are present when conditions are suitable for natural spread to other areas of a lake. Once established, founder colonies spread in two manners, including vegetative growth from the founder colony itself (e.g., along stolons or rhizomes) and formation of new colonies from fragments, seeds, etc. In addition to supplying propagules, founder colonies provide immediate small-scale (up to 25 acres benefit from each acre of founder colony) habitat improvement in large and intermediate systems. In addition to protecting plants, the structure of enclosures themselves serve as refugia for aquatic organisms such as small fish in waterbodies prone to periodic disturbances (drought, floods, etc.) even when they do not support plants.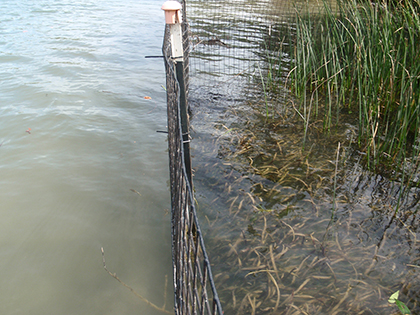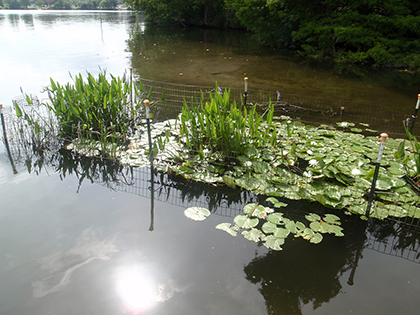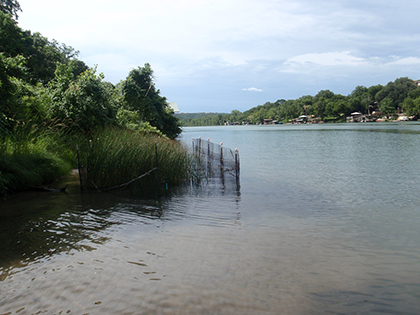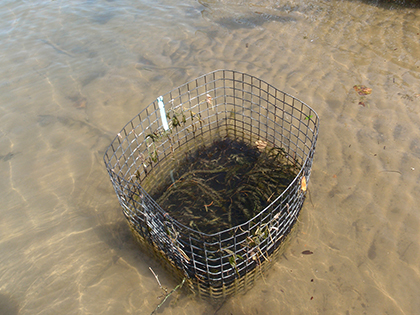 In 2016 and 2017, City staff expanded our herbivore exclusion pen installations, putting in large (20' x 50') pens, connecting neighboring pens, and extending pen boundaries to the shoreline. At two sites in Lake Austin we have effectively created vegetation plots each exceeding 4,500 sq ft in size.
From the approx. 36 one gallon plants originally planted in each pen, we have seen over the past two years a completely expansion and filling-in of the pens with desired, native vegetation. In 2017 we installed a new vegetation pen in Lady Bird Lake. With the return of large discharges through Lady Bird Lake, the native aquatic plant cabomba, which had been prolific in Lady Bird Lake the previous three years, was effectively washed out of the reservoir. In order to re-establish some aquatic vegetation, we installed a new 20' x 50' herbivore exclosure pen just downriver of MoPac. The pen was planted in July and by October was completely filled in with vegetation creating a complex canopy of leaves submersed, floating, and emergent of the water surface.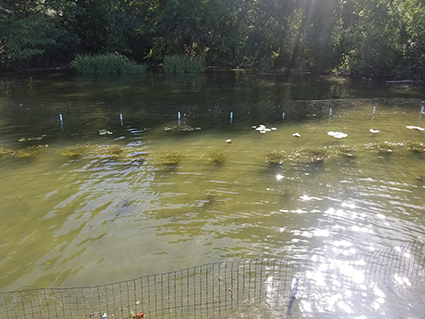 Pen was planted in July 2017.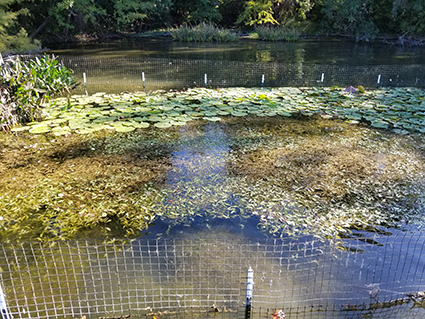 Pen full of vegetation in October 2017.