The salamanders are one-half inch in length when they hatch and grow to about 3 inches in total length as adults. They have a muscular tail used for swimming. They do not spend much time swimming in the water column, however, and instead walk along the substrate*. They have 4 toes on their front feet and 5 toes on their back feet. The color variation for the Barton Springs Salamander includes shades of pink, purple, brown, orange, red as well as white spots called iridophores. The Austin Blind Salamander is generally lavender or purple with white iridophores.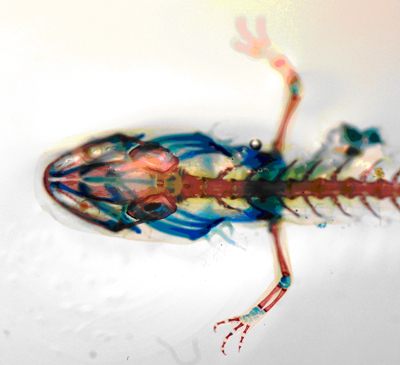 This is a cleared and stained specimen of E. sosorum. The "clearing" process makes proteins transparent while the "staining" stains all cartilage blue and bone red. This is a very useful technique to allow researchers to study the bone structure of an amphibian without destroying the connective tissue.
The Barton Springs and Jollyville Plateau salamanders have eyes with image-forming lenses to help them see predators and prey. In contrast, the Austin blind salamander only has eyespots that may help it detect light. It cannot see and does not need eyes in the darkness of the aquifer.
Notice the color variation between the individual Barton Springs Salamanders shown in the video of the animals in the wild (see section on Austin Blind).
Central Texas Eurycea are aquatic their entire lives. This video shows how aquatic salamanders respire. This close-up of an Austin Blind Salamander shows red blood cells rapidly moving through capillaries in the salamander's external gills. In this process, the red blood cells pick up oxygen in the water and release carbon dioxide as they move through the gills, just like our lungs when we breathe air.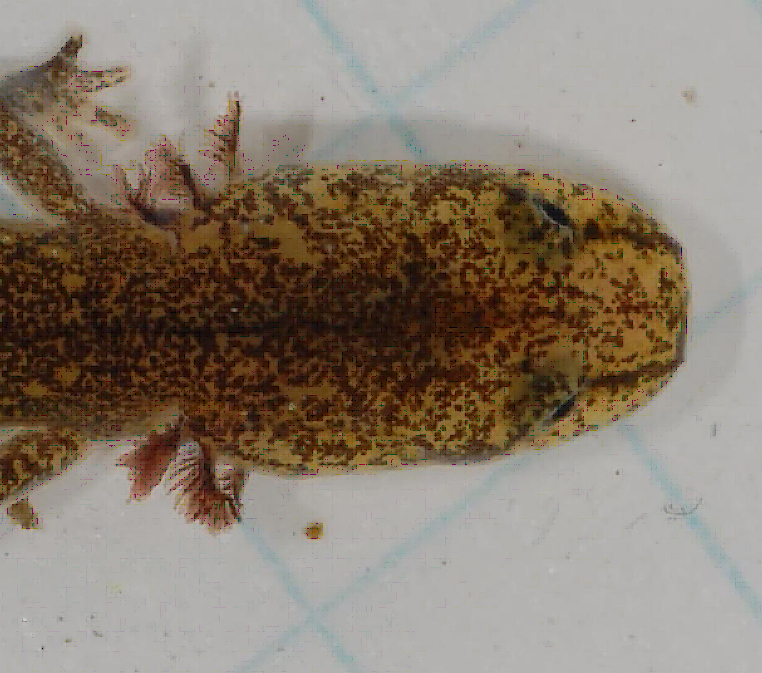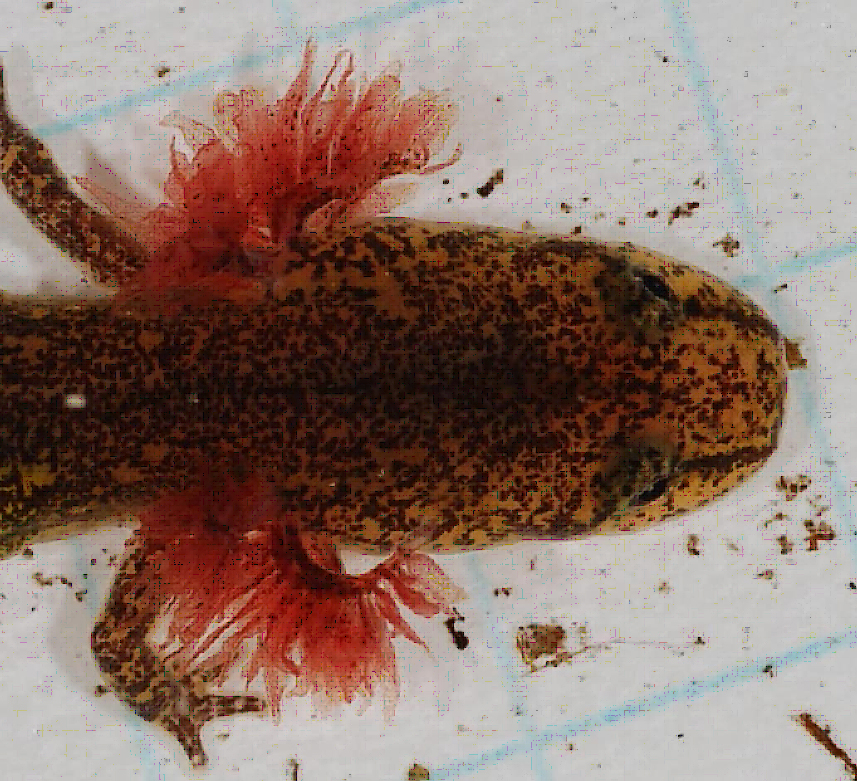 These photos were taken of the same individual Jollyville Plateau Salamander, but several months apart spanning a dry period. Notice the drastic difference in gill size. Salamander gills will change in size in response to their environment over time. Large bushy gills help in an oxygen-poor environment, such as when the springs go dry and they must retreat underground to follow the water table.
*substrate-the rocks and sediment on the bottom of the stream