The Stream Restoration Program utilizes both traditional and innovative design techniques to provide channel stability while enhancing natural channel variability to the extent possible. To the extent practical we utilize a natural channel design approach while meeting the ultimate channel stability goals. The attempt in natural channel design is to:
Design with nature - rather than against it and allow the river to participate in its own recovery.
Imitate natural systems - in particular their morphological variability, rather than a rigid homogenous design.
Scientific basis - is a balance between empirical-statistical and analytical (process-based) methods.
Natural channel design includes manipulation of the channel planform, geometry and profile to minimize the amount of hard armor required to provide channel stability. The primary components of stable channel design include consideration of:
Reach-Average Channel Geometry (Width, Depth, Slope)
Local Channel Geometry (Composite/Uniform Shape, Pools Riffles)
Channel Planform
Bed and Bank Stabilization
Grade Control
Local Scour
Space constraints and infrastructure in the urban environment may limit the amount of channel geometry and planform manipulation that can be provided to achieve stability. Beyond these adjustments, channel stabilization and armoring techniques are employed. The primary components of channel stabilization considerations include:
Bank Stabilization
Grade Control
Channel Bed Armoring
Toe Protection
Flow Training Structures
Bank Stabilization The Stream Restoration Program encourages use of natural materials for bank stabilization. The combined use of structural elements, i.e., boulders, reinforcing grid, geocells, fabrics, soils and vegetation, create a stable streambank that is resistant to internal and external forces. These stabilization techniques provide flexibility in structure, aesthetic appeal, habitat benefits and potential cost savings over traditional methods.
Conceptual Streambank Stabilization Design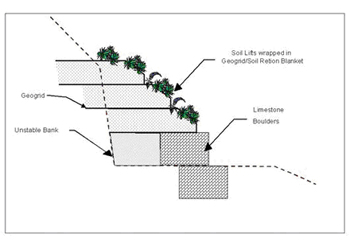 Streambank Stabilization Design Drawing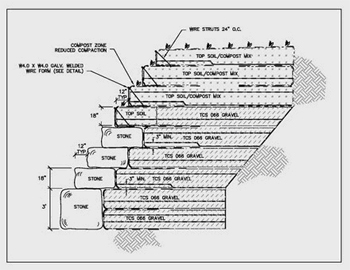 Grade Control
Grade control is used to inhibit long-term channel degradation which occurs through general incision, head-cutting and nick point migration. Grade controls act as hard-points (artificial geology) in the system.
Conceptual Grade Control Design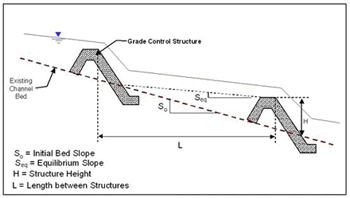 Grade controls are designed with stable materials that should not move during extreme flood events. Grade controls can be designed with rocks, boulders, concrete or other materials. A natural channel design approach is "constructed riffles" using rock placed in a similar configuration as natural riffles. The Stream Restoration Program frequently uses limestone boulders for construction of these structures.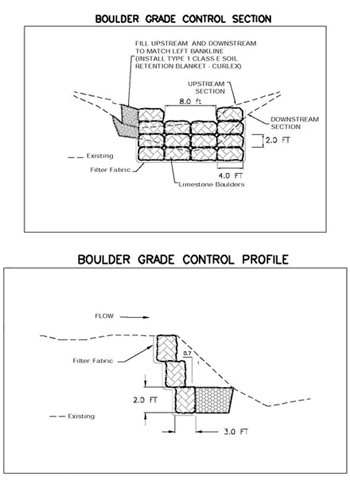 Channel Bed Armoring Channel bed armoring refers to placing stable materials continuously throughout a design reach. Traditionally rubble riprap, gabion mattress or concrete have been used by others. The Stream Restoration Program attempts minimize the extents of channel bed armoring when conditions allow. Alternately a series of grade control structures is encouraged instead of continuous channel armoring to allow as much of the native channel bed material to exist.
Toe Protection A critical element to any channel stabilization project is providing protection of the channel toe. Experience shows that this is the initial point of failure and subsequently bank collapse occurs. Toe protection may be provided with a variety of materials including rock riprap, boulders, biologs, etc. The Stream Restoration Program encourages the use of native materials, but toe protection is included in virtually every channel stabilization project.
Flow Training Structures Flow training structures act to alter the flow pattern and divert flow away from a channel bank or structure to be protected. This can be a more cost-effective alternate to continuous bank stabilization in areas where more space for channel adjustment may be allowed. Some common types of flow training devices are spurs and bendway weirs, which are constructed transverse to the flow path. The function is to act as flow deflectors and between which sediment deposition may occur.
Conceptual Spur/Bendway Weir Field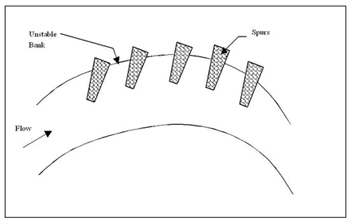 Bendway Weir Design Drawing