The City of Austin Public Works Department is currently in the process of designing the Meadow Lake Boulevard street extension project. 
In accordance with City Council Resolution No. 20160421-036, this project will add connectivity for residents in the neighborhood by extending Meadow Lake Boulevard from Misty Slope Lane to Quicksilver Boulevard. The project will include sidewalks, protected bicycle lanes and other traffic improvements to provide better access to Perez Elementary School.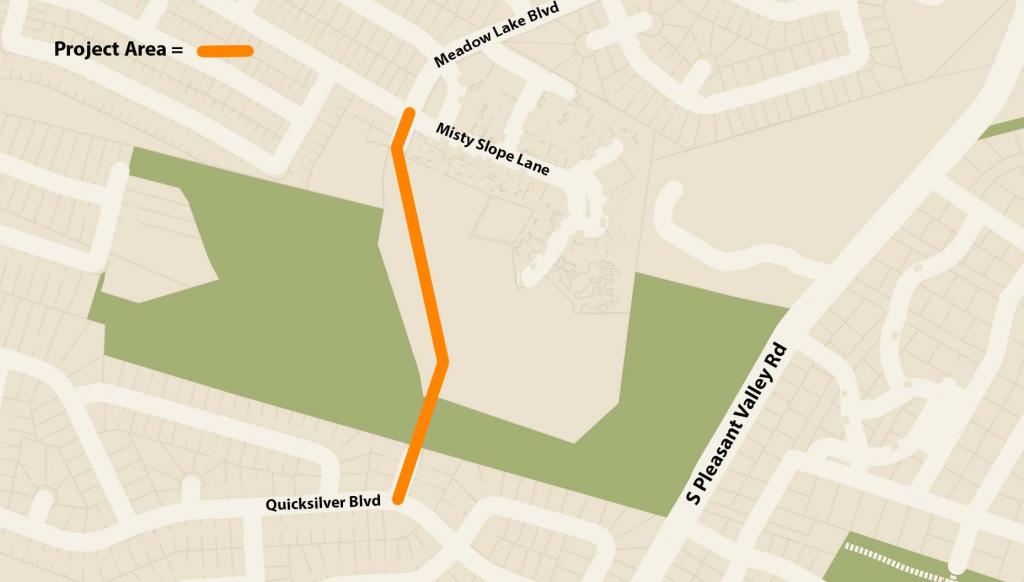 Project Schedule 
Design Phase: June 2017 - May 2021
Bid Phase: May 2021 - Oct. 2021
Construction Phase: Target Oct. 2021 - Oct. 2022
Dates are projected as accurately as possible but are subject to change. 
Construction Budget
$2.5 million 
Project Highlights
Protected two-way bike lanes                                               
Installation of sidewalks 
Two one-way travel lanes
Street lighting 
Parallel parking
Water and wastewater lines
Storm drain
Detention pond
Renderings: Proposed Street Design & Site Plan
Community Engagement
Sign up for project updates (select Meadow Lake Blvd updates)
Construction Impacts
Water Shut-Outs: There will be temporary water service shut-outs that will impact five lots near the project site. The project inspector will hand out written notices to affected residents 48 hours prior to the shut-outs. The inspector will coordinate with the contractor to schedule the shut outs at the least disruptive time to the residents.
Traffic: Traffic impacts will be minimal. This project area is undeveloped and outside of the current traffic area.  Driveways will not be blocked during the project. The project team will work with the contractor to make sure construction truck traffic impact is minimized as much as possible.
Residents may notice an increase in truck traffic due to construction material delivery.  The majority of work hours will be Monday through Friday, 7 a.m. to 6 p.m. The Contractor may work weekends from 7 a.m. to 6 p.m. if necessary. The project will comply with the City's noise ordinance.
Project Contacts
Dario Octaviano, Project Manager
(512) 974-7607
Email
Ramiro Hernandez, Project Inspector
(512) 825-7863
Email
Matt Hart, Public Information
(512) 974-7268
Email