Hit the fest before the rest
Check out all the ways you can get to Austin City Limits, taking place Oct. 4-6 and 11-13 this year. With folks flocking to Zilker Park and no parking allowed there during ACL, planning ahead can make for a safer, smoother, stress-free experience. With this guide, discover the many ways you can get to and from the festival without needing to drive a personal vehicle.
Festival area street closures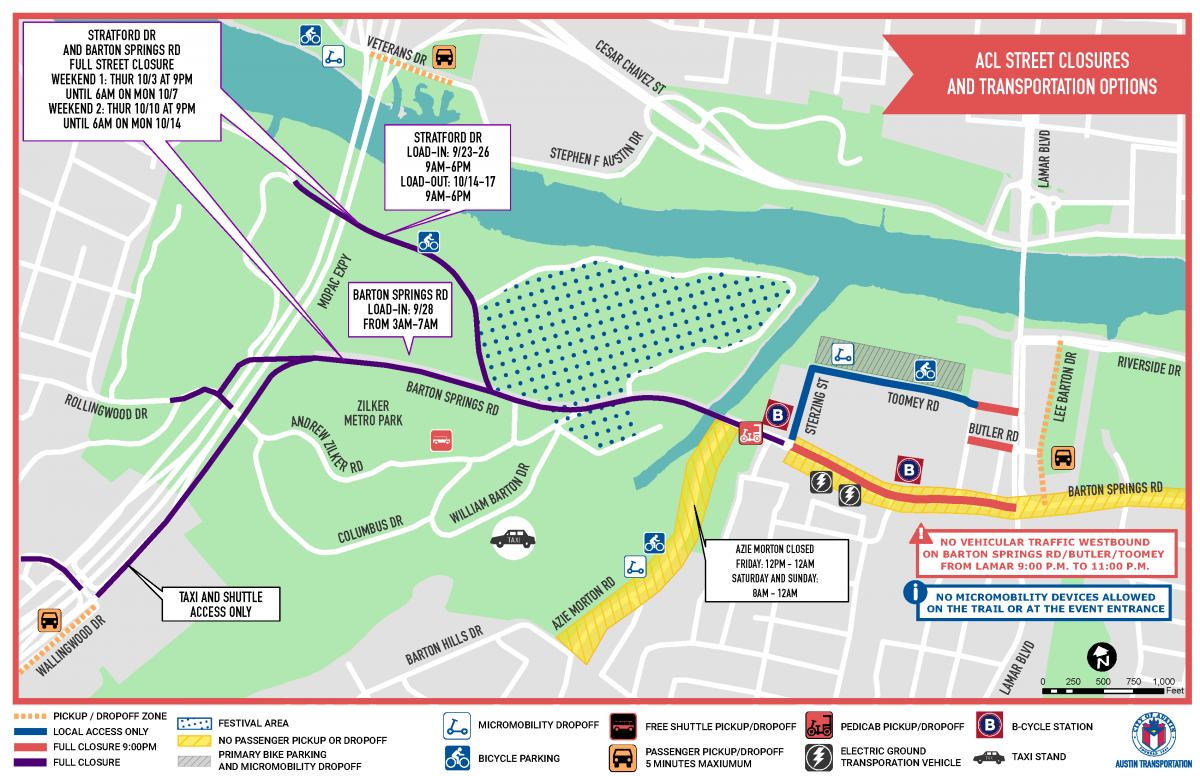 Click the image for a full-size map of lane closures, staging areas and more. Haga clic aquí para ver el mapa en español de las calles afectadas y opciones de transporte para el festival Austin City Limits.
For more information on closures and access routes, visit the CityStage sites for Oct. 4-6 and Oct. 11-13.
Ride options
Official Festival Shuttle

ACL shuttles operate from Republic Square on both weekends of the festival and will offer free rides to Zilker Park and the festival.

Shuttle service begins at 12 p.m. on both Fridays and at 11 a.m. on both Saturdays and Sundays, and the final shuttle returns from the park at 11 p.m. each day of the festival.

Pro tip: Take one of the mobility options below to Republic Square and let the shuttle driver take you the rest of the way!

| | | |
| --- | --- | --- |
| Date | First shuttle | Last shuttle |
| Friday | 12 p.m. | 11 p.m. |
| Saturday | 11 a.m. | 11 p.m. |
| Sunday | 11 a.m. | 11 p.m. |

 

Capital Metro

For a direct route from north or south Austin, ride the 803 MetroRapid to Barton Springs Station and then travel west on Barton Springs Road to Zilker Park.

Routes 801 MetroRapid, 1, 2, 3, 4, 5, 6, 7, 10, 17, 19 and 20 drop riders off within a block of the shuttle site at Republic Square downtown and will operate throughout the festival. MetroRail is not running on weekends temporarily. Check the CapMetro app or trip-planning website before you go, to plan your route and see the most updated schedule, maps and service alerts.

Pedicabs
Hail a pedicab downtown on your way to ACL or hop into one as you leave. The pickup/drop-off area is on the northeast corner of Barton Springs Road and Azie Morton Road, near the festival entrance.
Roll options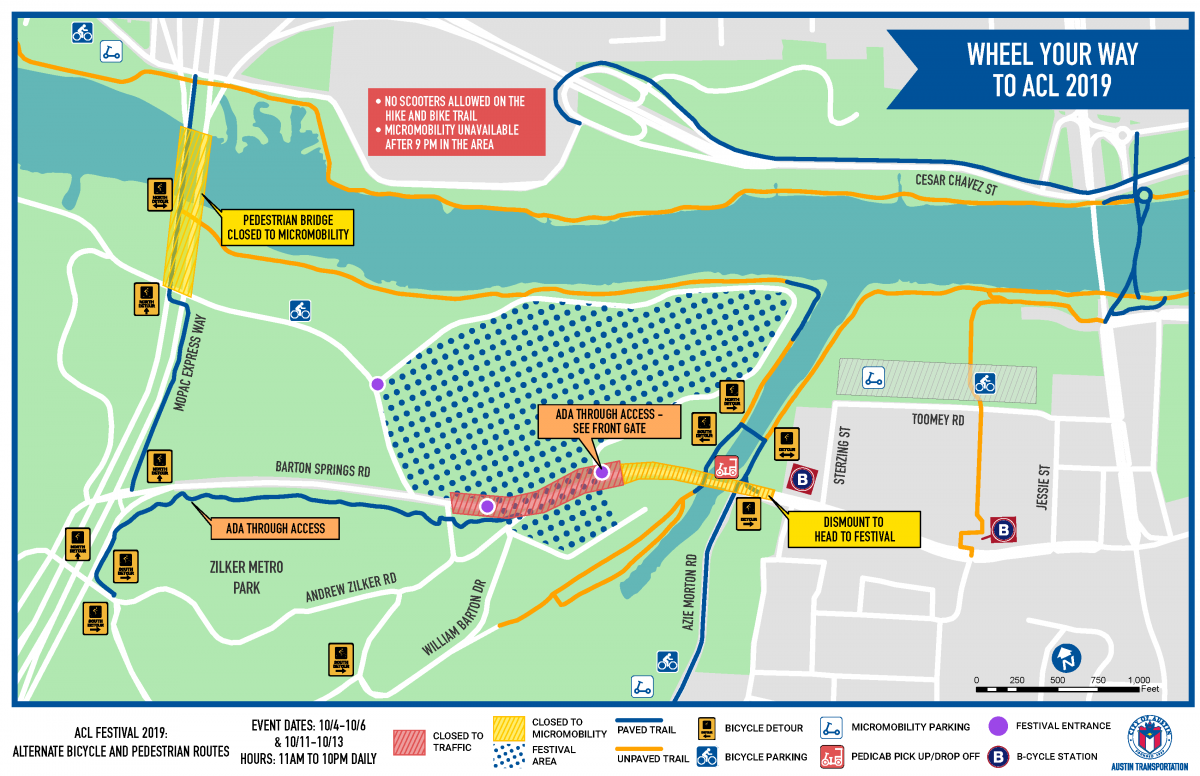 Click the image for a full-size map of bike route detours during ACL. Haga clic aquí para ver el mapa de en español con rutas alternas de bicicletas para llegar al festival Austin City Limits.
B-cycle
Rent a B-cycle from one of the dozens of stations around Austin and drop it off at the B-cycle station and valet service at Barton Springs Road and Sterzing Street. From there, it's just a short walk to the festival entrance.
 
Personal bicycles
Pedal on down to the festival. There will be bike parking racks for you to lock up your personal bicycle along Toomey Road. There will also be limited secondary parking areas along Azie Morton Road and along Stratford Drive. The Stratford Drive area is exclusively for personal bicycle parking (no dockless bicycle or scooter drop-off).
 
Micromobility (dockless pedal bicycles, e-bikes and e-scooters)
Grab the closest dockless bike or scooter and leave it at the designated drop-off area along Toomey Road. There will be limited secondary drop-off areas along Azie Morton Road and in Veterans Park, between Veterans Drive and MoPac Expressway. The Veterans Park area is exclusively for dockless bicycle and scooter drop-off (no personal bicycle parking).

No e-scooters are allowed on the trail. Micromobility devices are not allowed at the event entrance.

These are drop-off areas only and the units will be picked up and dispersed throughout the service area to prevent congestion and improve safety as people leave ACL. Micromobility options will not be available at these drop-off locations at the end of the night.

Keep in mind that ACL draws large numbers of pedestrians, so when using micromobility devices, yield and communicate when passing slower travelers.
Share options
Transportation network companies ("ride-hail services") and taxicabs
Hail a ride and get picked up or dropped off at one of three zones along either Wallingwood Drive, Lee Barton Drive or Veterans Drive. There will also be a taxicab stand southeast of William Barton Drive.

Pro tip: Utilize a "pool" option to decrease the cost of the trip, share your ride with others who have the same destination, and help reduce the number of cars on the road!
If you do plan to drive in the area, please be aware that neighborhood streets near Zilker Park will be accessible to only residents and businesses so festival attendees will not be able to park there. Westbound Barton Springs, Toomey and Butler roads will be closed off to vehicular traffic from 9-11 p.m. every night of the festival. 
Learn about how to catch a safe ride home, whenever and wherever, at AustinTexas.gov/GetHomeSafe. For more information on mobility options in Austin, go to GetThereATX.com.
###