City of Austin
FOR IMMEDIATE RELEASE
Release Date:

---
First place winners in the Junior and Senior divisions will help "Flip the Switch!"
Supported by the Austin Parks and Recreation Department, Austin Energy, and the Trail of Lights Foundation
To help celebrate the 53rd Annual Zilker Holiday Tree Art Contest, young artists from across Austin were asked to submit drawings featuring their perspective on the Zilker Holiday Tree. 
The 1st place winners in the Junior (5-7 years old) and Senior (8-10 years old) divisions will help "Flip the Switch!" and light the Zilker Holiday Tree on Dec. 1, 2019. This favorite holiday tradition "officially starts" Austin's holiday season.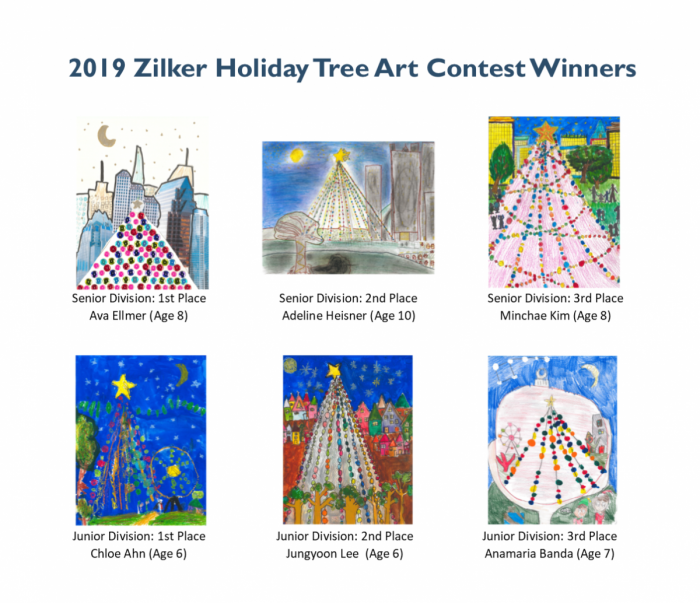 The event, which begins at 5:30 p.m., will feature performances by the Austin Civic Wind Ensemble, with Conductor Robert Laguna, and the Barton Hills Choir, with Director Gavin Tabone, Director and Principal Kati Achtermann. Visitors can bring a toy to donate to Operation Blue Santa.
Reminder: The Trail of Lights 5K will take place on Dec. 7, and the Trail of Lights will run in conjunction with the Zilker Holiday Tree from Dec. 10 - 23. On these evenings, surrounding area roads will have altered traffic patterns.
Visit our website for schedule, parking, and other details for the Zilker Holiday Tree Lighting and the Trail of Lights. View and download large resolution images of the winning contest entries.
Notes to assignment editors: Media outlets with marked video production equipment vehicles will be allotted one parking space in the parking lot near the tree. Agencies with still photography or additional personal parking needs may park in general public parking areas.
Background
2019 marks the 53rd year that Austin Energy crews have transformed Zilker Park's moonlight tower into the Zilker Holiday Tree. The tree stands 155 feet tall and is composed of 39 streamers, each holding 81 multicolored, mostly LED bulbs - totaling 3,309 lights. LED bulbs have drastically increased the energy-efficiency of the tree. At the top of the tree, a double star measures 10 feet from point to point. The double star displays 150 frosted bulbs.
The unique spiral pattern of the lights was created by City of Austin electricians. At its circumference, the tree measures 380 feet. The diameter is 120 feet. The base of the tree is made up of 19 utility poles, each 14 feet tall, arranged in a circle around the Moonlight Tower.  On December 10, 1967, the first tree was lighted by Mayor Pro Tem Mrs. Emma Long. In subsequent years this honor has been awarded to the young winners of the Zilker Holiday Tree Art Contest.