City of Austin
FOR IMMEDIATE RELEASE
Release Date:

---
While serving almost 17 million passengers the Austin airport continues to work with ACI's Airport Carbon Accreditation program.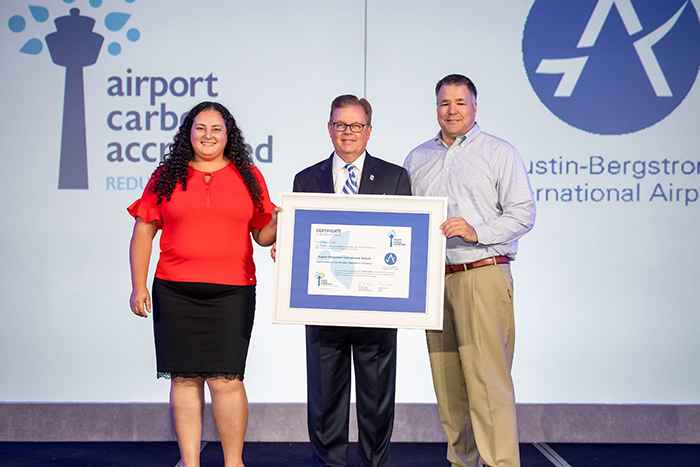 Left: Ghizlane Badawi, City of Austin, Department of Aviation Assistant Director for Enterprise Business Services and right, Shane Harbinson, Assistant Director, Airport Planning and Development accepts the Level 2 Carbon Accreditation certificate from Airports Council International.
AUSTIN, Texas – By reaching Level 2 Carbon Accreditation in the Airports Council International's (ACI) program, the City of Austin's Aviation Department further shows its commitment to environmental sustainability.
While serving almost 17 million passengers, Austin Bergstrom International Airport (AUS) continues to work with Airports Council International's Airport Carbon Accreditation (ACA) program to reach the community's goal of carbon neutrality in 2020. This multi-step international program independently assesses and recognizes airports' efforts to manage and reduce CO2 emissions. AUS was recently awarded for becoming re-certified at the second level of the four-step process.
Dallas Love Field was also recognized for achieving Level 2 Carbon Accreditation this year and Dallas/Fort Worth International Airport (DFW) achieved Level 3+. Out of all North American airports, only the San Diego International Airport (SAN) and DFW have achieved Level 3+ accreditation, meaning the airport has reached carbon neutrality. Both AUS and Dallas Love Field are committed to joining this elite group with a Level 3+ accreditation in 2020.
In addition to Austin-Bergstrom, other airports in the Lone Star State have committed to putting a real Texas-sized effort into reducing carbon emissions. Two of Texas' largest cities and three of the state's largest airports have joined forces to create the Texas Airport Climate Alliance to collaborate, share resources and support each other's efforts to accelerate action on climate change. 
Austin's airport has used a variety of tactics to reduce its carbon footprint including using wind and solar energy sources, alternative fuel vehicles, conservation awareness campaigns and purchasing carbon offsets. Electrical power for all AUS buildings is supplied by Austin Energy's GreenChoice program, generated by west Texas wind turbines.
AUS has utilized 100 percent renewable electricity since 2012, preventing over 93,000 metric tons of carbon dioxide from entering the atmosphere. The use of this power source has been extended from the terminal to the airfield to power aircraft ground service equipment (GSE) and aircraft ground power units. Airlines that service AUS have voluntarily converted over 30 diesel-powered vehicles to electric.
Owned and operated by the City of Austin, Austin-Bergstrom International Airport is the second-fastest growing, mid-sized airport in the United States. Austin-Bergstrom is also an economic engine in Central Texas, supplying over 74,000 direct and indirect jobs in the Central Texas region. Its reflection of local food, music, art, and customer service has earned Austin-Bergstrom recognition—including Runner-Up for Best U.S. Airport in Fodor's 2019 Travel Awards.
For the latest news, real-time flight information, parking availability and details on the many services provided at Austin-Bergstrom International Airport visit AustinTexas.gov/Airport. You can also follow Austin-Bergstrom on Facebook, Twitter, and Instagram.
This release was written by Aviation PIO Intern Christina Mendoza.