City of Austin
FOR IMMEDIATE RELEASE
Release Date:

---
Multiple Exhibits on Display Through Spring and Early Summer.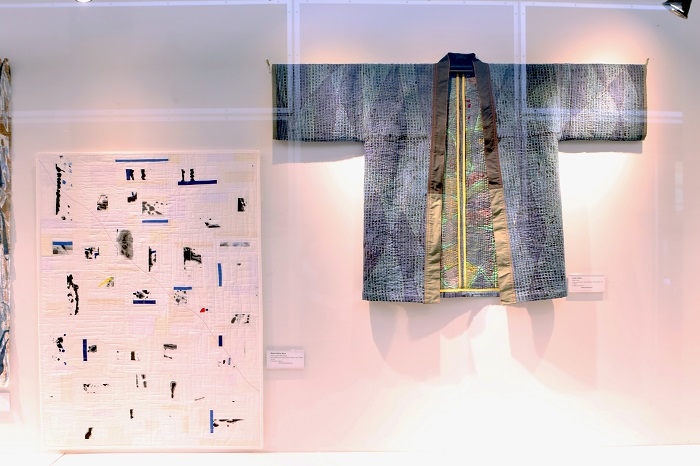 Inner Glow" by artist Russ Little
AUSTIN, Texas – With the expansion of Austin-Bergstrom International Airport comes the new art exhibits being promoted in both the new and old terminal locations. From now to spring 2019, there are two exhibits in the current Barbara Jordan Terminal: "Color Effects, An Exhibit of the Art Cloth Network" by the Art Cloth Network, ACN, and "Clay Hearts Pottery" by Ann Feldmeir. 
The Art Cloth Network - A diverse group of professional artists from the United States and Canada who work with fiber as an artistic medium. "Color Effects, An Exhibit of the Art Cloth Network," is located in the Jollyville Gallery behind Bookpeople and across from Gate 20, and the Zilker Gallery behind Berry Austin/ Departure Lounge and across from Gate 17. www.artclothnetwork.com or http://artclothnetwork.blogspot.com 

Ann Feldmeir – Wimberly, Texas artist Ann Feldmeir creates functional art pottery inspired by all things local that she encounters - the beauty of the Texas Hill Country landscape, folklore, and the colorful characters. "Clay Hearts Pottery," is located in the Pylon Showcases across from Gate 17 and 20. www.clayhearts.com 
Until June 2019, in the new 9-gate expansion terminal, there are three exhibits being displayed around the concourse. These exhibits include: "The works of Brian "Bydeeman" Joseph," by Brian Joseph, "Featuring NJ Weaver," by NJ Weaver, and "Rubina Anjum: Planet Earth Series," by Rubina Anjum. 
Brian Joseph – For over 30 years in Austin, Brian Joseph, "The Bydee Man" has been sharing his colorful and positive paintings that celebrate peace and multiculturalism.  His paintings of the Bydee people (BYDEE stands for Bringing You Delightful Entertaining Experiences) are a fictitious invention of Joseph's, but his utopian vision brings delight and hope to all viewers. His work is located in the Colony Park Gallery across from Gate 10. www.bydee.com/ 

NJ Weaver –A Texas mixed media artist and printmaker, NJ Weaver uses color, texture, and mark-making as the foundation for her paintings, collages, and hand-pulled prints. Weaver's paintings are intuitive, spontaneous, and punctuated with action, movement, and gestural markings. Her work is located in the Clarksville Gallery across from Gate 10. www.njweaver.com 

Rubina Anjum – A visual artist based in Austin, Rubina Anjum works extensively with oil paints and watercolors. The Planet Earth Series is inspired by images taken from the Landsat7 satellite of the US Geological Survey, and NASA.  The series aims to celebrate the beauty of the earth and demonstrate alternate ways to view and engage in the world. Her work is located in the Moore's Crossing Gallery across from Gate 12. https://rubinaart.com/ 
There are also four artists on display around the kiosks in the new terminal from now until June 2019. These art kiosks are located in the 9-gate expansion across from Gate 10 and include: 
The airport of choice for Central Texas is Austin-Bergstrom International Airport (AUS). New nonstop international flights include Calgary, Canada (YYC) on WestJet www.westjet.com; Frankfurt, Germany (FRA) on Lufthansa www.lufthansa.com; London Gatwick, United Kingdom (LGW) on Norwegian Air, www.norwegian.com/us; and Mexico City, Mexico (MEX) on AeroMexico, www.aeromexico.com. Austin also welcomes new carrier Spirit Airlines launching Feb. 14, 2019, www.spirit.com.  Find all nonstop routes with the free interactive flight guide on www.abia.org. Connect with us on Twitter, @AUStinAirport, Facebook, www.facebook.com/abia and on Instagram, @AUSairport.