City to City: PLAY! is the second edition of the innovative online collaborative project
AUSTIN, TX – The City of Austin Economic Development Department announces the second edition of the UNESCO Creative Cities of Media Arts City to City project. Austin is the first (and only) city in the United States to receive a Creative City of Media Arts designation from UNESCO. This honor underscores Austin's reputation as an innovative global city at the intersection of art, music, film, gaming and multidisciplinary digital experiences. Following the launch of a formal call, 14 artists from 13 Creative Cities were selected to participate in a four-month collaborative project. The 2021 theme for City to City 'PLAY!" is a direct response to the lack of "playfulness" in everyday human interaction throughout the pandemic.
"Austin is widely recognized as a collaborative community at the forefront of media arts technology," explains Sylnovia Holt-Rabb, Director for the Economic Development Department. "We are pleased to support Austin's media arts talent in developing a road map to secure capital, patronage, and capacity building through the lens of the UNESCO Creative City Network."
Initiated by the UNESCO Creative Cities in Media Arts, City to City is launched in the presence of the artists, UNESCO officials and civic representatives. Teams of artists were created and encouraged to collaboratively create high quality media art pieces to be disseminated within the UNESCO Creative Cities Network as well as to a wider audience.
The artist group selected to represent the city of Austin is ARCOS: Erica Gionfriddo and Eliot Gray Fisher. ARCOS worked with Taeheon Lee (of York, England) and Meiyan Chen (of Karlsruhe, Germany) to create told-hold. The artist team describes told-hold as an alternative social media experience to open minds for understanding individual bodies.
 Watch the February 9 livestream of the City to City launch on Facebook. Guests attending the launch were welcomed by the Secretary of Economic Development for the Mayor of Calí, Mrs. Liliana Sierra Chavez. There were also addresses by the UNESCO Assistant Director-General for Culture, Mr. Ernesto Ottone and the Coordinator of Media Arts Cities, M. Dominique Roland. The event also featured an interview with Executive Director of the International Symposium for Electronic Art, Sue Gollifer, as well as presentations by members of the creative teams and of the artworks themselves. 
List of 2021 UNESCO City to City Artworks and Artists:
 PlaceHolder – Ivana Durkáčová (Košice), Luciano Rodriguez Arredondo (Guadalajara)
 BLUR – Jorge Ramos (Braga), Julien Gaillac (Enghien-les-Bains), Anna Kim (Gwangju)
 The Portal – Yilin Wang (Changsha), Mauricio Díaz (Cali), Miyki Oka (Sapporo) 
 told-hold – Taeheon Lee (York), Meiyan Chen (Karlsruhe), ARCOS (Austin)
 Highwave – Manuel Alejandro Jiménez Reyes (Toronto)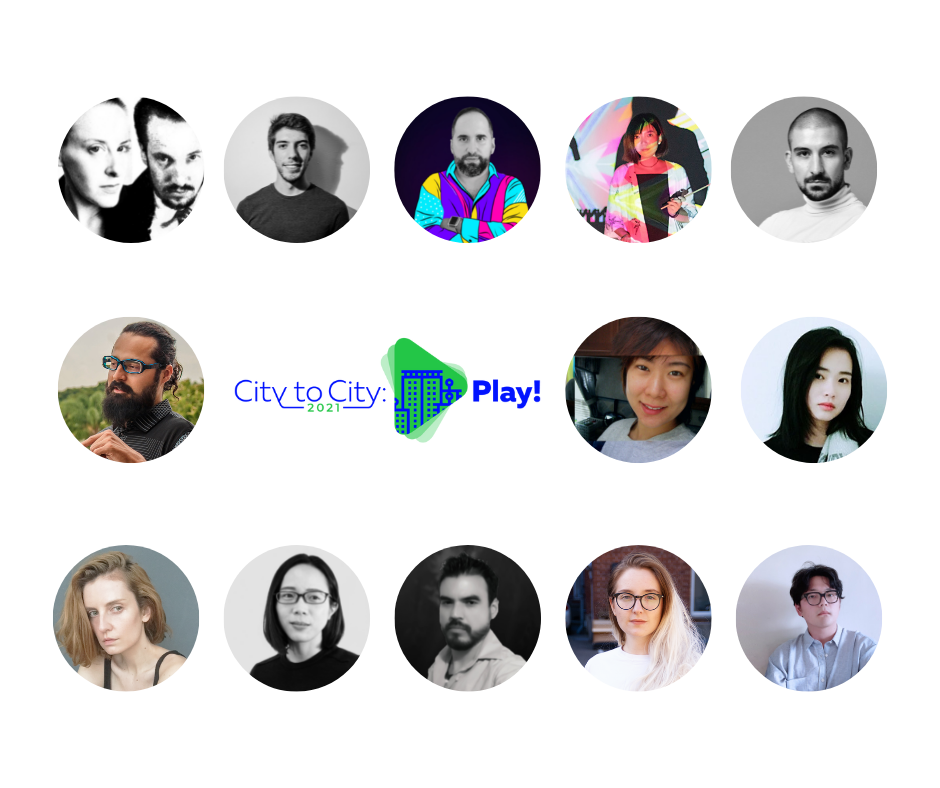 Experience a virtual gallery of the Media Arts Cities artworks online. The 13 UNESCO Creative Cities of Media Arts participating in the project are Austin (United States), Braga (Portugal), Calí (Colombia), Changsha (China), Enghien-les-Bains (France), Guadalajara (Mexico), Gwangju (Korea), Karlsruhe (Germany), Kosice (Slovakia), Sapporo (Japan), Toronto (Canada), Viborg (Denmark) and York (United Kingdom). These artworks will live both virtually in the UNESCO Creative Cities of Media Arts virtual gallery and tour at different events and festivals within the UNESCO network over the next year. Moving forward, City to City will be an annual flagship collaboration between the UNESCO Creative Cities of Media Arts.
This past November, the Italian Fondazione Santagata for the Economics of Culture granted this collaborative initiative 'Best International Project', highlighting both the importance of inter-city collaboration and the role of culture and creativity in the implementation of the 2030 Agenda for Sustainable Development, which is also at the core of the UNESCO Creative Cities Network's mission and activities. View the online exhibition of the first edition of City to City: Human Responsibility, in 2020.
###
About the City of Austin Economic Development Department
The City of Austin Economic Development Department supports business growth, creative industries, and local communities. These programs build an equitable, sustainable economy to improve the lives of all Austin residents. To learn more about helpful resources, visit http://www.austintexas.gov/eddor follow us @AustinEconDev on Facebook and @AustinEconDev on Twitter.
About the UNESCO Creative Cities Network (UCCN)
The UNESCO Creative Cities Network (UCCN) was created in 2004 to promote cooperation with and among cities that have identified creativity as a strategic factor for sustainable urban development. The cities which make up this network work together towards a common goal: placing creativity and cultural industries at the heart of their development plans at the local level and cooperating actively at the international level. 
As a member of the UNESCO Creative Cities Network (UCCN) since 2015, Austin works individually and in partnership with other UNESCO cities to promote creativity and the integration of culture into urban development plans. Through the designation, Austin artists are given opportunities to exhibit locally and participate in international cultural exchange programs with other UNESCO Creative Cities.
About the Artists representing Austin:
EG Gionfriddo is a dance artist and educator who believes in the intelligent body each of us occupies. They are co-founder of ARCOS (arcosdance.com), whose ongoing inquiry probes the intersection of technology and humanity through rigorous interdisciplinary experimentation. With ARCOS, EG has been commissioned as a dancer and choreographer for festivals and symposia including the American Dance Festival, Ammerman Center Biennial Symposium on Arts and Technology, Engagement Symposium of Philosophy and Dance, CURRENTS New Media Arts Festival, and an award-winning production at the Edinburgh Festival Fringe. They have been awarded artistic residency at the Kimmel Harding Nelson Center for the arts, Playa Summerlake, Ucross Foundation as well as nationally at colleges and universities. EG is Assistant Professor of Practice in Dance at the University of Texas at Austin and holds a BFA in Dance Performance and Choreography from Shenandoah Conservatory and an MFA in Dance from Hollins University.
Eliot Gray Fisher is an interdisciplinary artist originally from Santa Fe, New Mexico, whose practice bridges overlapping layers of technology with performance. As co-director of interdisciplinary performance group ARCOS (arcosdance.com), he has presented award-winning work at festivals including CURRENTS International New Media Festival and Edinburgh Festival Fringe, created commissions at interdisciplinary symposia at Connecticut College's Ammerman Center for Arts and Technology and Texas State University, served as a guest artist at institutions including the University of Michigan and School of the Art Institute of Chicago, published in the peer-reviewed journal Theatre Design & Technology and The Bloomsbury Handbook of Dance and Philosophy, participated in residencies including Ucross Foundation and Signal Culture, and received grants from the Paul Robeson Fund for Independent Media and the Charles and Joan Gross Family Foundation. Eliot has a BA in Film Studies from Wesleyan University and an MFA in Interdisciplinary Arts from Goddard College.