City of Austin
FOR IMMEDIATE RELEASE
Release Date:

---
With a brass band, floats, banners and even a few unicorns, employees at Austin-Bergstrom celebrated the airport's 20th anniversary in style.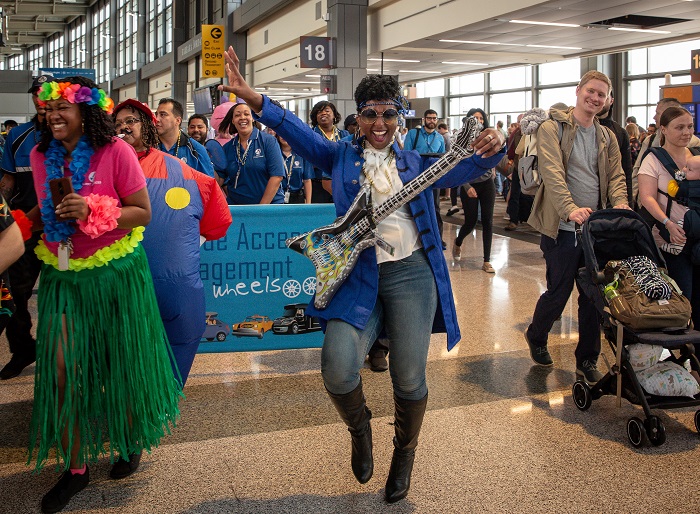 AUSTIN, Texas – With a brass band, floats, banners and even a few unicorns, employees at Austin-Bergstrom International Airport (AUS) celebrated the airport's 20th anniversary in style, parading through the Barbara Jordan Terminal on May 23, 2019.
The parade began at 11 a.m. near Gate 5 and proceeded through the terminal, stopping along the way to hand out goodies to travelers and to thank them for choosing to "Fly Austin."
More than 150 employees – and five dogs – represented the City of Austin Aviation Department and several of the airport's airlines, businesses and concessions in the parade. From dancing unicorns to famous video game plumbers, many of the revelers wore a wide variety of colorful costumes, with some groups rolling hand-decorated floats as part of the procession.
At the conclusion of the parade, one final chant of "AUS!" wrapped up the festivities near Gate 18, where cake and games were made available for nearby travelers.
Officially opening on May 23, 1999, Austin-Bergstrom the last airport built in the 20th Century, and was constructed in the footprint of Bergstrom Air Force Base, replacing the Robert Mueller Municipal Airport that had served Austin passengers for more than 60 years.
At that time, the new airport was designed to meet the increasing air service needs of Central Texas travelers, with more than 6.6 million passengers traveling to 29 nonstop destinations across the United States in its first year of operation.
On June 5, 2000, Air Canada launched the airport's first international nonstop route to Toronto, with British Airways launching Austin's first transatlantic nonstop route to London on March 3, 2014.
By 2018, more than 15.8 million passengers traveled through Austin-Bergstrom to more than 70 destinations across North America and Europe.
Today, the airport supports more than 74,000 area jobs and generated an economic impact of more than $7.6 billion in 2018.
Information on what is envisioned for the next 20 years at Austin-Bergstrom is included in the airport's 2040 Master Plan, available online at: http://www.abiamasterplan.com/.
The airport of choice for Central Texas is Austin-Bergstrom International Airport (AUS). New nonstop international flights include Calgary, Canada (YYC) on WestJet www.westjet.com; Frankfurt, Germany (FRA) on Lufthansa www.lufthansa.com; London Gatwick, United Kingdom (LGW) on Norwegian Air, www.norwegian.com/us; and Mexico City, Mexico (MEX) on AeroMexico, www.aeromexico.com. Austin also welcomes new carrier Spirit Airlines,  www.spirit.com.  Find all nonstop routes with the free interactive flight guide on www.abia.org. Connect with us on Twitter @AUStinAirport, Facebook,  www.facebook.com/abia and on Instagram @AUSairport.