City of Austin
FOR IMMEDIATE RELEASE
Release Date:
Contact: AUS Public Information Office 512-714-4287 Email
---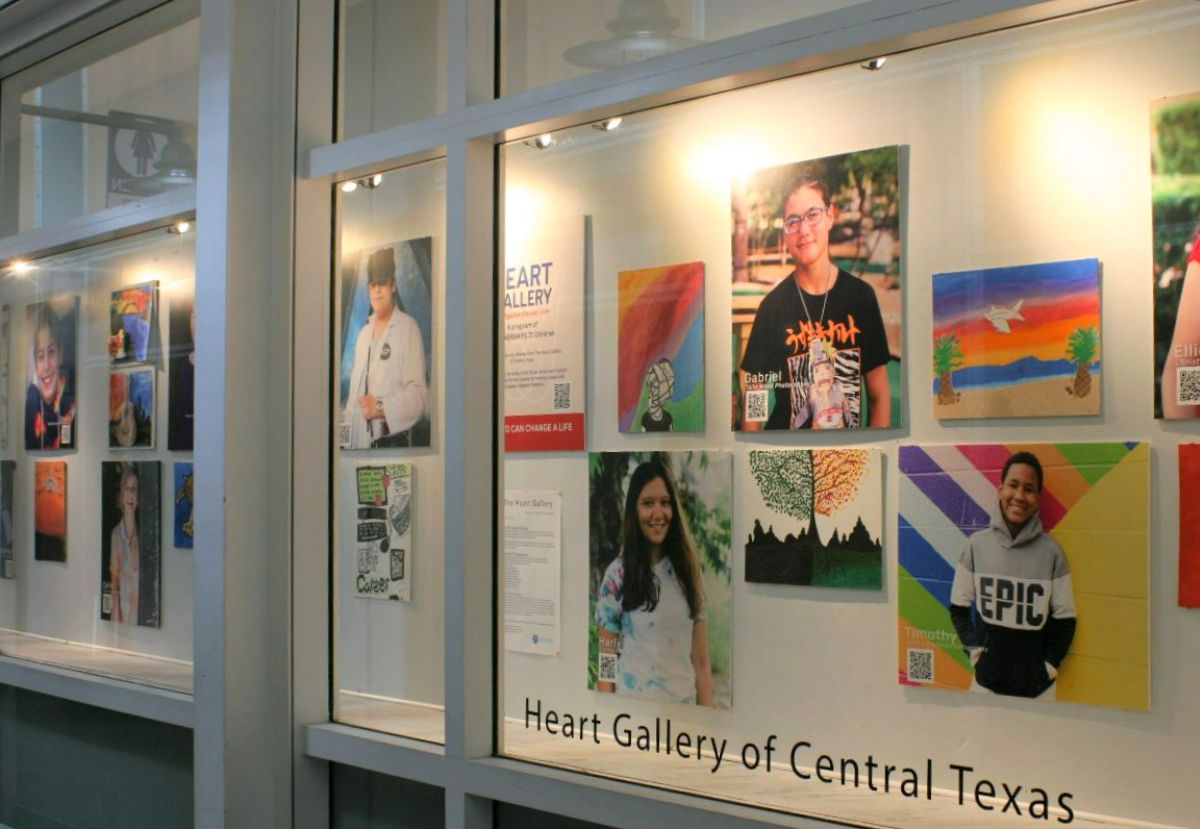 AUSTIN, Texas – Starting this month, "The Heart Gallery" will be on display in the Jollyville Gallery at the Barbara Jordan Terminal. The installation is part of the Partnerships for Children Heart Gallery series for Central Texas, which aims to raise awareness about children in our community who are in foster care seeking forever families and inspire action from those seeking to grow their families.
 
"The Heart Gallery has been a program of Partnerships for Children for over 8 years and in that time we have seen hundreds of children find their forever home through collaborative outreach efforts in our amazing community," said Kori Gough, Executive Director of Partnerships for Children. "'One Photo Changes a Life' is not only our motto, but is also the reality for so many children being featured over the coming months."
 
"The Heart Gallery" is a display that includes professional portraits of children who are currently in the foster care system along with a piece of their own artwork next to their photo. A QR code will be available for passengers passing by to scan and learn more about the children and their life story, and hopefully inspire the first step in adopting or supporting children in foster care. Each day, passengers from around the city and state will get the chance to "meet" these children during their travels. The exhibit has portraits of children in the care of the Texas Department of Family and Protective Services.   
 
"There are more than 2,000 children throughout the state who are searching for a forever home right now, more than 200 of whom are in Central Texas. These are great kids, who deserve love, support, stability and opportunity," said Mark Wilson, Media Relations Specialist for the Texas Department of Family and Protective Services (DFPS). "We hope when people see this exhibit they take time to consider opening their homes to the children in these photos and others just like them. All it takes is one person to change the life of a child forever. Maybe one of the tens of thousands of people who passes through this terminal every day will be that person for one of these children."
 
"This work is so important and I think hosting The Heart Gallery at AUS, the fastest-growing medium-sized airport in the country, increases the opportunities for these kids and can inspire action in so many ways," said Cory Hurless, AUS Arts, Music, and Graphics Program Manager. "We see an average of over 20,000 people come through the terminal each day. The chances of someone passing by the children and their artwork are high, and I'm hopeful that someone along their travels will learn more about a child and realize they could be their forever family too."
 
Visitors can find The Heart Gallery in the Jollyville Art Gallery located near Gate 21 and Amy's Ice Cream at the Barbara Jordan Terminal and scan the QR code next to each portrait to learn more about the children.
###
About Austin-Bergstrom International Airport
Owned and operated by the City of Austin, Austin-Bergstrom International Airport is the second-fastest growing, mid-sized Airport in the United States. Austin-Bergstrom is also an economic engine in Central Texas, supplying over 74,000 direct and indirect jobs in the Central Texas region.  
For the latest news, real-time flight information, parking availability, and details on the many services provided at Austin-Bergstrom International Airport visit AustinTexas.gov/Airport. You can also follow Austin-Bergstrom on Facebook, Twitter, and Instagram. 
About the Partnerships for Children 
Partnerships for Children is a 501(c)3 nonprofit organization founded in 2003 with a mission to make tomorrow better than today by empowering and supporting children, youth and families involved with Child Protective Services. Located inside the CPS corporate office in Austin, Texas, Partnerships for Children leads a collection of programs including The Heart Gallery of Central Texas, the Rainbow Room, YES Mentoring, Kids in a New Groove and Holiday Wishes. These programs offer resources, support and comfort for foster children and families in our community. For more information, visit www.partnershipsforchildren.org..  Follow us on Facebook, Instagram and Twitter.