City of Austin
FOR IMMEDIATE RELEASE
Release Date:

---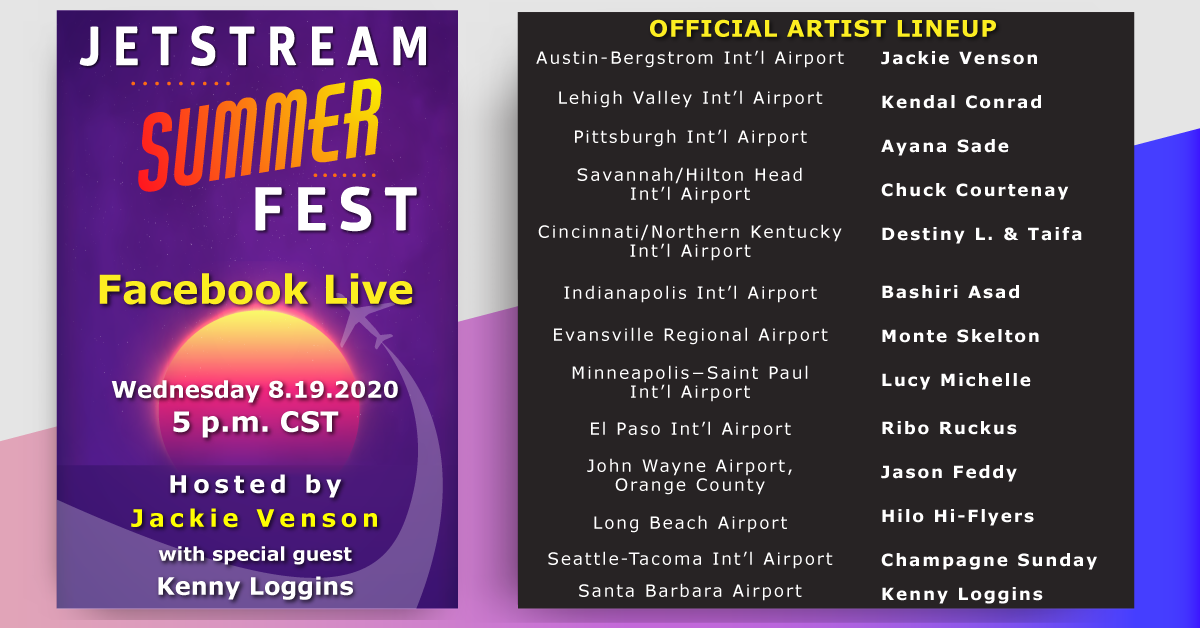 AUSTIN, Texas –  Following the success of the JetStream Music Festival earlier this year, Austin-Bergstrom International Airport will once again partner with airports across the U.S. to host JetStream Summer Fest on Aug. 19, 2020. The event will take place on Facebook Live.
Celebrating "Live Music at a Safe Distance," 12 North American airports will join AUS for the free, multi-hour livestreamed event. The stream will feature performances by local musicians representing each participating city, including a special guest: Grammy-award-winning musician, Kenny Loggins. 
"Summer is a time typically full of music festivals and live events, especially in Austin, where millions of travelers from across the globe visit our city to experience what makes us the Live Music Capital of the World," said Jacqueline Yaft, Chief Executive Officer of Austin-Bergstrom International Airport. "While COVID-19 has forced us to adapt to new changes both in our community and nationwide, we are thrilled that airports across the country are joining us to bring even more live music direct to audiences' living rooms."
Austin musician, Jackie Venson, will perform and host the event, which kicks off at 5 p.m. CST on each participating airports' Facebook Live. Viewers can tip musicians through a virtual tip jar and can join the celebration on social media by using the hashtag #JetStreamFest.  
The full lineup for the festival will be: 
Jackie Venson - Austin-Bergstrom International Airport (AUS) 
Kendal Conrad – Lehigh Valley International Airport (ABE)
Ayana Sade – Pittsburgh International Airport (PIT)
Chuck Courtenay – Savannah/Hilton Head International Airport (SAV)
Destiny L. & Taifa - Cincinnati/Northern Kentucky International Airport (CVG)
Bashiri Asad – Indianapolis International Airport (IND)
Monte Skelton - Evansville Regional Airport (EVV)
Lucy Michelle - Minneapolis-Saint Paul International Airport (MSP)
Ribo Ruckus – El Paso International Airport (ELP)
Jason Feddy - John Wayne Airport (SNA)
Hilo Hi-Flyers – Long Beach Airport (LGB)
Champagne Sunday - Seattle-Tacoma International Airport (SEA)
Kenny Loggins – Santa Barbara Airport (SBA)
For more information – including how to view the event – click here.
###
Owned and operated by the City of Austin, Austin-Bergstrom International Airport is an economic engine in Central Texas, supplying over 74,000 direct and indirect jobs in the Central Texas region. Its reflection of local food, music, art, and customer service has earned Austin-Bergstrom recognition—including Runner-Up for Best U.S. Airport in Fodor's 2019 Travel Awards.