City of Austin
FOR IMMEDIATE RELEASE
Release Date:
Contact: Public Affairs Office, Austin Public Works 512-974-7111 Email
---
City of Austin Public Works is asking for the community's help to keep the right of way (ROW) clear of obstacles. The ROW includes more than 5,000 miles of roads, alleys, sidewalks, trails, and also the strip of land about ten feet from the back of the curb or road edge to the private property line. With the arrival of spring, plants are in full bloom. If not tended to, vegetation can become overgrown and impair visibility for both pedestrians and drivers. 
The City asks residents to make travel safer for all by trimming overgrown vegetation and removing obstacles that block the ROW, including cars, dockless vehicles and waste carts. Property owners are responsible for maintaining private trees and vegetation that grow into the ROW.
Guidelines for pruning vegetation include:
Clear from the edge of the sidewalk and at least 8 feet above
Clear from the edge of streets and at least 14 feet above
"When we work together to maintain our public spaces, we're making Austin more accessible for people of all ages and abilities," said Assistant City Manager Gina Fiandaca. "Supporting community accessibilty is one piece of the larger Austin Strategic Mobility Plan, which guides the future of our transportation network."
In addition to increasing accessibility for people walking or using mobility devices, these guidelines provide safety for motorists and bikers who may not otherwise see drivers, signs and obstacles due to overgrown vegetation or other barriers in the right of way. 
Report overgrown vegetation, dockless vehicles and waste carts in the public right of ways to Austin 3-1-1. 
Learn more about the standards for right of way maintenance at austintexas.gov/CleartheRow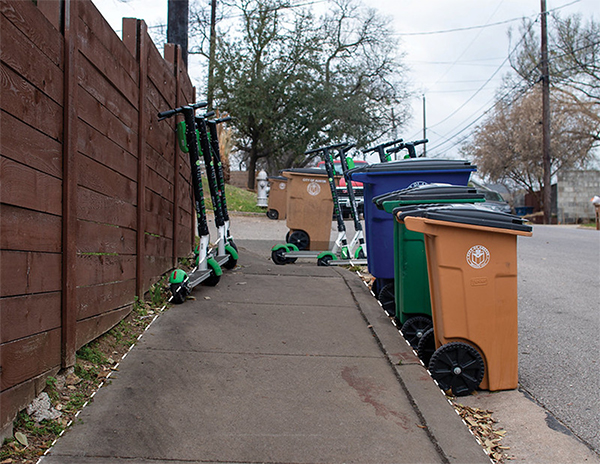 Our community's sidewalks were built to provide a safe place for people to walk or bike.
Dockless vehicles and trash carts become potential hazards when they block the right of way. For more photos, see Austin Public Works' Flickr.
About Austin Public Works Mobility Support:
Austin Public Works supports mobility outcomes by building and maintaining public right of way infrastructure including streets, bridges, sidewalks, and urban trails. Services include maintaining public trees and medians, patching potholes, resurfacing streets, repairing utility cuts, and responding after storms.