AUSTIN, TX - Public safety and emergency response are critical services for our citizens. The need to respond quickly and efficiently to unpredictable and often life-threatening scenarios is the mission of public safety professionals all over the country and that mission is facilitated by a robust information technology (IT) system called computer-aided dispatch (CAD). 
To quickly track incoming 9-1-1 calls and deploy the appropriate resources, public safety organizations rely on a CAD system. The CAD system is the backbone of organized emergency service delivery, ensuring the right resources are deployed at the right time, to the right location. This critical system was the focus of a week-long conference between the City of Austin's Communication and Technology Management (CTM) Public Safety Support Group (PSSG) and the greater Baton Rouge area fire, police, emergency medical services, technology and communications support staff.
The conference was hosted at the Combined Transportation, Emergency, and Communications Center (CTECC) in Austin, Texas from July 26 to July 30, 2021. During the conference, the greater Baton Rouge area public safety and support leaders were given a tour of the communications and dispatch floor, emergency operations center, and public safety backup center. The primary focus of the conference was for PSSG staff to share their experience in implementing, administrating, and maintaining the CAD system.
The conference was not the first time Austin public safety information technology staff and Baton Rouge public safety and support leaders have collaborated. The partnership started in 2019 when officials in Louisiana began the process to implement a modernized CAD system and sought the expertise of CTM's PSSG staff. Over the last three years, CTM's PSSG staff have been sharing program expertise and lessons learned with their Louisiana partners to ensure that the team has a successful, efficient, and safe system supporting public safety and emergency services.
Chandy Marler, the Public Safety information technology manager over Public Safety Program and Application Services commented, "This isn't the first team that has come out to learn from the City of Austin. I've been involved in the CAD system for over 20 years and have been able to provide a lot of guidance to different agencies across the United States". Chandy recognizes that sharing information between public safety staff from different areas of the country only makes communities safer. She added, "We get to learn about programs or applications that other teams are using that might better inform our decisions. It's a great opportunity to learn from people who have been through it before".
All conference attendees agree that the collaboration between Austin and Baton Rouge contributes to the continuous improvement of public safety operations within their respective communities. The director of the East Baton Rouge Communications District Jim Verlander commented, "We've been live with our CAD system since October 2019. With this trip, it's really been enlightening regarding the different challenges we've had since go-live. Having access to people that are using the system in real world environments is so much more beneficial than having a programmer or technician explain it to you".
Chandy ended the conferencing by saying "We're glad that we're able to provide this level of consultation and support to our fellow public safety agencies. We've worked hard to gain this level of knowledge and expertise and we're glad to be passing that knowledge".
After returning home, Jim Verlander thanked the CTM staff for their hospitality and added in an email, "I talked to all of our CAD committee personnel who attended the trip to Austin.  Everyone was highly impressed with the information that was provided to them and extremely thankful".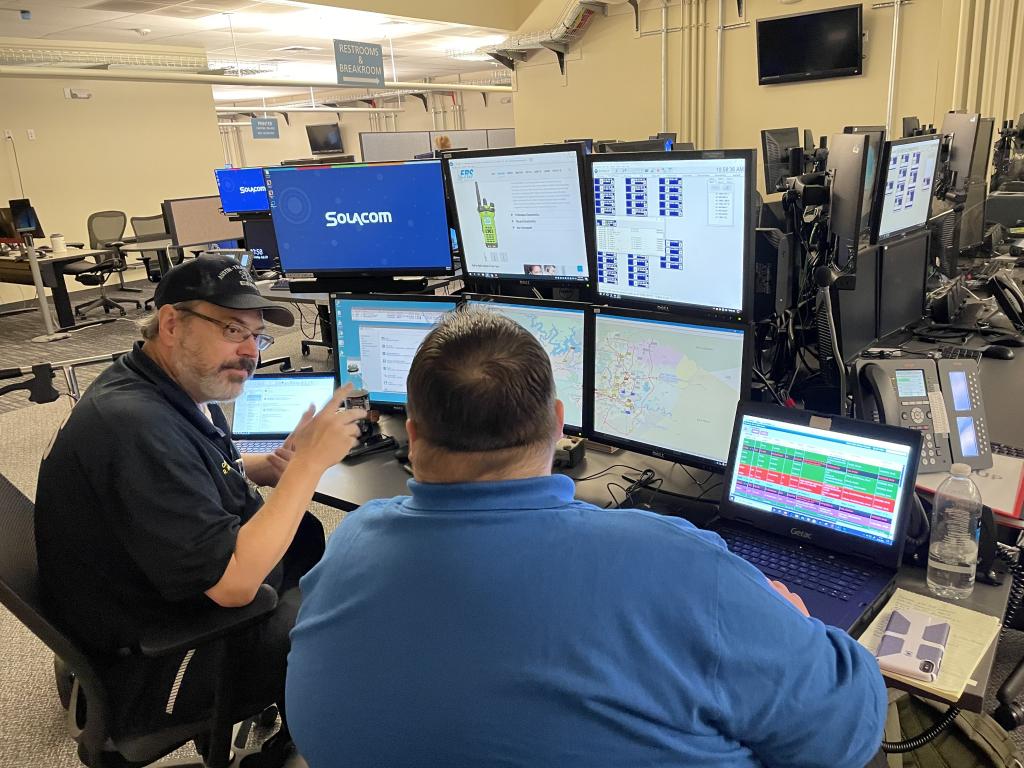 Captain Richard Morse from Austin-Travis County EMS and John Graham from East Baton Rouge EMS discuss CAD features, use, and administration.
Shannon Jurak from Travis County Sheriff's Office (center) demonstrates CAD's user interfaces with Lieutenant Jared Daniel and Lieutenant Travis Snyder from East Baton Rouge Sheriff's Office.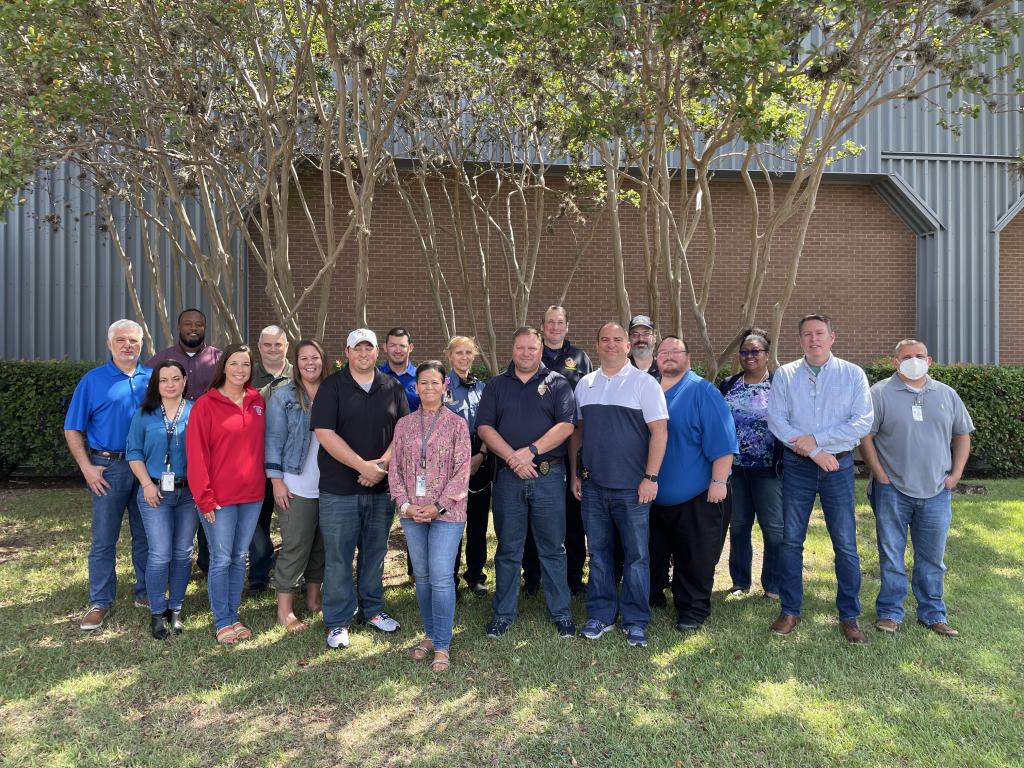 Conference attendees: CTM (Sherry Goertz, Chandy Marler, Robert Turner, Roxy Meneses, Kendrick Miller, Chad Almaguer, Matt Stevens); East Baton Rouge Police Department (Matt Johnson); East Baton Rouge Sheriff's Office (Jared Daniel, Travis Snyder, Joseph Blanchard); St. George Fire Department (Chelsea Blount, Michael Neucere); East Baton Rouge Fire Department (Jennifer Kimble); East Baton Rouge Emergency Medical Services (John Graham); Geographical Information Services (Bassam Harb); East Baton Rouge communications District (Jim Verlander)
###