You are here
City of Austin
---
FOR IMMEDIATE RELEASE
Release Date:
Dec. 28, 2018
Contact: Contact: Public Information Office 512-974-2220 Email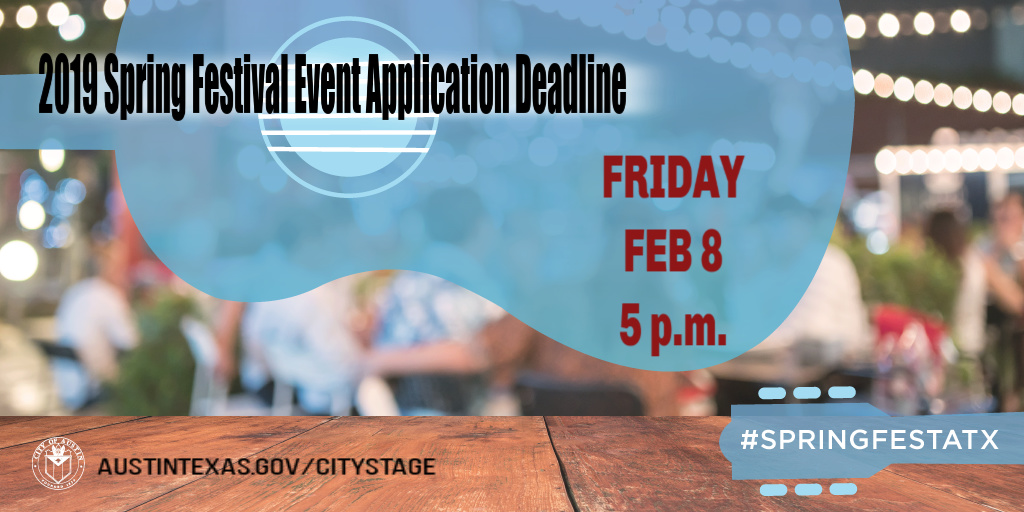 Event planners encouraged to apply now
Austin Center for Events (ACE) is implementing a new deadline for temporary permit applications in anticipation of a busier than normal Spring Festival Season next year.
Applications for special events being planned during Spring Festival 2019 (March 8 to March 17) must be submitted by 5 p.m. on Friday February 8.
ACE defines Spring Festival Season as the time period from early to mid-March with a high concentration of events in and around downtown core including the South by Southwest (SXSW) Conference, festivals, and associated events as well as increased spring break activities and visitors.
The February 8 deadline will provide ACE staff time to thoroughly review each special event application and assess the cumulative impact of spring events on overall safety, mobility, sustainability, and quality of life in the city.
ACE encourages event planners who are considering hosting events during Spring Festival 2019 to fill out and submit complete applications under the Event Planning section on its CityStage website at www.austintexas.gov/citystage. 
CityStage also has tools and resources available to make the application and temporary permitting process easier to understand including the new 2019 Spring Festival Event Planning at a Glance guide.
Event planners with questions about the 2019 Spring Festival application deadline or the special event temporary permitting process can contact  512-974-1000 or SpecialEvents@austintexas.gov.
---