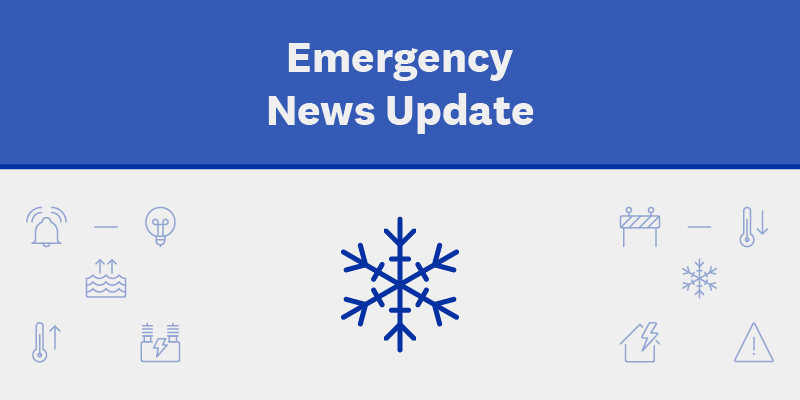 Temperatures will be bitterly cold overnight, and road and sidewalk conditions will be dangerous. The City of Austin and Travis County continue to encourage the public to leave home only if necessary.
The Austin-Travis County Emergency Operations Center is actively coordinating the local response to the winter storm. The latest information on conditions, sheltering, and safety recommendations can be found at AustinTexas.gov/Alerts. Updates are available in English, Spanish, Vietnamese, Simplified and Traditional Chinese, Korean, Burmese, Urdu, Arabic, French, Hindi, and Pashto.
"We appreciate the public doing everything they can to stay off the roadways," said Juan Ortiz, Director for the City of Austin's Office of Homeland Security and Emergency Management. "If you have to be on the roadways, slow down and give yourself extra time."
The following community shelters will continue operating 24 hours a day for as long as conditions dictate. Individuals sheltering will be offered the opportunity to remain overnight until the weather improves.
Dove Springs Recreation Center - 5801 Ainez Dr. Austin TX, 78744  
Dittmar Recreation Center - 1009 W. Dittmar Rd., Austin, TX 78748  
Gus Garcia Recreation Center - 1201 E. Rundberg Ln., Austin, TX 78753  
Parque Zaragoza Recreation Center - 2608 Gonzales St., Austin TX 78702  
**Please Note: Givens Recreation Center is now at capacity**
Additionally, the following day warming centers will be open again on Friday from 9 a.m. - 9 p. m. for those needing relief from the elements and an opportunity to charge their electronic devices. 
Cowan Elementary - 2817 Kentish Dr., Austin, TX 78748   
Wooten Elementary - 1406 Dale Dr., Austin, TX 78757  
The City of Austin, Travis County, and CapMetro personnel along with community partners and volunteers are working together to provide assistance to individuals needing transportation to a community shelter or day warming facility. Availability and response times will depend on road conditions, available drivers, and the number of passengers. Please call 3-1-1 or 512-974-2000 to make arrangements.
Updates on power outages can be found with Austin Energy. Additional information and tips from can be found here from Austin Energy on the cold weather. 
Austin Water is encouraging residents to visit their website for tips preventing property damage during freezing weather. 
Residents should plan to continue to stay off the roads as ice and sleet accumulations remain possible through Saturday. Highway conditions can be monitored at DriveTexas.org.  Advisories on local conditions will continue to be posted on the City's social media accounts, including Austin Transportation and Homeland Security and Emergency Management.
Although some roads may not be frozen, many sidewalks and pathways remain slick with freezing precipitation that can be difficult to see. Residents should use caution when walking on sidewalks to avoid injury.
Austin 3-1-1 requests for removal of trees and other hazardous debris in the right-of-way are being addressed by Austin Public Works crews. These same crews are also monitoring roadways and bridges and responding to requests for sanding to improve vehicle traction. Sanding resources are currently focused on supporting safe access for public safety agencies.
It is critical that the public continue to be weather aware and monitor community conditions. Residents can text ATXWEATHER to 888-777 for updates in English or ATXCLIMA to 888-777 for updates in Spanish.