The public is invited to this family fun event.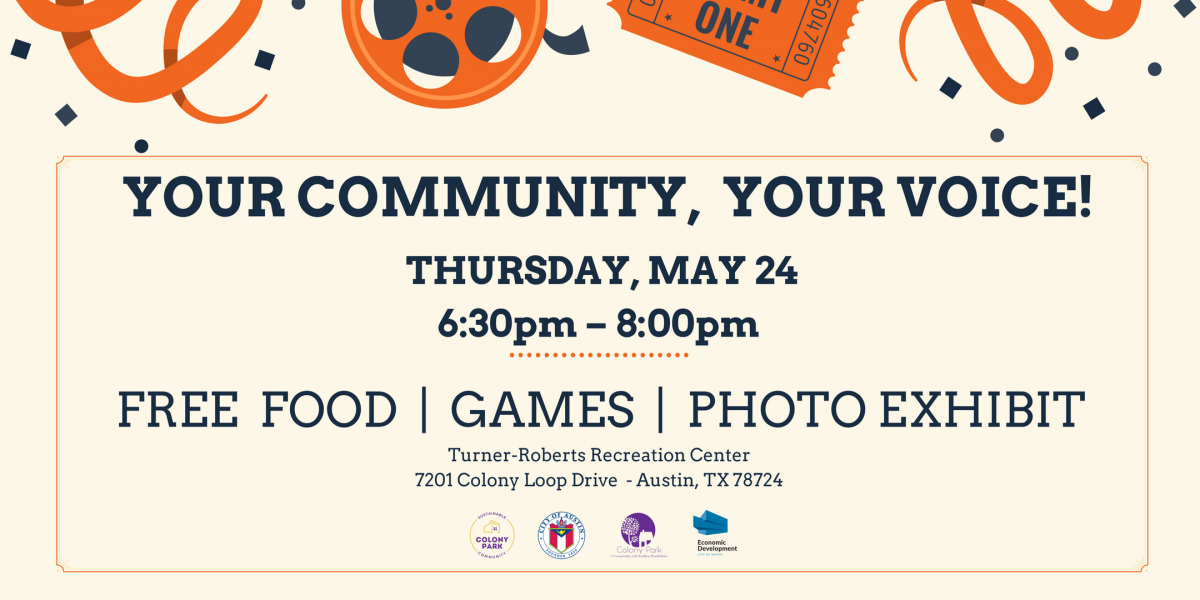 The City of Austin Economic Development Department will host a Public Open House and Community Video Presentation for the Colony Park Sustainable Community from 6:30 to 8:00 p.m. on May 24 at the Turner-Roberts Recreation Center, 7201 Colony Loop Drive.
 
This family fun event will feature an exclusive screening of the shortlisted Master Developer's video presentation for the 208-acres of publically owned land in Colony Park.
 
The City of Austin invited Catellus Development Corporation to present a pre-recorded video presentation of their development plans for the Colony Park Sustainable project. The video will be shown at various times throughout the night and attendees will have a one-time opportunity to score the development plan based on the video. The input gathered at the event will contribute to the selection of the Colony Park Sustainable Community Development partner.
 
Along with the video presentation, the event will include refreshments, youth activities, face painting, and a special photo exhibit honoring the families who have lived in Colony Park.
To learn more about the Colony Park Sustainable Community Project, please visit us at http://www.austintexas.gov/department/colony-park.
 
About the City of Austin, Economic Development Department:
The City's Economic Development Department (EDD) develops and leads innovative programs that increase the prosperity of Austin's citizens, our businesses, and our diverse neighborhoods. www.austintexas.gov/edd
 
La Cuidad mantendrá una Presentación Pública y Video Comunitario del Desarrollo de Colony Park
El Departamento de Desarrollo Económico de la Ciudad de Austin organizará una presentación pública y un video comunitario sobre la Comunidad Sostenible de Colony Park de 6:30 a 8:00 p.m. el 24 de mayo en el Centro Recreativo Turner-Roberts ubicado en 7201 Colony Loop Drive.
 
Este evento de diversión familiar contará con una proyección exclusiva del cortometraje de la presentación del Desarrollador Maestro de los 208 acres de tierra que es propiedad publica de Colony Park.
 
La ciudad de Austin invitó a la Corporación Catellus Development a presentar un video pregrabado de sus planes de desarrollo para el proyecto de Colony Park. El video se mostrará varias veces durante la noche y los asistentes tendrán la oportunidad única de calificar el plan de desarrollo basándose en el video. La información recopilada en el evento contribuirá a la selección del Desarrollador Maestro de Colony Park.
 
Junto con la presentación del video, el evento incluirá refrigerios, actividades para niños, pintura facial y una exhibición fotográfica especial en honor a las familias que han vivido en Colony Park.
 
Para obtener más información sobre el Proyecto de Comunidad Sostenible de Colony Park, visítenos en http://www.austintexas.gov/department/colony-park.
 
Acerca del Departamento de Desarrollo Económico de la Ciudad de Austin:
El Departamento de Desarrollo Económico de la Ciudad (EDD) desarrolla y lidera programas innovadores que aumentan la prosperidad de los ciudadanos de Austin, nuestros negocios y nuestros diversos vecindarios. www.austintexas.gov/edd