City of Austin
FOR IMMEDIATE RELEASE
Release Date:
Contact: Public Affairs Office, Austin Public Works 512-974-7111 Email
---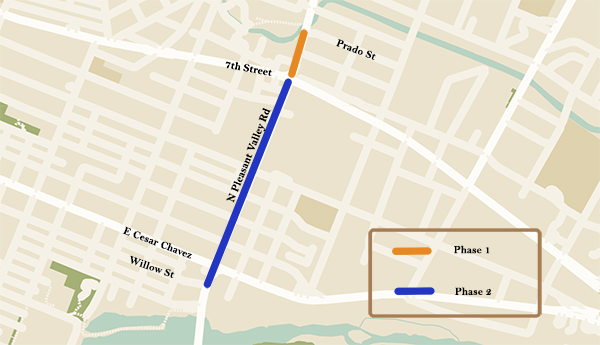 On Monday, June 21, a street rehabilitation project will begin on N Pleasant Valley Rd. from Prado St. to Willow St. The process involves a mill and overlay of Pleasant Valley Rd. with new asphalt. The project will be done in two phases and is expected to take approximately 10 weeks to complete pending favorable weather.
Phase 1 limits are from Prado St to 7th St. 
Work may be accomplished Saturdays between 7 a.m.-7 p.m.
Phase 2 limits are from 7th St to Willow St.
Work may be accomplished Monday through Friday between 9 a.m.-4 p.m. and Saturdays between 7 a.m.-7 p.m.
The street will remain open to traffic with some lane closures in effect during construction. At times, traffic may be rerouted to accomodate construction progress. Access to driveways will always be available. Drivers are encouraged to use caution while in the work zone. Once the asphalt material is installed, rolled and compacted, vehicles may drive (slowly) on the new pavement. Crews will install pavement markings and striping shortly after paving. 
What to expect during street construction:
Cars should not park on the street; parked cars will be towed to a nearby street; Contact Project Inspector Charles Hernandez at 210-246-3081
Follow all work zone traffic signs, cones, and flaggers to help direct you
Reduce speed, travel slowly and observe work crews during operations
Scehdules are projected as accurately as possible but are subject to change due to the nature of construction and weather.
This project is made possible by the voter-approved 2018 Bond (Proposition G). To learn more about Austin's Road Resurfacing Programs, visit austintexas.gov/streetandbridge or call 3-1-1.